Oh, the paradox of algae. They have ruined many tanks–even caused some frustrated aquarists to leave the hobby forever. Yet, our tanks (especially reef tanks) cannot thrive without them–think zooxanthellae. Getting that perfect balance of nutrients, principally nitrate and phosphate, can be exceedingly difficult to ever attain, much less maintain.
Part of this challenge lies in the tendency for these and other essential nutrients to fluctuate independently of each other. That is, you can "run out" of nitrate and still have super high concentrations of phosphate, and vice versa. 
We usually talk only about nutrient excess, but not imbalance. Imbalances do, however, occur and cause significant problems. A substance that is required for growth, but can be scarce in the environment, is termed a "limiting nutrient." Even if all other essential substances are present, the growth of algae and many bacteria cease once a limiting nutrient is depleted. 
Great, right? Don't we want algae to not grow in our reef tanks? 
Think of it this way; yes, the growth of nuisance algae is irksome, and as mentioned above can straight-up ruin an aquarium. But it is a symptom of a larger, more systemic, problem. Algae grow when there is an overabundance of nitrate and phosphate. Sure, you can get rid of all of the nitrate–or all of the phosphate–and the algae will stop growing (including your desirable macroalgae). Yet, some problems will remain if you don't reduce BOTH nutrients. Sure, you got rid of the algae problem by removing all of one nutrient. But left in the tank at high concentrations, the OTHER nutrient can still cause health problems for your aquarium animals–either directly or by messing up other important water parameters.
You can add all of the macroalgae you want, but they won't remove that excess nitrate if they can't grow, and they can't grow if there isn't some tiny amount of phosphate. In this case, one might actually add miniscule doses of potassium phosphate until the nitrate is almost gone (and before the phosphate starts to accumulate!). Another simpler, option is to perform large water changes to dilute the excess nutrient down to acceptable concentrations. Either way, you'd also have to reduce fish feeding/stocking to help ensure that nutrient levels don't spike again!
So, what about carbon dosing? Algae use inorganic carbon (i.e. carbon dioxide) as a carbon source. Their growth cannot be enhanced by adding an organic carbon source such as ethanol. Heterotrophic bacteria, on the other hand, do utilize these carbon sources. Indeed, as you feed these microbes, and promote their growth, they'll sequester both nitrate and phosphate from the water column and other areas the system. For this reason, aquarists carbon dose as to "steal" the excess nutrients from nuisance algae. Of course, most carbon dosing targets aerobic bacteria (which respire and produce carbon dioxide), so there is still a risk of algal blooms when employing this method.
But, here too, if a limiting nutrient has been depleted, these microbes might not be able to grow properly. Indeed, all you'll be doing by carbon dosing, in this case, is further polluting the water by adding a bunch of organics that won't get "eaten."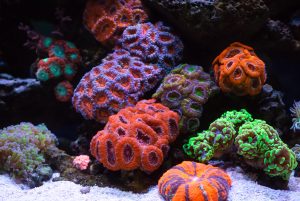 There is one case where carbon dosing can be used successfully to restore nutrient imbalance where nitrate has been depleted but phosphate remains in excess–when dosing is carried out alongside the inoculation of diazotrophic (i.e. nitrogen-fixing) bacteria. Diazotrophs such as R. palustris are able to make fixed nitrogen (make ammonia out of nitrogen gas). No worries… They only do this under conditions of extreme nitrogen scarcity, and the bulk of ammonia they synthesize is immediately used to build amino acids/proteins (i.e. biomass) rather than dumped into the surrounding water. Indeed, they serve as important in-house symbiotic fertilizer factories for zooxanthellae, thereby allowing corals to grow rapidly in the nutrient-poor waters in reef habitats. Because these anaerobic microbes can supply their own fixed nitrogen, they keep sequestering phosphate even after ammonia/nitrite/nitrate has been depleted from the environment!
Ideally, both nitrate and phosphate should be maintained low–something like 0.5 to 1.0 ppm NO3 and 0.1 to 0.2 ppm PO4. The lower ends of these ranges are probably best, and would not at all be low compared to a healthy natural coral reef. While these are fairly low levels (compared to magnesium or potassium, for example), note that each range spans a doubling in concentration from the low to high ends. So, don't just aim to stay within the range, but at a particular value. Stability is key! 
You already know how to not introduce more nutrients than your system can manage: Don't overstock, don't overfeed, and don't skimp on the water changes. But a planted refugium can help in overall nutrient control. Same with live phyto! If both nitrate and phosphate tend to be high, and carbon may be limiting to heterotrophic bacterial growth (for example, if you use heavy chemical filtration), then carbon dosing might help. But if nitrate appears to be low while phosphate is high, you may want to bolster your microbiological community with diazotrophic bacteria before resorting to any carbon dosing regimen. And finally: Test often!