Marine aquarists and reef keepers are using macroalgae in their tanks as a source of natural filtration more frequently. Many reef keepers are turning to more natural filtration methods for economical reasons. Using macroalgae to remove excess nutrients and wastes from the reef tank system is less expensive than heavy filtration equipment. It also allows for a fresh supply of algae for hungry herbivores in the reef tank. But with so many macro varieties available, how do we decide which one is best?
In this post, we will look at some of the macro varieties available. Our goal is that by the end of this article, you will have a better idea of which species is a good fit for your system. So, let's jump right in!
What are macroalgae?
Macroalgae are a large group of algae species which is multi-cellular and complex. These macros can be beneficial for a reef tank system in several ways. Different types of macros are categorized into the three groups: Phaeophyta (brown algae), Chlorophyta (green algae) and Rhodophyta (red algae). There can be major differences between these seaweeds.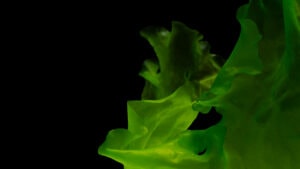 Macro can be identified by their plant-like structures. For the most part they have visible stem, leaf, and root-like structures.
Is macroalgae good for reef tanks?
Cultivating macro in your reef tank can have many benefits for water quality. The best-selling point for many reef keepers is a reduction in the frequency of water changes and maintenance. This is especially true for aquarists with larger tanks. Other benefits include:
Macro provides shelter for the small invertebrates in the reef tank.
Helps to remove excess nitrates and phosphates from the water.
Can serve as an alternative food source for fish.
Can cover large surface areas and create microsystems of their own which pods can inhabit.
Add an attractive colorful display to the reef tank system.
What types of Macroalgae are there?
There are thousands of diverse types of macro algae in the ocean's ecosystem. But only a few species are recommended to reef keepers and aquarists. The best macro for your reef tank will depend upon the needs of the system.
There are a few questions to ask yourself as a reef keeper: Are you looking for a certain aesthetic? Would you like to have an alternative food for your herbivore fish? Do you need shelter for vulnerable reef inhabitants to hide?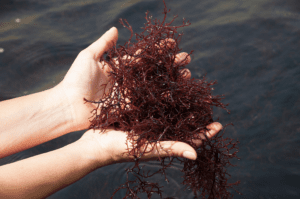 Once you have looked figured out what your needs are as an aquarist, then we can see which macros make the best fit! Here is a brief overview of some of our most popular macros:
Sea Lettuce (Ulva lactuca)
Sea Lettuce is a delicate, light green colored algae. This seaweed will help to create a very tropical aesthetic in the reef tank. Sea lettuce can quickly work to reduce the levels of phosphate and nitrates in the reef tank system. In the reef, it can be found growing in shallow reefs and will benefit from a brightly lit aquarium.
Red Ogo gives a punch of color with its vibrant scarlet and burgundy hues. Red Ogo macro adds amazing texture to the reef tank with its dense and short bushy fronds. This macro can also serve as a nutritious live food source for the herbivores in the reef tank system.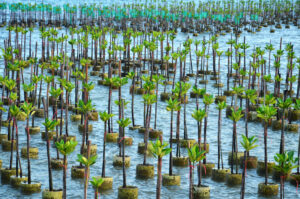 Red Mangrove (Rhizophora mangle)
Red Mangrove is technically not macro! Rather it is a plant that adds a tropical aesthetic to a lagoon style tank. Red Mangrove works to reduce excess nutrients in the tank and can be acclimated to brackish water. If placed in a tank with bright light, this species is easy to grow with little care needed. The leaves of the Red Mangrove will need to be spritzed with fresh water daily if grown in saltwater.
Pom Pom Gracilaria gives a punch of color and texture to any refugium or reef tank system. This macro has vibrant crimson and burgundy hues and sharply tapered, flame-like fronds. Pom Pom Gracilaria is a rapidly growing and hardy macroalgae. It's also great for nutrient export in saltwater aquariums. This beautifully colored and shaped macro helps to create an exotic aesthetic in the reef tank. Pom Pom Gracilaria also serves as a live food for hungry herbivores!
Dragons Tongue (Halymenia dilatate)
It is highly sought after as a decorative macro by reef keepers because to its vivid red colour and flame-shaped fronds. While it is visually appealing in the main tank, it can also be grown out in the refugium for nutrient export. This macro can also be used for a more artistic aesthetic in the display tank.
Mocha Spike Sphere (Gracilaria tikvahiae)
These golden-brown spike balls of seaweed can be used for nutrient export. Mocha Spike Sphere can add interest in a lagoon style reef tank. This macro does very well in tanks with moderate water flow.
Chaeto (Chaetomorpha Linum)
Chaeto grows rapidly to form a tangled mass that smaller critters can nestle into. More vulnerable species can inhabit, breed, and hide amongst the tangles. It will also help to quickly consume excess nitrates and phosphates and stabilize water parameters.
Green Ogo is an attractive, dark green, macro with an interesting shape of sharp, pointy ends which are reminiscent of pine needles. As well as adding a point of texture to the reef tank, this macro is also a great food source for herbivores.
Red Spaghetti (Gracilaria pacifica)
Red Spaghetti Gracilaria has a vivid red colour and short fonds. It's a lovely addition to any display tank or refugium in need of some color. Grow this in the fuge and then transfer to the display tank to add some a treat for tangs and inverts.
This quick-growing and attractive plant can be used as a food source for your fish and will grow rapidly in nutrient-rich waters. This macro can be used to add more interest to the reef tank aesthetic.
Conclusion
If you are looking to add macro algae to an existing reef tank, you may want to start with one of the faster growing varieties. These species will develop in the fuge or display tank quickly. You will start to see improvements in excess nutrients quickly. These macro varieties will also outcompete any nuisance algae in the reef tank system.
For example, Sea Lettuce is an excellent choice. It grows very quickly and helps to manage the phosphate and nitrate levels in the reef tank system. Sea Lettuce will also provide a shelter for smaller and more vulnerable critters.
Almost any macro can be a great addition to the display tank or fuge if basic conditions are met. But the best macro for your reef tank system will mostly depend on what your goals are. If you are an aquarist looking for a way to brighten up a display without the demands of keeping a reef, then macro is the way to go! The more brightly colored seaweed varieties will add natural beauty to the system. For hobbyists with more peaceful reef fish such as mandarins, a dense thicket of macro is ideal for them to seek refuge in the display.
Like most reef tank topics, there is no one-size-fits-all solution for macro. The best macro for your reef tank system will depend on some of the factors we discussed above. The good news is that you can choose a few varieties of these seaweeds and see which ones do the best in your system. Regardless of the variety, growing macro is a surefire way to improve the health of the reef tank system.