Stony corals can use elements in the water to build their skeletons. It is a fantastic process that develops exciting structures. However, in an aquarium, resources are limited. To allow your corals to continue to grow, you need to provide essential elements such as calcium and magnesium and maintain an elevated and stable alkalinity level. How do you do that? Do you need to supplement these elements and ions? This article will cover the basics of element supplementation for a reef aquarium.
What is calcium supplementation?
Calcium supplementation refers to replenishing calcium ions in the water using some additive or dosing system, as corals absorb calcium from the water. Along with calcium, a reef keeper must also keep the alkalinity levels balanced. Other trace elements like magnesium also needs to be tested for and maintained.
Why is calcium supplementation necessary?
Calcium supplementation and element replenishment are important for several reasons. As we mentioned, corals need particular calcium, alkalinity, and magnesium levels to grow. However, it is also vital for the health and "happiness" of the coral. Not only do coral not grow as fast with low calcium levels, but they are also overall less happy. If your aquarium consumes lots of calcium, replenishment is vital for stability. When done correctly, calcium supplementation can result in well-stabilized water chemistry. Stable water chemistry will result in happier corals.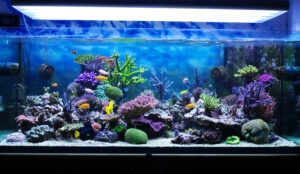 The most important "elements" to supplement
When balancing your water chemistry, three parameters require close attention. You should observe these three parameters together because they affect each other. They have a push-and-pull relationship. The level of calcium will affect the level of alkalinity and vice versa. The level of magnesium will affect both calcium and alkalinity.
To start, let's talk about calcium. Calcium is required to build stony coral skeletons. It is one of the most abundant ions in saltwater. In an aquarium, you should aim to have calcium levels between 380-450 ppm.
On the other hand, alkalinity is a bit more complicated. It is not a single ion but rather a collection of ions and how they affect the buffering capacity of saltwater. Unlike calcium and magnesium, alkalinity is measured in dKH, which is the degree of carbonate hardness. Alkalinity determines the amount of acid required to lower the pH levels so that bicarbonate turns into carbonic acid . Essentially, this parameter determines how stable the water chemistry will be. Higher alkalinity will result in more stability, while the opposite results in less stability. It needs to be maintained because corals "consume" alkalinity. Alkalinity should be maintained around 8-12 dKH .
The relationship between calcium and alkalinity is one of balance. More of one will mean less of the other, but there is a sweet spot that allows you to have acceptable levels of both. However, if you cannot get either of these parameters to an ideal level, this may indicate low magnesium. Magnesium is saltwater's third most abundant element . However, corals don't consume it as much as calcium or alkalinity. You should test your magnesium just as much as calcium or alkalinity, but you usually don't need to dose it as much. Magnesium is vital because it allows for more calcium without less alkalinity and corals consume it to grow. Ideally, magnesium should be around 1,200-1,400 ppm.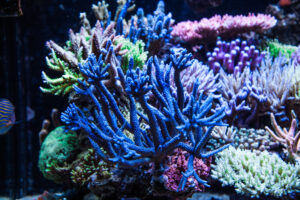 It is crucial to understand how these three parameters work together and the ideal ranges for each. However, take special care to avoid number chasing. "Number chasing" refers to reaching for specific values without considering how the corals react to the current values. For example, 450 ppm of calcium may be better than 370 ppm, but it doesn't matter if the corals are happy and growing. If your corals are happy and growing at 370 ppm, there is no point in messing with the water chemistry to reach a particular value. Remember, test kits are not 100% accurate, and there is a lot of possibility for user error. The goal should be to keep your corals happy, not reach specific values.
Methods of supplementation
Now that you have a basic understanding of how calcium, alkalinity, and magnesium work, let's briefly go over the different types of supplementation. Before you think about what method you want to use, you need to test the parameters. Supplementing calcium, alkalinity, and magnesium without testing is perilous. Please only start dosing if you test your water.
Water changes help with nutrient export, but they can also help replenish elements. This method is all you need if you are a beginner and only have a few corals.Water changes are cheap and easy to do. You can't overdose, and it gets the job done. When you get more corals and your current corals grow, you can test your water to see if you need to use another method. This method is best for aquariums with only a few stony corals or soft coral-dominant aquariums.
Following water changes, the most straightforward method to use is kalkwasser. Kalkwasser is German for lime water. It is a diluted solution of calcium hydroxide. The great thing about this method is that it can simultaneously maintain calcium, alkalinity, and sometimes magnesium. Kalkwasser is also easy to use and reasonably cheap. It will increase the pH, which could be good or bad. Kalkwasser is typically used in an auto-top-off (ATO) reservoir or drip system. Sometimes it is used in a kalkwasser reactor. The easiest way is to use it in an ATO reservoir. The main downside to this method is that it can only increase the levels by so much before the pH becomes too high. It is also devastating if you overdose it. This method is best for moderately stocked aquariums or used alongside another technique. Some hobbyists use kalkwasser specifically to increase the pH. If your aquarium has high calcium demands, such as an Acropora-dominated aquarium, kalkwasser is best when paired with another technique.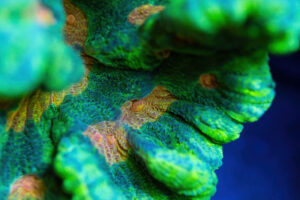 Another method is two-part dosing, though sometimes hobbyists do three-part dosing. This method involves adding specific solutions, such as calcium chloride and sodium bicarbonate, to maintain calcium and alkalinity. You can dose two-part solutions manually or automatically. The benefit of this method is that you can make fine adjustments and add as much as you need. The drawback is that it requires a lot of adjusting and tuning, though it becomes easier as you gain more experience. The other downside is that it can become expensive in larger quantities.
Finally, let's discuss calcium reactors. Calcium reactors use carbon dioxide to dissolve calcium bicarbonate media in a chamber. This dissolved media is slowly added to the aquarium. The great thing about calcium reactors is the safety that comes with them. Unlike kalkwasser or two-part dosing, there is little risk of overdosing on your aquarium. It is more likely for the calcium reactor to stop working than for it to add too much, which is ideal. The downsides are the space requirements and the upfront cost for the reactor chamber, CO2 tank, and CO2 regulator. It may sound complicated, but it is relatively easy to set up and does not require too much maintenance. Calcium reactors typically make the most sense for larger aquariums with lots of calcium and alkalinity demands, but you can also use them on medium-sized aquariums.
There is much more to these methods than we discussed here, as each could be a topic for another article. The point is to give you a general idea of each so you can think about what may be best for you and your aquarium. From there, you can do further research on specific methods. Remember that you don't have to pick one method alone. You can mix and match if needed.
Which aquariums need supplementation?
Not all aquariums require supplementation. Fish-only and soft coral aquariums don't need supplementation. If you keep an LPS-dominant aquarium, you may need some light supplementation. You will likely need to supplement the calcium levels for aquariums with lots of fast-growing corals. Inverts such as clams may also require supplementation.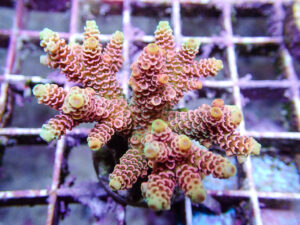 The primary way to determine if you need to supplement your aquarium is by testing at least once per month. Test your calcium, alkalinity, and magnesium if your corals look unhappy. If the levels are low, this likely means you need to supplement. If the levels are a little low, but your corals look happy, you likely only need to maintain them rather than increase them.
Dangers of overdosing calcium supplement
The risk of supplementation lies in overdosing. Nothing good in a reef aquarium happens fast. It is much better to have slowly declining levels than rapidly increasing levels, even if they rise to the ideal place. Dosing too much too fast will likely stress out your coral and can even cause death. If you are new to calcium supplementation, practice restraint. Dose less than you need until you are more experienced and confident with whatever method you use. Even the most experienced hobbyists can overdose an aquarium, so be careful. The point of calcium supplementation is to make the coral happier. Overdosing will have the reverse effect.
Stony corals and inverts such as clams require certain levels of calcium, alkalinity, and magnesium to grow and be healthy. Sometimes, this requires the hobbyists to add these ions to the water using a method such as kalkwasser or a calcium reactor. There is much more to it than what we discussed in this article, but you should now understand how it all works. With this foundation of knowledge, you will be ready to dive deeper into calcium supplementation.