We're glad to have you back at the AlgaeLab for another post in our series on building bulletproof refugiums. It should come as no surprise that refugiums are a common topic for us here at AlgaeBarn. Many of our customers want to know how they can improve the efficiency of their refugium. Some of our most frequently asked questions are about how to maintain the refugium. So, in this post we are going to talk about refugium maintenance. We will also discuss a few tips and tricks that are super helpful in keeping the refugium fresh and clean.
Going "au natural"
Most reef keepers knew that maintaining a reef tank would be a serious commitment before they set up their systems. Some methods of maintenance are easier than others. Using natural methods is a simple way to control nuisance algae and pests. While using natural methods does require a bit of homework and legwork, the bulk of the heavy lifting will be choosing organisms that are the most beneficial for the environment.
Choosing the right refugium residents will save a ton of time in the long run. It will also save money by eliminating the need for costly filtration and reactor media. Reef keepers with a dense copepod population in the refugium will spend less time scraping film algae from glass and suctioning detritus.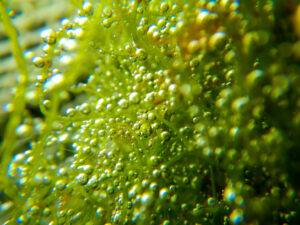 For both algae and detritus, copepods are the most efficient biocontrol agents. These tiny crustaceans play the same ecological role in the reef tank as they do on the natural coral reef. So, the only real work a reef keeper needs to do is to simply introduce them to the reef tank system.
Building your refugium maintenance crew
One of our biggest challenges in reef keeping is maintaining a clean display tank. Whether it is nuisance algae, detritus, bacterial blooms, or film algae, there is usually something unsightly that will need attention. For the most part, we can make changes to our husbandry habits to potentially avoid run-ins with the aforementioned nuisances. But there is a more efficient solution and that is to selectively stock the refugium with heavy hitting microorganisms.
Before we get into specifics, let's revisit the topic of detritus. Most detritus consists of dead animals, plants, and animal waste. Sometimes it's just decaying organic matter that's been accumulating for a while. In the ocean, detritus is made of tiny pieces of organic material called marine snow. Marine snow provides nutrition to many animals on the coral reef.
Therefore, it is safe to say that not all detritus is harmful. In fact, it is beneficial so long as animals are not being smothered by detritus drifts. Most reef keepers will agree that accumulations of detritus are unsightly in the display tank. But in the refugium, detritus is an important part of the food web.
The microorganisms that feed on detritus break the waste down into soluble components. These nutrients are then absorbed by other organisms. In other words, it is the microbes and detritivores that complete the mineralization of detritus through the detritus cycle. Therefore, to truly reduce our refugium maintenance, we need to populate the system with the right bacteria and the right copepods.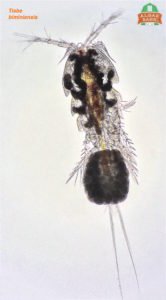 Biological methods of detritus removal are critical for maintaining a healthy refugium since manual siphoning and removal can be very disruptive. Nassarius and cerith snails are a good fit for the job as they are primarily detritivores. We offer captive-bred nassarius and cerith snails for sale here at AlgaeBarn. Choosing captive-bred inverts can drastically reduce the risk of introducing pests and pathogens to the reef tank system.
Harpacticoid copepods are especially useful for detritus management. At AlgaeBarn, we feel that two species of harpacticoids are perfect for this job. These copepods spend most of their lives on the sand bed. Their feeding behaviors have even evolved to scour the substrate more efficiently for food. The two species of harpacticoids we aquaculture are Tisbe biminiensis and Tigriopus californicus.
Tisbe biminiensis is an exceptionally prolific harpacticoid. Tisbe pods can quickly populate a reef tank and have a massive appetite. They are also entirely reef safe. Once Tisbe pods are introduced to the refugium, it does not take long before the accumulation of detritus and film algae slows down.
Tigriopus californicus are not only easy to ship, but also thrive in the captivity. We have seen amazing longevity in Tig pods and populations of the species can be maintained in practically any reef tank system. Tig pods are excellent scavengers that will happily live off detritus and film algae. Their usefulness on the refugium maintenance crew is related to their population.
These tiny creatures will eat just about anything! This includes bacteria, fish feces, and uneaten food. They will be plentiful in the substrate of any aquarium. But they will also be present on the tank panels, pipes, and pumps. These tiny critters have a big advantage over other scavengers like snails that have a harder time getting into tight spaces.
Building a bacterial maintenance crew
Critters like copepods and snails are important for refugium maintenance, but microbes are possibly the star of the show. Some microbes have been shown to remove organic waste compounds as well as dissolved and particulate organics like detritus. They can do this in both aerobic and anaerobic zones of the reef tank system. One group of microbes that have shown really great results in reef tank systems is purple non-sulfur bacteria (PNSB).
PNSBs first appeared on Earth more than 3 billion years ago. The PNSB species Rhodopseudomonas palustris is likely the most common of all PNSBs. R. palustris lives just about anywhere. It lives in swamps, on plants and algae, and even inside the guts of anemones and other inverts.
Detritus accumulations beneath live rock, in sumps and refugiums are ideal habitats for R. palustris. This microbe is so effective at digesting sludge that it has agricultural applications. R. palustris can help to break down accumulations of particulates that collect beneath macroalgae in the refugium. This microbe can also colonize the surfaces of porous biomedia helping to keep the media clean which extends the life and efficiency of the product. Our friends at Hydrospace have developed PNS ProBio. This R. palustris supplement can be added directly to the refugium and PNS ProBio can also help to balance the nitrogen cycle in the reef tank system.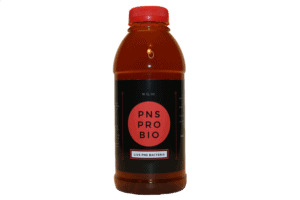 Final thoughts on maintenance for a bulletproof refugium
One of the most crucial maintenance tasks is that the macroalgae be harvested every few weeks. This is how we complete the nutrient export cycle. Now, once it has been harvested, the macroalgae can be used to feed fish in the display tank or rinsed in fresh water and used for compost. Harvesting the macro also helps to reduce accumulations of detritus in the refugium.
Harvesting macroalgae and performing regular water changes are just about the only maintenance a reef keeper needs to do on a refugium. When we harvest our macroalgae, we also take a moment to examine pumps and plumbing. This is always a good practice and can help avoid random shells and debris from getting caught in an impeller or blocking a return line.
Maintenance time is also an opportunity to replenish copepod populations as well. Our Poseidon's Feast blend of copepods is a great choice for new systems as well as replenishing an established refugium. Poseidon's Feast contains the harpacticoids Tisbe biminiensis and Tigriopus californicus. And as always, we recommend dosing the system with OceanMagik Live Phytoplankton to maintain a healthy pod population.
One of the most important things to remember about maintenance is that consistency is key. Another very important matter we like to mention is to keep your hands out of the tank! Once the maintenance is done, if there is nothing critical to the functioning of the system, just leave it be. It is also wise to invest in a long-handled pair of tweezers and curved hemostats. These are less disruptive to the system than introducing your human hands into the water.
Hopefully we've helped to answer many of your questions on maintaining a refugium. If you have any questions we didn't touch on in this post, please drop a comment below and tell us!