Welcome back to our series on building bulletproof refugiums! At AlgaeBarn, we get a lot of questions on which products and methods make the most efficient and stable refugiums. So, we decided to put together a series here on the AlgaeLab Blog to answer some of the most frequently asked questions on refugiums. In this article, we are talking about the stuff that quite literally is the foundation of the refugium – substrate!
Should I put substrate in the refugium?
This is a simple question with a pretty complex answer! The refugium has become standard equipment in many contemporary reef tank systems. Traditionally, refugiums had a deep, soft, and sandy substrate and a lush bed of macroalgae. In just the last few years, bare bottom systems have become popular. For reef tanks, especially SPS dominant systems, a bare bottom makes a lot of sense.
Now that we have better success with keeping SPS corals, the way we keep our reef tank systems has evolved. Since SPS corals are more demanding of higher rates of water movement, this causes sand to get pushed around the display. This can become irritating to the reef keeper but more critically, inverts such as giant clams and even coral will appear disturbed. In response, the trend of bare bottom systems returned.
We feel that it is biologically significant that coral reefs are adjacent to sandy ecosystems. In fact, coral reef and sand beds are interdependent upon one another. As reef keepers, we know that we want to mimic natural coral reefs as closely as we possibly can. The question then becomes how to get the benefits of a deep sand bed in reef tanks systems with bare bottom displays.
The benefits of a refugium with a sand bed will be crucial for systems with bare bottom displays. For the best possible biological filtration, a refugium should have substrate and a good amount of it. Many find that material such as crushed aragonite and sand are preferable for reef tank systems, but we will talk more on that later.
How much sand should I use in the refugium?
Reef keepers will typically create a sand bed deep enough in the refugium so that the microorganisms and sand sifting inverts have a place to burrow. It is very important that the sand be deep enough to be beneficial for these animals. When the sand bed is only one or two inches deep, the sand is serving more of an aesthetic purpose. For the reef tank system to achieve the benefits of deep sand bed (DSB) filtration, we would want to create a sand bed that is five or six inches deep.
It is known that sand beds under three inches are not ideal for denitrification. Reef keepers who have criticisms of keeping a DSB refugium simply may not have been using a deep enough sand bed. A sand bed only a few inches deep is essentially too shallow to complete nitrifying processes and not deep enough for denitrification. For a reef tank system to see the full benefits of natural nitrate reduction, a depth of 3-6 inches of refugium substrate is suggested.
What kind of substrate should I use in the refugium?
The substrates we use in our reef tanks have typically been selected because they act to encourage dense communities of denitrifying bacteria. This will work in conjunction with macroalgae to keep nitrate levels in check. The sand bed also provides a favorable environment in the life cycle of copepods and macroalgae. So many of these tiny creatures depend on the sand bed as a source of food and shelter.
Before we go into recommendations, lets talk a bit about how substrate works in a refugium. The stronger the water current, the more easily bigger particles can be carried. Finer sediments get carried in the current to other, calmer locations. Particulate organic matter is more often deposited in regions with lower water circulation by this same process. It is how bays, estuaries, and lagoons accumulate squishy, muddy substrates.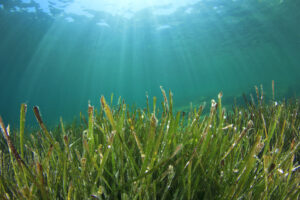 In these areas, diverse populations of microflora and fauna that feed on deposits of particulate organic matter will proliferate! The majority of these are inverts that spend most of their life cycles with bodies below the surface of the sand. Some of the most beneficial creatures in the reef tank system will take up residence in the layers or microzones of the sand bed. Denitrifying bacteria thrive in the dark, anoxic sediment layers.
It may surprise you to learn that there is a classification system that categorizes sand. This is based on the tireless work of oceanographers and geographers who study the sandy bottom of the world's oceans. This research has taught us that the particle size of substrate is crucial for each habitat. Substrates in muddy bottoms can be up to 0.002 mm in size and are generally made up of clay and silt. What we refer to as sand is typically made up of silica. The particle size of sand ranges in size from 0.063 – 2.0 mm. Then we have rubble and gravel which measures anywhere from 2.0 – 200 mm are typical of rocky bottoms.
How much of an advantage it is to use a sand substrate in the refugium can depend on how big or small the individual grains are. A greater amount of microbial activity takes place in zones where substrate particle sizes are smaller. On the other hand, gravel, crushed aragonite, and reef rubble will break down more slowly and will not be dispersed in other areas of the refugium. But if there is enough water moving through the system and the surface layer of sand is stirred up by tiny inverts, any particle size can, in theory, facilitate a healthy refugium.
When water currents are more turbulent in some places and slower in others, sediments and debris are swept away and deposited in areas with less current. Essentially, the finer the particle, the further it travels. Most coral reefs are in exposed, wave-battered waters, while estuaries and lagoons are much calmer. So, it makes sense that an SPS dominant system would be better served with an aragonite rubble substrate. The larger particle size of the rubble will tolerate the higher rates of water flow.
On the other hand, let's say we want to mimic the natural habitat of a nicely sheltered estuary in our refugiums. Our substrate will have a much finer particle size, somewhere between 1 -2 mm will be ideal. And we absolutely need to have consistent water turnover rates but nowhere near as turbulent as with an SPS system (10 or 20 times per hour is sufficient). The surface of this substrate is consistently agitated by water movement and animal activity. This combination of movement creates a perfectly oxygenated substrate surface! This area is home to a wide variety of inverts and microfauna, including aerobic microbes like nitrifying bacteria, and heterotrophic bacteria. Although oxygen can permeate further into the refugium substrate, it typically does not. This is because aerobic creatures living near the surface quickly consume oxygen through respiration.
Can I put rocks in the refugium?
Yes, rocks absolutely have a place in the refugium! Rocks and especially ceramic biomedia like MarinePure products are going to fill a very special role in the refugium. Dense substrates like rock and ceramic biomedia have billions of tiny holes and pores in the surface. What they do is provide surface area for more beneficial bacteria to call home.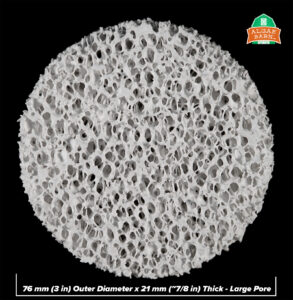 Rockwork in the refugium is also great to anchor down macroalgae that would otherwise float up into the water column. This is especially important because macroalgae and seaweed do not have roots like terrestrial plants. Instead, they have holdfasts. These root-like structures can be composed of tiny, fibrous hairs that vary in structure depending on what type of substrate the species is designed to grab onto. So having a variety of rock and ceramic biomedia is also beneficial to macroalgae and the microflora in the refugium.
Final thoughts on substrates for a bulletproof refugium
We hope that this article has helped to narrow down the importance of choosing a good substrate for the refugium. At AlgaeBarn, we know that our reef tank systems can absolutely achieve bulletproof status when we prioritize building our microfauna and microflora populations. And choosing a good substrate is crucial – it is literally the foundation for the system!
We also want to take this opportunity to mention the importance of using sustainable and clean material in this stage of building the refugium. Rather than risking the introduction of pathogens to a new system, we recommend using sustainably grown and cultured copepods, macroalgae and microbes. AlgaeBarn is proud to be at the forefront of aquaculture so that we can provide the cleanest, healthiest livestock for our customers.
What type of substrate is in your refugium? Drop a comment below to share your experience!