Welcome to the next part of our series on how to build a bulletproof refugium. At AlgaeBarn, a lot of our customers have asked what the secret is to a healthy refugium. In all honesty, there is no secret! We are more than happy to share our experience on keeping a healthy reef tank system. So, in this article we are spilling the tea on one of the most crucial components of a bulletproof refugium – macroalgae!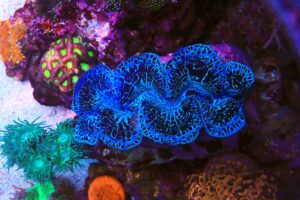 Will any type of light work?
Yes – and – no! When it comes to the light spectrum, macroalgae have similar needs to the plants we grow in soil. We divide macroalgae into three categories by color: red, green, and brown. The coloration of the macro will tell us how deep the variety grows. From there, we can figure out how intense the lighting will need to be for the variety.
A green macroalgae like Chaetomorpha might favor warmer, shallower water. These varieties reflect green light and absorbing the blue/red spectrum. Full-spectrum lighting at 6500K is ideal for growing green macroalgae because it mimics natural sunlight. Although many green macro speciesare tolerant of a wider range of lighting spectrum as high as 10-12,000K.
If we go a bit deeper on the reef, is where we find red and brown macroalgae. Brown macro are from deeper areas of the ocean, so they are much less demanding of light. Although there is a wide range of red and brown macroalgae, each variety is adapted to its habitat. Some species do need the green spectrum for accessory pigments.
Most red and brown macroalgae, like corals, need light that is very close to the blue spectrum. One of the benefits of today's technology is that many LED lamps are completely customizable.  It is possible to program your lights to have peaks in the blue, red, and a full green spectrum.
Can I put macro in my filter?
This is actually a great question! The answer is yes, but your success will depend on a few different factors. First, if this is a hang-on-back (HOB) filter, you would need a way to secure the macro and affix a lamp to keep the macro illuminated. Then, you will want to adjust the flow rate of the filter's pump to meet the needs of the macro you want to place there. There are tons of cool hacks and DIY projects on YouTube to walk you through converting a standard HOB filter to a macro chamber.
On that note, we want to mention that HOB refugiums and algae scrubbers are great options for reef tank systems that have limited space. If there is space available in the sump or if the cabinet allows, a HOB refugium can be a very efficient method for improving nutrient export.
What nutrients does it need?
The most crucial nutrients for macroalgae are nitrate and phosphate. Trace elements like magnesium, potassium, calcium, and sulfur will also be needed for macro to thrive. In terms of nutrients, nitrate is the most crucial compound for macroalgae growth. Thankfully, nitrate is abundant in reef tank systems because of the nitrogen cycle and the waste products provided by the fish and other inverts we keep in them.
Macroalgae are commonly used in systems to reduce nitrate levels. But the caveat is that it also slows the growth of the macroalgae. In that case, we have options for dosing nitrate to the reef tank system. There are many additives and supplements on the market from reputable brands; however, it is vital to monitor nitrate levels by performing consistent water tests.
Phosphorus is the second most important mineral for growing healthy macro. Most of the phosphate (PO4) in the reef tank will come from uneaten food, detritus, and fish waste. Phosphate levels should be kept below 0.05ppm, macro uses much less phosphate than nitrate for growth. Increased phosphate levels will also lead to nuisance algae in the display tank.
Most trace elements like magnesium, sulfur and potassium will be replenished with regular water changes and dosing is typically not required. However, calcium is a crucial component for healthy macroalgae. In most cases, macro will thrive in the range of 375-450ppm which is the value that we target as reef keepers. Other trace minerals and elements like iron, iodine, and zinc are replenished with regular water changes.
Can I feed macroalgae to my fish?
Absolutely! And there is nothing more nutritious to feed hungry herbivores than fresh seaweed! Supplementing the diets of herbivorous fish is vital because most well-maintained systems will not have enough food for them to graze on. Tangs, blennies, and other voracious eaters can rapidly run out of edible algae. The clean-up crew critters that help keep the reef tank system tidy, such snails and sea urchins, may also start to starve.
When it comes to supplementing the diet of the herbivores in our reef tanks, we have a lot of different options! We can choose from both fresh and frozen foods. Supplemental herbivore foods can be processed as whole or dried flakes. Dried algae are also a popular ingredient in pellets, flakes, wafers, and frozen foods.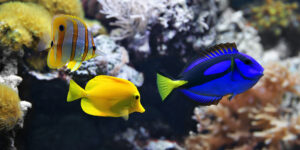 Many reef keepers have good results with processed wafers, pellets, dried seaweed sheets, and frozen food. These are a convenient way to supplement diet of herbivores, but they are not perfect. Vitamins and healthy fats are particularly vulnerable to being lost during processing, and their nutritional value can be reduced even further by oxidation.
Live macro is going to be the best source of nutrition you can offer to these grazers. As the macroalgae grows, the excess will need to be trimmed and discarded to complete the cycle of nutrient export. However, it is still a step in the right direction if these pieces are being consumed by animals in the reef tank system. The fish will most likely benefit more from this nutrition than the system will from the removal of nutrients.
There are varieties of macroalgae that are preferred by herbivorous inverts and fish. Ulva and gracilaria are two great examples of highly palatable macroalgae. AlgaeBarn's Clean Sea Lettuce (Ulva lactuca) can grow rapidly and in large quantities with the right amount of nutrients. It has a strong fatty acid profile, and contains B vitamins, and protein which is very nutritious for a macroalgae. Gracilaria (Gracilaria parvispora) is a macroalgae commonly referred to as Red Ogo in the aquarium trade. In addition to being very easy to grow, Red Ogo is very nutritious for herbivores. Red Ogo cells are also soft enough for nervous grazing fish to easily bite.
Can I rinse it in tap water?
This is a bit of a controversial question. The most conservative answer is no, you cannot rinse macroalgae in tap water. However, there have been a number of reef keepers who claim they had success with freshwater dipping macroalgae. We still would not recommend dipping your macroalgae in freshwater unless you are going to compost it.
At AlgaeBarn, we have a very rigorous process that involves cleaning and quarantining our macroalgae. Our systems are all isolated here so there is next to no risk of cross contamination. We go through this effort because we take pride in every parcel of macroalgae that leaves our aquaculture facility. By working hard to ensure that our products are free of pests and pathogens, we can continue to supply our customers with the highest quality and cleanest macroalgae in the industry.
Choosing macro that ha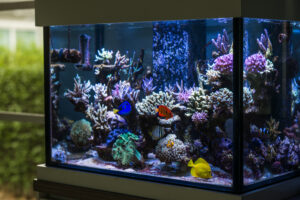 s been thoroughly cleaned and quarantined can significantly reduce, if not eliminate, the risk of introducing pathogens. Although most reputable sellers and frag swappers will treat, quarantine, and isolate their macroalgae, there is no way to know for certain that macroalgae is completely clean. This is because even with the most stringent measures, the blades of macroalgae are literally designed to provide shelter for critters, and spores, and eggs.  As a result, it is our suggestion that all newly introduced livestock – plant, animal, coral, or invert – undergoes inspection and quarantine prior to being introduced to the reef tank system.
Final thoughts on macroalgae for bulletproof refugiums
Hopefully, we've helped to answer some of the most common questions we hear about macroalgae. One of the most important things to remember about understanding macroalgae is that they are plants that have very similar needs to the ones we grow in soil. We covered a lot of ground in this post by discussing trace elements and minerals, working with limited space, and using macroalgae as a food source in the reef tank.
If you have any questions we didn't cover in this article, please check out our articles in the AlgaeLab Blog. Also, feel free to drop a comment below and tell us how we're doing!