Welcome to the next part of our series on how to build bulletproof refugiums. At AlgaeBarn, we get a good number of questions from reef keepers asking about how to choose livestock for the refugium. This is a big topic to dig into – maybe even a bit controversial – but we will do our best to describe the methods that have been successful for us when we stock our refugiums. So, let's jump right in and start off with some basics!
How do I seed a new refugium?
You'll probably want your new refugium to work at full capacity from the start. But sometimes nature can't be rushed! When the right beneficial organisms are introduced at the right time and in the right amount, the conditioning time is cut down by a lot. This is why AlgaeBarn created the Ultimate Refugium Starter Pack. It's the easiest way to reduce the amount of time it takes to start a healthy, well-balanced refugium.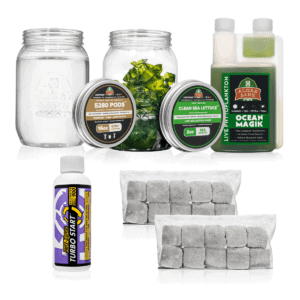 The bundle comes with one of the best biomedia on the market. MarinePure Biofiltration media is a ceramic medium with very large pores that allows water to flow freely through it. The porosity also provides large amounts of its surface area. These micropockets are a haven for a wide range of organisms. The exterior surface provides an excellent microhabitat for nitrifying bacteria and copepods. The media also has a deeper layer where anaerobic bacteria can thrive.
How do I add copepods to the refugium?
The best time to start a copepod population is as soon as the system has cycled. When using the Ultimate Refugium Starter Pack, you'll want to add the pods, phyto, and macro at least 5 days after introducing the nitrifying bacteria.
In the animal kingdom, copepods have a reputation for being very tough. They can tolerate conditions that would kill most other species, such as rapid changes in temperature and pH. However, if you acclimate all species of livestock before introducing them into the system, you will improve their survival rates by reducing stress. This is true whether it is copepods, snails, fish, hermit crabs, shrimp, etc.
The methods we use to acclimate fish and other livestock to a system are not directly applicable to pods. You can float the jar for 10 or 15 minutes to acclimate to your systems temperature. The species of pods that we include in all AlgaeBarn blends including EcoPods and GalaxyPods are at various stages of development and may include nauplii. Nauplii are copepod larvae that are too small to be seen by the naked eye, let alone be captured in a net. So, it's just not practical to remove them from the shipping water. With this, we recommend just transferring the contents of the jar to a larger container and starting a drip acclimation with two or three drips per second or add a tablespoon of water every 5 or 10 minutes.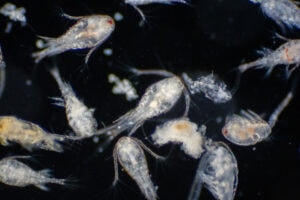 This part of the process can either wait until the system is on its nighttime cycle or you can power off the lighting. It is important to disconnect any mechanical filters including filter socks, floss, foam block, activated carbon, or GFO. Also turn off the power to any pumps, skimmers, UV sterilizers, and power heads. Anything mechanical has the potential to chop up or filter out the pods before they even have a chance to settle. Since we are just talking about seeding your bulletproof refugium here, add the copepods to the refugium. You can either pour them in or use a pipette or baster to introduce the pods onto the rocks and macro. Just be mindful not to overfill your system since you're adding water.
It is best to wait for an hour or so before turning on the power to any pumps and it is preferable to wait overnight or even a full day before powering on any mechanical filters.
Do I need to feed copepods in the refugium?
So, this is a bit of a controversial topic. The answer is yes, because we want our copepods to be at their healthiest so we will supplement their diet with live phyto. You can go without feeding pods and probably never see a decreased population. That's because copepods will forage for food just fine on their own!
Pods will eat the detritus and film algae in the refugium. However, if the refugium is still relatively new or less than six months old on average, the pods will benefit from supplementation. Adding live phyto to the refugium can also help to increase your copepod population. When we designed OceanMagik Live Phytoplankton, we chose phyto species that were small enough to sustain nauplii that otherwise would starve in captivity.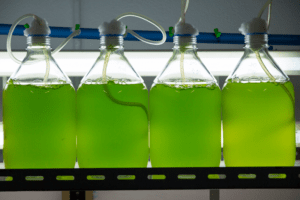 So, adding a daily dose of phyto won't stop the pods from eating film algae and decaying waste. In fact, it does just the opposite! More copepods mean more detritus and algae, which will sustain adult copepods just fine, but if we are feeding the nauplii, they will grow up to eat more detritus and algae, and the cycle continues! OceanMagik Live Phytoplankton is doing even more behind the scenes because it feeds corals and reduces nutrients at the same time.
Should I put snails in my refugium?
The short answer to this question is: it depends! However, choosing the right snail is essential if you want the refugium to act as a filter. Cerith snails, are excellent in cleaning up algae and detritus. Trochus Snails and Nassarius Snails are two more potential choices for your refuge.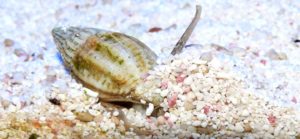 A lot of reef keepers plan to use snails for their clean-up crew in the display tank. Which is great! However, we suggest restricting the refugium population to just one species of snail and limiting the population. Too many snails in a small area can lead to starvation as there is too much competition for food.
Can you put fish and other livestock in a refugium?
This is where it gets controversial! It really depends on the size of the refugium and the fish. If we add an herbivorous fish, it will clean out the macroalgae in a matter of days, if not hours! The only real exception would be if the refugium only kept Clean Chaeto since this is generally an undesirable macroalgae to most fishes. We also would not want to add a zooplanktivore, since this fish would decimate our copepod population. So, those two conditions eliminate a very large majority of fish right off the bat.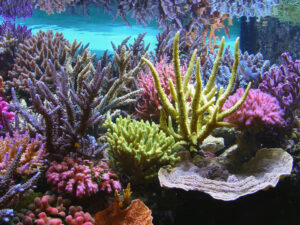 In all honesty, very few fish are considered to be truly reef safe. All it takes is for an herbivorous fish to realize that they don't mind the taste of Acropora skin and you now have a corallivorous fish. With that being said, the only "refugium safe" options would be carnivorous fish such as filefish, lionfish, or anglers. Lionfish are not going to be perfect candidates because they make servicing the refugium system difficult. Anglers and filefish are both peaceful fishes that will most likely do well in a refugium. Between the two, filefish are possibly the better choice as we offer several species that are captive-bred such as the ORA Whitespotted Pygmy Filefish.
In short, is it possible to keep fish in a refugium? Yes. However, this is not a good choice for all reef keepers. As the saying goes, your mileage may vary.
Final thoughts on choosing livestock for building a bulletproof refugium
In this post, we've briefly touched on the most crucial aspects of selecting suitable livestock for the refugium. We here at AlgaeBarn are confident that our reef tank systems will become bulletproof if we put in the time and effort to boost populations of microfauna and microflora. This is especially true for copepods which are the backbone of our ocean's food webs.
We also want to take this opportunity to stress the importance of choosing sustainable livestock for the refugium. At AlgaeBarn, we always recommend choosing sustainably grown and cultured livestock because it is better for your reef tank and better for the planet. AlgaeBarn is proud to be an industry leader in aquaculture, and we are grateful to our customers for allowing us to provide the cleanest and healthiest livestock possible.
How did you stock your refugium? Do you have any tips to share with new reef keepers? Drop a comment below and tell us how!