Welcome back to our discussion on building bulletproof refugiums! In the last few weeks, we have received a lot of questions here at AlgaeBarn about creating more stable refugiums. As a result, we've dedicated an entire series on the AlgaeLab Blog to discussing the best practices for keeping a healthy refugium. One of the most critical aspects of building a strong and stable refugium can't even be seen with the naked eye. Our reef tank systems are full of the busiest microbes on the planet! So, in this post, we are talking about bacterial biodiversity.
What is the role of bacterial biodiversity in the refugium?
There is a direct correlation between biodiversity and stability of the ecosystem. Every living thing has a specific function, which we call a niche, in the ecosystem. They are all interdependent on one another for the system to function. Although most reef keepers are aware that microorganisms proliferate in our reef tanks, the species and populations of these organisms can vary greatly depending on the amounts of algae, coral, inverts, rocks, and substrate present. By increasing the complexity of food webs and nutrient pathways, biodiversity can help keep ecosystems stable.
When big organic particles are present in a deep sand bed (DSB), they are too large for microbes and microorganisms to break down and use as food sources. But with the help of detritivores like copepods, bristleworms, hermit crabs, and snails, those large pieces of particulate organic matter (POM) can then provide nutrition for the microorganisms.
In addition to consuming bacteria, microfauna also helps by dispersing clumps of inorganic debris. Some help to keep the system healthy by eating algae or providing nutrition for corals and fish. As is common in nature, the population of these creatures in the reef tank system naturally declines over time. This can be due to predation by fish and corals, competition from other organisms, or random catastrophic events like alkalinity spikes due to a dosing error.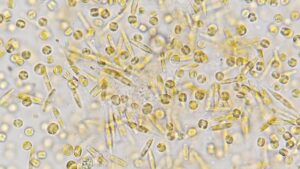 When you compare the fascinating biology of these microbes, you can see that they are very different. These tiny organisms are found everywhere in the ocean and serve almost every ecological purpose we could ever think of. In both coral reef ecosystems and reef tank systems, the foundation of the food web is crucial to life in the ocean.
Among the reef tank residents, the microorganisms are the most numerous and useful. Microbes are essential to the coral reef ecosystem because they help with regulating pH and break down nutrients. Most reef keepers have a good understanding of the ammonia cycle and know that bacteria are at the foundation of the food web. This is a very brief review of the process where toxic ammonia is converted to less toxic nitrite, nitrite is converted to nitrate, and nitrate is converted to inert nitrogen gas. What we don't see, are the billions of microbes in our reef tanks that orchestrate the entire nitrogen cycle.
However, there are one group of microbes that are thought to be some of the hardest working organisms on the planet. Purple non-sulfur bacteria (PNSB) are very useful for reef tank systems. PNSB perform photosynthesis in addition to nitrification and denitrification. Further, they have been shown to have powerful probiotic qualities that are beneficial to the health of a wide range of animals. Finally, as bacterivores and filter-feeders eat them, they distribute vital nutrients through the food web.
How does biodiversity benefit the refugium?
The most beautiful coral reef ecosystems in the world are essentially devoid of nutrients. An absence of nutrients in a body of water is referred to as oligotrophic. This just means that compounds like ammonia, nitrate and phosphate are in extremely short supply. Which makes sense considering for that most of the healthiest coral reefs in the world have very little amounts of macroalgae.
One of our goals as reef keepers is to ensure that the microfauna in the refugium thrives. What we would love to see is a ton of planktonic copepod larvae floating through the water column of the display tank. Live copepod larva is the best coral food on earth! But we need to meet a few conditions before we can achieve this.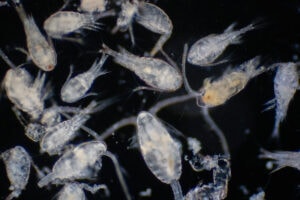 Biodiversity not only benefits the refugium, but it improves the overall health of the reef tank system. Millions of microorganisms work together to create the Great Barrier Reef's incredibly diverse coral reef ecosystem. The coral microbiome is made up of thousands of microbial species that aid in coral nutrition, reproduction, and health.
The recent advances in technology that have taken place over the last few decades have helped to shape reef keepers' perception of microbes. We know more about the critical roles that bacteria play in the ecosystem. Most reef keepers look at bacteria as both pathogens and symbionts. And thanks to a lot of work and research, our reef tanks benefit greatly from this understanding.
One of the most important ways that biodiversity contributes to a healthy refugium is through nutrient cycling. As we have touched on in our post on water quality, there are microbes that work around the clock helping to mineralize waste products and converting them to sources of nutrition for other organisms. Reef keepers can then utilize various species of macroalgae to consume those nutrients. This is a great example of how biodiversity saves time and money for reef keepers. Aquarists that do not keep a refugium would then have to resort to manual nutrient export in the form of larger water changes and more costly filtration equipment.
How can we improve biodiversity in the refugium?
Today this is actually very easy. Inoculating and replenishing the microbiome in the refugium was very difficult to do in the early years of the hobby. If a reef keeper was not in a major metropolitan area, the likelihood of finding another reef keeper with a refugium to swap sand and rock with was very slim. In addition to that, the risk of introducing unwanted pests and pathogens into the reef tank system was extremely high. Many reef keepers resorted to collecting specimens from their local beaches which could introduce any number of contaminants to the reef tank system.
Improving biodiversity in the refugium and doing it sustainably is one of our missions here at AlgaeBarn. We wanted reef keepers to have access to clean, pest-free, and healthy products that are responsibly grown and distributed. There was a time not so long ago that it was nearly impossible to find live phytoplankton unless you cultured it yourself. Today, we have OceanMagik, which is a blend of phytoplankton species developed especially for reef tank systems. Thanks to improvements in technology and especially in shipping, reef keepers are now able to replenish their microbiomes with fresh, live microorganisms delivered straight to their doors.

In practice, we can improve the biodiversity of our refugiums in just a few simple ways. A minimum of 1.5 inches of aragonite sand is recommended as a substrate in the refugium. We talked DSBs in our article on substrates so if you want more details on this process be sure to check it out. The layer of sand just at the surface of the substrate is a crucial zone for microbes and microflora. This is why we don't want to blast the refugium with intense water flow. We go into better detail in our article on water flow if you want more specifics on flow and turnover rates.
We want the water flow in the refugium to be stable and consistent. As any debris and POMs are meant to settle in its current form, it would be counterproductive to stir it up even more. If the surface of the substrate becomes too tightly packed with fine particles, it will develop anoxic zones. Anoxic zones are pockets of substrate that lack oxygen. In these spaces, almost nothing survives. If this occurs in the refugium, it may actually be necessary to manually remove the sediment and detritus as it settles on a periodic basis. This can be accomplished through regular manual siphoning with a very small diameter hose, but typically this accumulation will lessen more and more as the refugium is populated with different species.
Final thoughts on biodiversity in the refugium
Biodiversity helps keep coral reef ecosystems stable in so many ways. But one of the most crucial is by laying the foundation of food webs. Microbes are important to the ecosystem of a coral reef because they control the pH and break down nutrients. The coral microbiome is made up of thousands of types of microorganisms that help the coral eat, reproduce, and stay healthy.
We hope that this article has helped to answer some of your questions on why biodiversity is so important in our reef tank systems. If you have any questions or comments, please let us know in the comments!