It's World Oceans Month!
In this article, we are continuing with our month-long spotlight on ocean conservation and environmental protection. We are talking about everything, and anything related to reef tanks, inspired by World Oceans Month! In the month of June, we will be looking at reef-related issues and initiatives related to our work in aquaculture.
We think this is an important time to look at our work here at AlgaeBarn. We also want to share how our practices contribute to the protection of natural coral reefs. The aquaculture process helps conserve the oceans of the world. Today we will be focusing on the Peppermint Shrimp. Our friends at Biota have worked hard to keep this species on the list of captive-bred inverts for reef keepers.
We will look at the role Peppermint Shrimps play in the coral reef and in captivity. We will also talk about the dangers the species is currently facing. There is still much that can be done to protect them in the coral reef.
What is a Peppermint Shrimp?
Aquacultured Peppermint Shrimp are small, hardy crustaceans named for their attractive coloration. They have vibrant red and translucent white striping across their bodies. They are also known as the Peppermint Cleaner Shrimp. This is due to their habit of removing harmful parasites from reef fish. They will generally grow to a length of about 1.75 inches. They have decent longevity for an invert and live for a period of two to three years in captivity.
Peppermint Shrimp can be found in coral reefs and tube sponges. They are in the Gulf of Mexico, the Atlantic Ocean, and the Caribbean Sea. They will generally live in groups among the coral at depths varying between 3 and 90 feet.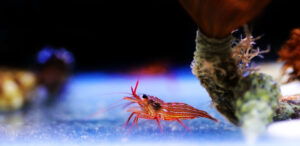 One very interesting aspect of these tiny creatures is that they are protandric simultaneous hermaphrodites. This means the shrimp will be male for the first four months. They show male behavior in between molting stages. Then, they show female behavior directly after a molt. After a few cycles, they will generally lose their male organs altogether. Although, it has been known in some instances for these shrimps to remain male.
How do Peppermint Shrimp improve coral reef health?
Peppermint Shrimp are known for their cleaning and scavenging practices. Certain shrimp have mutualistic relationships with fish. They live by feeding upon the parasites of reef-dwelling fish. This practice benefits the fish by removing harmful parasites from their gills and scales. It also helps to battle disease and death in the shrimp's habitat. They also feed on the debris and waste left by other animals around them. This contributes to cleaner and healthier coral reefs.
In many areas of the reef, Peppermint Shrimp will set up cleaning stations. In this most interesting behavior, a small group of three or four shrimp will set up shop and go about their days picking the parasites off passing fish. In a true display of mutualism, many of these fish are predators. Parrotfish would normally not miss an opportunity to snack on a Peppermint Shrimp. But in the cleaning station, they will allow the shrimp to crawl into the mouth and gills to remove harmful parasites.
Are Peppermint Shrimp endangered?
Because of their handy clean-up behaviors, Peppermint Shrimp are sought after by reef keepers. Peppermint Shrimp has become highly regarded as a helpful addition to reef tanks. Naturally, as demand for these tiny creatures rises, the wild collection of Peppermint Shrimp increases. This also increases the dangers to the coral reef ecosystem.
Currently, Peppermint Shrimp are not on an endangered species list. Although the increased demand for them is cause for concern among conservation groups. Peppermint Shrimp perform essential work in the coral reef and the overcollection disrupts the stability of the ecosystem.
How aquaculture of Peppermints is helping the coral reefs in the Gulf of Mexico, the Atlantic, and the Caribbean?
The aquaculture of Peppermint Shrimp helps to lessen the demand for wild collection of these creatures. As aquacultured shrimp become more readily available to reef keepers, the demand for wild-collected shrimp will decrease. This means that more Peppermint Shrimp will be left undisturbed and their natural coral reefs are less likely to be disrupted. The process of collecting these shrimps from the reef can be quite damaging. Boat anchors, chains, and propellors can be very destructive to the structure of the coral reef.
Why do reef keepers love Peppermint Shrimp?
As you may expect, one of the main advantages of adding aquacultured Peppermint Shrimp to the reef tank is their feeding habits. Peppermint shrimps are revered for consuming waste products in the tank.
When placing these creatures in the reef tank, they will soon get to work! They scour the substrate, glass, and all corners of the tank. They go on the hunt for aiptasia and waste left by other residents of the reef. They are also very peaceful and not the least bit territorial. Peppermint Shrimp are an interesting and helpful addition to the reef tank system. With the addition of these shrimps, there is a noticeable difference in the cleanliness of the substrate and rocks. These small shrimp like to live in small groups. Investing in a small group can be extremely beneficial to the reef tank system.
Are Peppermints hard to care for?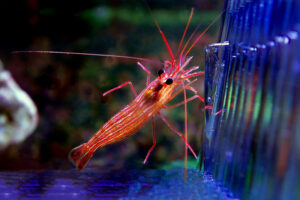 Peppermint Shrimp may look delicate, but they are quite hardy creatures! They are easy to care for in the reef tank. A good rule of thumb is to allow a minimum tank size of ten gallons per
 shrimp. So, if we want to add five shrimp, the tank should be at least fifty gallons. They are generally social and peaceful, to begin with. However, if they have space in the reef tank there should not be any issues with territorial aggression.
We also want to make sure that they have enough rocks and nooks to scavenge. Peppermint Shrimp like to hide during the day. Then they make their way around on their scavenging trips at night. Peppermint Shrimp do well with rocky caves and overhangs. They are found on the undersides of rocks.
Conclusion
Aquacultured Peppermint Shrimp are a valuable clean-up crew member of the reef. Although we all enjoy the benefits of their hard work, it is important to understand they are a delicate part of the reef ecosystem.
With the increased popularity of the reef-keeping hobby, we are seeing larger demands for these creatures. Unfortunately, under the pressure of overcollection and climate change, it is possible that the wild populations of these shrimps will decrease. Therefore, it is crucial that we all do our part to support sustainable practices whenever we can. We know our friends at Biota share this same mission. AlgaeBarn is very proud to team up with them to help preserve our precious coral reefs!