At AlgaeBarn, we are always happy to hear from our customers and we often are asked a lot of questions about husbandry. Sometimes, we will see a trend in questions or many of our customers are asking for similar advice. In response, we are answering some FAQ's about giant clams. We will go over a few of the biology basics and a few of the more advanced topics as well.
So, if you have clam questions – this post is for you!
The Basics
Giant clams are members of the family Tridacnidae. Most Tridacnids are commonly known as giant clams. They are represented by eight distinct species of giant clam. When kept in an established reef tank system, the ideal salinity is between 1.023 and 1.027. The best temperature range is 75-80ºF. This is the sweet spot for clams and gives some wiggle room in case of a heating or cooling mishap.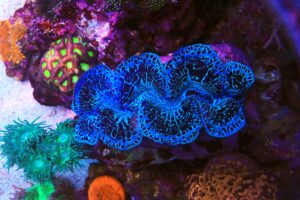 Maintaining consistent water conditions is crucial for clams. Calcium should be between 400 and 450 ppm. The alkalinity should be maintained between 7 and 12 dKH, and the pH should be in the 8.2-8.4 range. It is crucial to keep a close eye on calcium and alkalinity levels, as both have been known to drop drastically when clams are present.
How are Giant Clams so Colorful?
We hear this question about giant clams quite often! The symbiotic algae that are contained within the mantle are responsible for the beautiful, vivid colors seen in giant clams. Small, multi-layered structures within the cells of the clam reflect light of varying wavelengths. These structures are called iridophores. These structures are what creates the spectrum of colors seen in the mantle. Most of the colors are made by cells called iridocytes. These cells mostly produce blue, green, and gold colors. Rarely do we see combinations of black and white in clam specimens.
Can Giant Clams Bleach?
Sadly, the answer to this question is yes. In fact, any animal that has symbiotic algae can bleach. Like corals, giant clams rely on symbiotic algae for food and color. If these algae are killed or expelled, the clams will lose their pigment and the mantle will look white in color.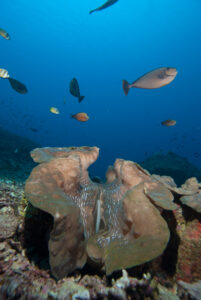 Due to a variety of conditions, these animals can lose some or all their zooxanthellae. When this happens, the animal is at risk for starvation. Sometimes only small areas of the mantle are affected, but if it progresses, it can kill the host.
Although many clams naturally have areas of their mantles that are normally lighter in coloration. While they can look rather translucent, and this is not the result of bleaching. Many gigas specimens will have an area of pale mantle tissue. Derasa clams also sometimes have light spots across the mantle. It is also good to keep in mind that derasa and gigas are both known to be slightly lighter in overall coloration than crocea or maxima clams.
Why Do Giant Clams Bleach?
So, there is no quick and easy answer to this question about giant clams. There are many factors that contribute to bleaching. Additionally, there are some aspects of bleaching events that are just starting to be explored by science. However, for the sake of this article, we will discuss some of the common causes of clam bleaching in reef tank systems.
First and foremost, temperature plays a huge part in bleaching events. As reef keepers, we are all familiar with the role that temperature plays in regulating all functions of the reef tank system. Acropora corals are commonly known to begin bleaching at the slightest increase in temperature. However, clams may turn out to be more resistant to warmer temperatures than coral.
It is thought that due to their natural location in shallow coral reefs, clams can tolerate warmer waters than their deeper water counterparts. This could also be in response to the specific strain of symbiotic algae they host.
The next most common cause of clams bleaching in the reef tank system is lighting. Typically, we follow the rule of thumb that an organism that browns is not in enough light. On the other hand, when an animal bleaches in the reef tank, we believe it is a result of light that is too intense.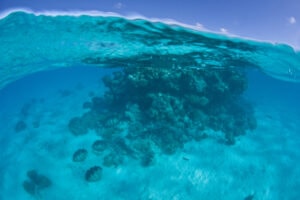 How Do I Maintain My Reef Tank to Keep Giant Clams?
Here, we look to natural coral reefs to gain some insight. Changes don't usually happen overnight in coral reefs. Day length, cloud cover, and water temperature are a gradually changing process in nature. However, bleaching can occur when conditions change rapidly that allow lighter to penetrate deeper into the water than usual.
On the coral reef, incoming light can be broken up by waves. And shallow water can have some sunlight filtered by the particulates being stirred up by the current. Periods of prolonged calm weather also begin a cascade of events on the reef. If there is no wind and seas are flat, there is nothing moving the particulates, so they settle. The sunlight will be more intense during these periods which creates stress for clams and corals.
In the reef tank system, we will want to observe these same factors at the first signs of bleaching. Has a powerhead or wavemaker gotten clogged with algae and needs a thorough cleaning? Does the system have a secondary thermometer, or does it only rely on the heater controller? Is the water being polished more than usual, removing more particulates from the water column?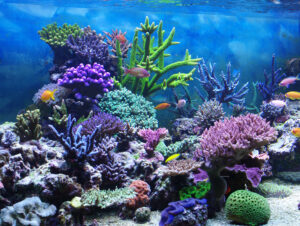 In addition to these concerns, it is also worth examining the quality and type of lighting used for the system. In the earlier days of the hobby, it was assumed that metal halide bulbs were the only option for keeping clams sufficiently lit.
However, with the advancements in lighting technology, we have seen efficient and powerful alternatives to running metal halides. We have experienced amazing results using Kessil's A360X and AP9X over reef tank systems housing clams. It is one of the reasons why we are proud to offer Kessil's lighting systems in the AlgaeBarn Aquarium Store.
Conclusion
As this article comes to a close, we would like to mention one last thing about clam nutrition.
Although clams are zooxanthellates, they can benefit from supplemental feedings. We have seen incredible results from supplementing their diets with OceanMagik Live Phyto. The high concentration of long-chain fatty acids in OceanMagik is a clean food source for giant clams as well as other planktivores in the reef tank system. These unsaturated fatty acids (UFAs) are not synthesized by clams. However, UFAs are essential for the health of cell structure and metabolism.
Science is still unraveling a lot of the mysteries about how these amazing creatures operate in nature. Giant clams are truly one of the most fascinating animals we can keep in our reef tank systems. We are also very proud to team up with Biota and ORA to offer the healthiest and most beautiful giant clam specimens on the market.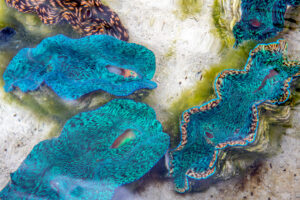 We are honored to play a part in the mission to create a more sustainable hobby. But we don't think it stops there. AlgaeBarn is committed to providing the healthiest livestock from the best aquaculture facilities. And we stand behind our AOA guarantee. That means if the inverts you ordered from AlgaeBarn does not arrive in healthy condition, we will credit your account.
We hope that this article has been helpful in answering some of the common questions about giant clams. Drop a comment below and let us know your favorite tips on keeping clams in the reef tank system!