Everyone's favorite eight-armed mollusk is having its very own day! October 8th is Octopus Day, and what better way to celebrate than by learning a few fun facts and gaining some insight into how to care for these fascinating creatures? Read on to learn more about our slippery friends.
Where do Octopuses Live?
Octopuses are found in all the world's oceans. They usually live in tropical or temperate waters, but some species can be found in very cold water near the poles. Octopuses generally live at depths of 3,300 feet or less, but some have been found as deep as 13,100 feet.
Not all octopuses are created equally! There are more than 300 different species of octopus, each with its own unique set of behaviors, colors, and patterns. Most octopus that are kept in aquariums are from the Pacific and Atlantic oceans, including the small-spotted or smooth-skinned octopus, which can be found from the tropics of North America to the waters around Japan. The octopus is a mollusk, like clams and snails, but these amazing animals rely on camouflage and concealment to protect themselves from predators.
Keeping an octopus in captivity
Octopuses are intelligent, curious creatures that have been known to escape from their tanks and solve complex puzzles. They are also masters of disguise and can change their appearance to blend in with their surroundings. Native to the coasts of tropical and temperate oceans around the world. Though they are short-lived, they grow quickly; some species of octopus can double their body size in just two months!
Most octopuses are opportunistic predators that hunt at night, using their keen eyesight and sense of taste to locate prey. Once an octopus finds its prey, it will stun it with a venomous bite before dragging it back to its den to devour it. What's left of the prey is then ejected through the octopus's funnel, a tube-like structure used for breathing and excreting waste.
Octopuses are such curious creatures that they have even been known to investigate humans who enter their territory. While this behavior may be charming, it's important to remember that octopuses can deliver a powerful bite if they feel threatened.
As such, it's always best to watch octopuses from a safe distance and never attempt to handle them without proper training and supervision.
Octopuses are interesting animals that can make captivating pets. If you're considering adding an octopus to your home aquarium, there are a few things you should keep in mind.
First, octopuses require a large tank—at least 50 gallons for small species and 100 gallons or more for larger ones. The tank should also have a lid that fits snugly, as octopuses are excellent escape artists. In addition, the tank will need several hiding places where the octopus can retreat when it feels threatened or stressed. Finally, because they are carnivores, octopuses will need a diet of live food, such as crabs, shrimp, or fish (but more on that later). If you're up for the challenge, caring for an octopus can be a unique and rewarding experience!
Last but certainly not least, octopuses are not reef safe! The tank for the pet octopus is basically a dedicated-species tank because it only will ever house one species. One exception to this rule might apply to the dwarf octopuses. Octopus joubini is known commonly as the Atlantic Pygmy Octopus. O. joubini reaches an adult size of roughly 6 inches. So, in theory a smaller tank such as the CADE Reef 500 S2 could hold one of these dwarf octopuses. However, the jump net that is standard for these systems will not be sufficient to keep these creatures in the tank.
There should be no fish at all in the tank with the octopus. Fish and even shrimp can bother a young octopus, but when it grows up, it will be able to eat them. Also, move any large invertebrates to a different tank to avoid a disaster. Sea stars, for example, have caught and killed octopuses.
The octopus will do best in an aquarium if there is a lot of live rock, a lot of places to hide, and plenty of space to move around. It likes an aquarium with caves and a medium to coarse, dimly lit substrate. An octopus tank can be lit with more subdued lighting and
LED fixtures
are more than adequate for these systems.
Kessil's H80 fixture
should provide just the right amount of lighting for these sensitive creatures.
Octopuses can be surprisingly strong, so in the display tank, it's best to anchor the rocks or even glue them together so the octopus can't push them into the glass or onto itself.
We cannot stress this enough, if there is a 1/2 centimeter of uncovered area in the tank, they will try to escape.
The octopus is a very messy eater! So, the system will need an efficient protein skimmer to help keep the water clean. A thick mat of
CleanChaeto
or
CleanSeaLettuce
in the refugium can also be great for exporting nitrates.
You'll also need to regularly clean out the tank of leftover food, crab shells, and other messy things. Remember, the cleanup crew we stock in our reef tanks is not an option for an octopus system. Plan to change out roughly 20% of the water every two weeks and test the water regularly. Octopuses don't tolerate high nitrates, ammonia, or phosphates. And they especially do not respond well to copper-based medications.
You can keep some coral with an octopus, but keep in mind that octopuses often move their rocks and run over corals. So, if the system you want to build will have corals, it is best to use encrusting and non-stinging species. Sadly, torches, hammers and other Euphyllia spp. are out of the question. They have also been known to break off a branch of coral and put it near their den. This is a natural behavior they use to keep their dens safe from the detection of predators.
What do Octopuses Eat?
Octopuses are carnivores and they eat a variety of seafood, including crabs, lobsters, oysters, shrimp, and squid. They will also eat fish if there is nothing else available. Most octopuses hunt at night. They use their excellent sense of sight and touch to find prey. When an octopus finds something it wants to eat, it grabs it with its eight arms and pulls it towards its mouth. The octopus then uses its beak to pierce the prey and inject it with venom. This venom paralyzed the prey and turns off the pain receptors so the octopus can eat its meal without feeling any pain itself.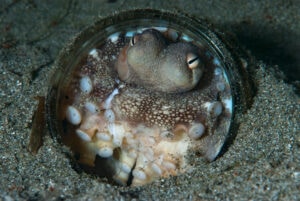 How Long do Octopuses Live?
The average lifespan of an octopus is just one to two short years. Some species live longer; for example, the giant Pacific octopus can live up to five years.
One unfortunate aspect of keeping an octopus as a pet is that they don't live very long. This is especially true if you get attached to your octopus. A dwarf octopus lives for about six months, while a smaller or even medium sized octopus may live about a year longer. The giant Pacific octopus and other octopuses that live in very cold waters live the longest.
Most of the time, octopuses live by themselves. Most of the time, they have children near the end of their lives. The male gives the female his sperm packet, which the female can keep and use whenever she wants. Because of this, some aquarium owners end up with an octopus that lays eggs a few weeks later. She will take care of the eggs, keeping them clean and making sure the water around them moves, but she probably won't eat during this time. Sadly, she will cross the rainbow aquarium bridge soon after her young are born.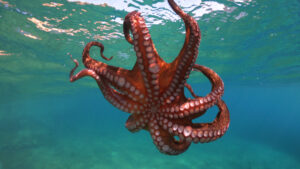 Conclusion
Octopuses are amazing creatures that are sure to dazzle anyone who has the chance to observe them.
These creatures make great pets and are relatively easy to care for. If you're thinking about getting an octopus, be sure to do your research first so that you can provide your new slippery pal with everything it needs to thrive in an aquarium.