These days, a pretty good number of aquarists (a majority of them, perhaps) prefer bare-bottom tanks. Bare, as in, no sand or gravel on the tank floor. Just as these folks opt for bare-bottom display tanks, they opt for bare-bottom refugia. The basis of this trend is a fear of detritus–specifically, that substrates attract and accumulate detritus. Now, detritus does kind of suck, as it looks gross and stores nutrients that can (as they are released) contribute to unwanted algal growth. At least in theory, if you don't have a substrate, particulate organic matter cannot easily get trapped on the bottom, and so your tank will be cleaner.
This all deserves a closer look. And some deeper thought. 
Sand Stirrers and the limits of mechanical filtration
In bare-bottom tanks, just as in tanks with a substrate, detritus is eventually mineralized (broken down) into excess nutrients and dissolved organic waste. "No problem," the bare-bottom proponent might say, "I'll just go heavy on the mechanical filtration." Fair enough, so long as mechanical filter media are thoroughly rinsed on a regular basis (i.e. daily), very little of entrapped particulate organics can mineralize much. Effective means of nutrient export, right?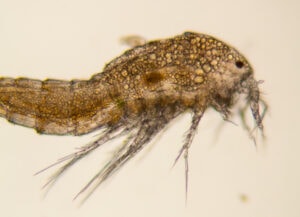 Yes and no. Consider first of all that mechanical filtration is indiscriminate. It removes all particles down to some particular size–both bad and good. This means that in addition to all that rinsing, you'll also have to mess with it (i.e. remove it or somehow divert flow around it) whenever you feed. Otherwise, all of those pricey fish foods and coral foods you add will almost instantly become "waste." Top-dollar detritus.
But an even bigger concern about aggressive mechanical filtration is pod mortality. Think about it… A coarse mechanical filter medium that cannot strain particles of less than, say, 75 microns is pretty much worthless. Yet, finer media that strain anything smaller than 75 microns will remove most adult copepods and even many copepod nauplii. They'll be harder yet on larger pods like amphipods. No, we're not saying that mechanical filtration outright decimates an entire pod population. Nor do we claim that pods simple perish upon first contact with a mechanical filter medium. 
What we are saying is that fine mechanical filtration does trap some (and potentially a lot of) pods and therefore limits their population size. Really "good" mechanical filters can completely eliminate copepod species that undergo a pelagic adult life stage. See the vicious circle here? You keep a bare-bottom tank to enhance the collection of detritus in your mechanical filter, which you install because you have a bare-bottom tank–to the detriment of copepods, which are your best weapon against detritus in the first place!
At this point, we present an alternative (and dare we say more natural?) approach; keeping a substrate, using only super-coarse mechanical filtration (if any) and promoting the degradation of detritus by detritivores such as (but not limited to) copepods. 
The hitch? You need a crew of so-called sand-stirring organisms. Stirrers accomplish two important tasks. Firstly, their excavations encourage the release of organic matter from deep within the substrate. These wastes are otherwise inaccessible to detritivorous animals not just because of layer of sand above them, but also because they may be situated in anoxic areas. This leads to the second job, which is aerating the substrate surface, thereby increasing the depth at which aerobic detritivores can safely forage. 
Substrates=Reef food factories
There is a very large diversity of detritivorous reef critters. As one might expect, many of these sediment-dwellers are tiny. The little guys include microcrustaceans such as harpacticoid copepods, cerith snails, various worms, etc. There are many larger detritivores as well. These range from sand-sifting gobies to sand-sifting sea cucumbers. 
It almost all of these cases, the creatures are not really eating the detritus to eat the detritus; rather, they are going after the rich microfauna that is associated with the detritus (bacteria, fungi, protozoa, etc.). The smallest detritivores just crawl around within the sand and gobble up teeny particles as they find them. Larger ones, however, swallow up big mouthfuls of sand, detritus and all. They then either strain out the goodies and spit the sand back out, or they actually eat the sand, digest the goodies, and then poop the sand. The evidence of this latter group is sometimes observed over the sand bed surface every morning in the form of distinct formed, clean, white sandy pellets.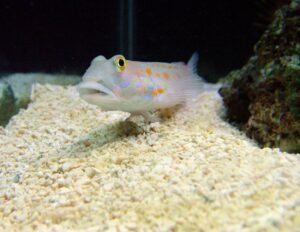 Not all sand stirrers are detritivores and not all detritivores are sand stirrers. For example, certain fish (e.g. jawfish) and certain shrimp (e.g. pistol shrimp) build elaborate borrows. These burrows help aerate deeper parts of the sand bed through irrigation (that is, movement and exchange of waters between the top and bottom portions of the burrow). This allows other creatures (especially detritivores) to forage deeper in the immediate area, and so compliments and promotes the activities of sand stirrers.
Some creatures help to keep the sand bed clean even without doing any stirring. These range from pods to detritivorous fish (e.g. court jester blennies). The reason is pretty simple: Where detritus is consumed at the substrate surface, less detritus can settle deep within the substrate.  
Basically, having a large and diverse clean-up crew and a diverse team of sand stirrers can significantly reduce the need for mechanical filtration, if not eliminate the need altogether. Some creatures will fill just one of these roles, and others will fill both. What's important is that the aquarist assembles an ecological community that breaks down detritus as quickly and thoroughly as possible–the widest size particle range, the most types, in all locations of the system. This encourages rapid recycling, which encourages large populations of both zooplankton and bacterioplankton, which are both important components of the coral diet.