In June, we will be focusing on how we can all help with ocean conservation efforts. Our discussions on preservation are inspired by World Ocean Month. In the month of June, we will be highlighting the environmental impacts and efforts of aquaculture. AlgaeBarn and the companies we have teamed up with are excited to celebrate our oceans!
What is World Ocean Month?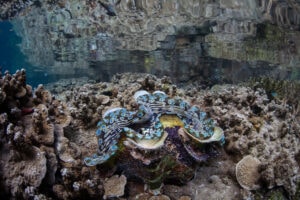 Each year, World Ocean Month highlights the fact that no matter where you are on the globe, we are all surrounded by one ocean! Our oceans cover 70 percent of the earth's surface. We think it is our duty to support sustainability in the reef aquarium trade. It is also our duty to act responsibly as companies and as consumers.
Throughout the month of June, we will be looking at our practices as reef keepers. Our goal is to find ways we can help to improve the health of coral reefs and all that inhabit them.
In this article, we will look at captive breeding programs for Tridacna squamosa clams. We are also going to discuss ways to contribute to the health of the reefs. The Indo-Pacific Ocean and Great Barrier Reef Regions are in dire need of support.
You may be wondering how the captive breeding of a species can contribute to the health of an ocean half a world away. But it can and it does! To begin, let's look at the Tridacna squamosa and its role in the health of coral reef ecosystems.
What are Tridacna squamosa?
The Tridacna squamosa is also known as one of the Giant Fluted Clams. T. squamosa is one of several native giant clam species found in the Great Barrier Reef and Indo-Pacific Oceans. These clams can grow to up to 16 inches across. They can be identified by their fluted, leaf-like edges and spot-like patterns in greens, yellows, purples, and browns.
What is the role of Tridacna squamosa on the coral reef?
Giant clams play an integral role in the health of coral reefs and the wildlife that live among them. Tridacna squamosa is one of few bivalves which engage in photosymbiosis. This simply means they can host and derive energy from zooxanthellae. In other words, the photosynthetic algae in their tissues provides energy. Giant clams are vital for the structural and environmental integrity of the reefs they inhabit. Yet, their increasing absence is sorely felt by the coral and wildlife.
Are Tridacna squamosa endangered?
For several years, these giant clams have been facing the threat of extinction. Giant clams are on the Convention on International Trade in Endangered Species of Wild Fauna and Flora (CITES) endangered species list.
The dangers they face include the destruction and degradation of their natural coral reef habitats. There is also unregulated harvesting of these clams by local communities. In addition, they face the threat of illegal export of the species for the reef aquarium hobby. Their shells are sought after by ornamental shell collectors.
Despite the efforts of ecologists, the habitats of giant clams face destructive outside influences. This poses several risks. Giant clams have delayed sexual maturity and they are immobile as adults. This results in the scarcity of giant clams within their natural habitat.
How does captive breeding of Tridacna squamosa keep coral reefs healthy?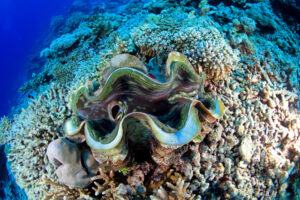 Harvesting both live and dead giant clams for hobbyists and collectors is one of the dangers this species is currently facing. In captive breeding giant clams, growers are reducing the demand for these creatures in the illegal animal trade. The less demand there is for a product, the fewer risks illegal traders will be willing to take to get to them.
So, we are fulfilling the demand for these creatures domestically. In doing so, we are helping to decrease the destructive factors these endangered species now face in the reef.
The benefits of keeping Tridacna squamosa in reef tanks
Keeping Tridacna squamosa clams in reef tanks will contribute to both the beauty and health of the system. However, their attractive patterns are sadly a contributing factor to their extinction. These beautiful creatures have vibrant colors which will add interest to the reef tank.
These creatures are not only a stunning addition to the reef tank, but they also contribute to the stability of the system. Giant clams improve the ecosystem by providing natural water filtration. Giant clams can help with controlling excess nutrients in the reef tank such as nitrate and phosphate. They also contribute to the overall health of the system by lowering pH levels.
When keeping these giant clams in reef tanks, there are certain factors you should bear in mind for their overall health.
Moderate water flow – These clams do not do well in direct, strong currents. If placed in the flow of water which is too intense, they will not be able to filter nutrients from the water.
Good lighting levels – If the clams do not receive enough light they can starve. The algae contained within its tissues must engage in photosynthesis. If the lighting is too weak, the species will not be able to derive energy to grow effectively. High-quality LED lighting conditions are ideal, or the clam should be positioned close to the tank light source.
Important trace elements – For healthy, good-sized clams you will need to make sure that the elements of iodine, calcium, and strontium are close to the levels the clams would experience in the wild. Additional supplements may be necessary to provide the nutrients these creatures need to thrive.
Where can you buy aquacultured Tridacna squamosa for the reef tank?
If you are considering adding these beautiful and helpful creatures to the reef tank, then you have come to the right place! AlgaeBarn offers a great selection of captive-bred giant clams. We guarantee that the clams we sell are grown in the best possible conditions and expertly packaged.
The sustainability of the earth and the oceans is of paramount importance to us. We are always expanding on ways to improve our practices. It is crucial that we all support natural reefs and ocean wildlife. As fellow ocean wildlife enthusiasts, we are sure that you will be as supportive of these initiatives as we are.
We hope you will find this article helpful in deciding if a giant clam is a good choice for your reef tank!