Seldom are sea urchins described as "difficult" or "sensitive" aquarium animals. Yet, they can be quite touchy. Seemingly small insults (such as a slightly reduced salinity following a water change) can send them plummeting fast. And, sea urchins don't seem to recover well from sickness, shock or injury. Sometimes, it seems that just looking at them the wrong way can stop them in their tracks and makes their spines fall off.
Given the many possible (yet totally reasonable) mistakes a new hobbyist could possibly make, it is always wise to start out with the hardiest sea urchin species. Captive-bred specimens are always best as they are comparatively more forgiving of poor or unstable water quality. While there are many cool sea urchin species out there, this discussion will focus on the hardiest of all captive-bred sea urchins, the pincushion urchin (Lytechinus variegatus).
Not a beauty contest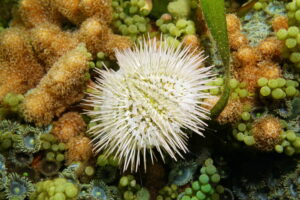 Sure, they're not quite as flashy as the blue or red tuxedo urchins. But they're pretty awesome looking in their own right. That, and they're highly variable in color, which is always interesting. While the pincushion is sometimes known by the common name "green sea urchin," and can indeed be green, it also occurs with pink, red, reddish purple, bluish purple or gray spines over a pale body. And yeah, don't write off "gray" before you see it; these are sometimes the most handsome of all, with slate gray spines over a darker-than-usual test (e.g. outer body covering).
But outward appearances aside, this species is amazing in the aquarium due to what it does. It is excellent algae-eater, grazing relentlessly and keeping hard-to-control nuisance algae (such as filamentous algae) at bay. Snails, pods and smaller herbivores certainly have their place in a good clean-up crew, don't get us wrong here. These smaller critters indeed help to finish cleaning by hitting the few areas that the urchin cannot or will not cover (tiny crevasses, over the sand bed, etc.). An urchin guarantees that the BIG job is done, demolishing patches of algae that the other cleaners can't keep up with or ignore. 
Pincusion: The beginner's urchin
Beginning aquarists benefit from sea urchins as much as experienced aquarists do. In actual fact, beginners might even benefit more, since they tend to have the worst algae struggles. Problem is, sea urchins are in certain respects delicate creatures and cannot tolerate poor water quality or rough handling/acclimation. One rookie mistake (e.g. adding too much top-off water too quickly) can easily send an urchin to the big seaweed bed in the sky. 
Captive-bred animals are in general much more forgiving of these abuses. This has to do with both genetics and conditioning. The individuals with genetic traits that favor adaptation to aquarium conditions are most likely to survive the rearing process in the hatchery; also, growing up in captivity, animals can be "hardened" to certain stressful conditions like hyposalinity, exposure to high levels of nitrate, and so on.
We're certainly not suggesting that you let your guard down when keeping captive-bred animals. What we are saying is that these animals are more likely to thrive than wild-caught animals in the face of extreme or chronic stress. That, and captive-bred livestock is generally far less likely to harbor diseases or parasites.That being said, for all livestock (especially including pincushion sea urchins), wild or cultured, you should always strive to provide an awesome home with great water quality. Also, make sure you urchin is fed; it's definitely possible that many mysterious urchin losses occur simply because the keeper doesn't supplement the animal's diet (with algae wafers, pieces of seaweed from the refugium, etc.) after all the hair algae is cleaned up!
Needles and pins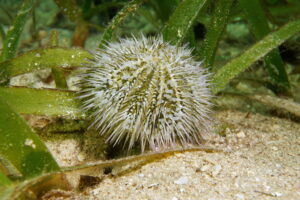 After running a reef aquarium for many years, the average aquarist gets pretty comfortable handling delicate, creepy or even dangerous animals. Handled with care, these urchins are quite safe and simple for beginners to deal with. Compared to some of the other "pincushion urchins" (there are other, unrelated, species that share the common name), L. variegatus has much duller spines. Still, obviously, to move this or any urchin, you won't want to just grab it. Instead, steadily and gently work you fingers under its spines (as close to the rock as possible) and very slowly lift it; this will minimize the number of tube feet that get damaged in the process. Though it requires a little more patience, the easiest way to move an urchin is to slip a piece thin, flat plastic in its path; when it has crawled "onboard," you simply can pick up and relocate the whole thing. 
Reef ready
One final word–pincushion sea urchins are totally reef-safe. The worst thing that they can do in a reef is knock down little frags (glue them down well and the issue is resolved!). Fortunately, you can obtain the captive-bred specimens rather small which helps with this issue. Do be aware though that they are likely to eat any ornamental macroalgae you put in the main tank. And yeah, putting even a single small specimen in the planted refugium is a big newbie no-no!