Happy Colorado Day! As a Colorado-based company, we are very proud to serve the people that have helped us succeed and allowed us to grow. Many of the ideals that Colorado represents serves as the footing for AlgaeBarn's mission. And we still respect all of those standards today. So, we would like to take a moment to celebrate the Centennial State on Colorado Day!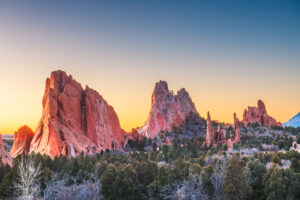 Colorado Proud
Our pledge to our customers and the lovely state of Colorado has helped us to flourish and serve a rising number of reef keepers. AlgaeBarn is known for our great customer service and promise to build a more eco-friendly hobby. We believe that helping people to learn from the amazing species that call our oceans home is the best way to conserve them. Because of this, Algaebarn produces a healthier, aquacultured product.
AlgaeBarn is located at foot of the Rocky Mountains. We have an innovative 11,500 square foot aquaculture facility where we grow the best pods and phyto in the hobby. And because we are reef keepers first, we understand the need to know exactly what is going into the reef tank. And it is also crucial to know that certain critters are being kept out of the reef tank.
Our customers never have to be worried about putting anything unwanted into their reef tanks. This is because we house and quarantine all our livestock individually. That means we never risk the introduction of nuisance hitchhikers or pests into our systems. And every one of our products are guaranteed to be free of dangerous chemicals and preservatives.
How we're working together to make a difference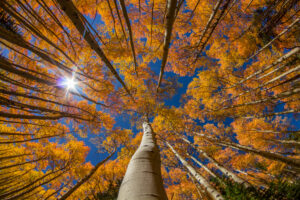 AlgaeBarn grows the best live pods and nutrient-rich phyto in the hobby. And we pride ourselves on doing it as sustainably as possible. So, it is only natural that we would want to team up with other companies that have the same standards. This is why we love working with our friends at the Colorado company, Hydrospace.
If you have tried the PNS YelloSno and ProBio then you already know how great these products are. If you haven't tested these out in your reef tank system yet, we want to take a moment and tell you why you should! In addition to creating a great live microbial feed, Hydrospace is also cleaning up Colorado waterways.
The Colorado Division of Wildlife has a watch list of all the species of aquatic plants which are a nuisance. This watch list includes an aquatic plant called Eurasian watermilfoil (EWM). EWM is native to Europe and Asia. It was discovered in North America in the mid 1940s. It has spread to more than 40 states in the US since then. Sadly, when EWM colonizes a lak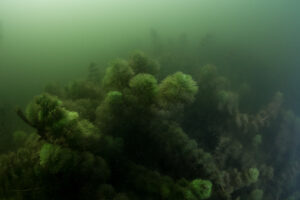 e, it disrupts the entire aquatic ecosystem.
EWM grows faster and handles low temperatures better than most aquatic plants. It creates thick underwater mats of tangled stems and vegetation that float up to the water's surface. These weed beds on the surface can make it difficult for animals to navigate the area. EWM may appear to be delicate, but it grows and spreads very fast which blocks sunlight. It also wipes out other aquatic plants that fish rely on for food and shelter.
A few of our state parks have adopted EWM control measures. Despite well-coordinated practices and increased public awareness, this invasive plant is taking hold in new areas. Within just a few years of being introduced into an area, a small colony can outgrow the other native vegetation. Even a small cluster can have a crucial impact on the overall characteristics of the ecosystem.
Our friends over at Hydrospace are very resourceful! They realized that although EWM poses a terrible threat to Colorado's aquatic ecosystems, it could have potential for other uses. Hydrospace has devised a use for EWM besides drying it for use as a mulch or leaving it to rot in a landfill. Instead, Hydrospace uses EWM as a media for culturing purple nonsulfur bacteria (PNSB). These microbial feeds have a major benefit to our reef tanks and an even greater impact on the environment! By teaming up with Hydrospace, we are all supporting EWM removal efforts that do not involve the use of herbicides.
EWM harvesting methods are highly selective and have a positive impact on Colorado's delicate ecosystem. Remember that even the tiniest amount of plant material can spread through a waterway very quickly. This is why manual removal methods are needed as to not disrupt the surrounding environment. Every 16.9 fluid ounce bottle of PNS ProBio requires over one pound of EWM. To put it another way, this product has potential to make a major impact on Colorado ecology!
AlgaeBarn recognizes that Hydrospace's work greatly improves our natural aquatic resources here in Colorado. By harvesting the invasive EWM, Hydrospace also aids in the protection of Colorado lakes and rivers. Which aids wildlife as well as the people who use the land for recreation and agriculture.
Conclusion
AlgaeBarn is proud to have become one of the most trusted names in the industry. We're known for our 100% Alive on Arrival guarantee. Just like in the early days of our business, we are still as dedicated as ever to promoting a more eco-conscious hobby! We know that helping others to learn from the ocean is the greatest way to encourage conservation.
We're also honored to team up with companies like Hydrospace. Together, we've pledged to build a more sustainable hobby. Our customers never have to be concerned about introducing anything unwanted into their reef tanks. This because we house and quarantine all our livestock individually. And every one of our products are guaranteed to be clean because we do not treat with herbicides or harmful chemicals. It's just how we do things here in Colorado!
We are so glad we could take this opportunity to share how proud we are to be a Colorado business. There are so many ways to show our gratitude to the place we call home. Continuing to expand on our sustainable business practices is just one of the ways we can do our part to enrich Colorado's ecosystem.
And if you're looking for another way to celebrate the 146th anniversary of the day Colorado became the 38th state, we have even more great news – all Colorado state parks will have free admission on Monday, August 1, 2022! For more information on visiting our beautiful parks, you can visit Colorado Parks & Wildlife here
Until next time, happy reefing!