AlgaeBarn would like to take a moment to highlight an excellent microbial product line that helps promote natural ecosystems for your aquarium through the use of purple non-sulfur bacteria (PNSB).  Purple non-sulfur bacteria are wonderful bacteria that provide many benefits to your aquatic system.  The company Hydrospace developed and provides a line of products called PNS that feature these bacteria.  AlgaeBarn would also like to take a moment to recognize Kenneth Wingerter, the man behind Hydrospace and these amazing products.  

Hydrospace offers three different types of PNS (purple non-sulfur bacteria) products to facilitate the success of your aquarium.  AlgaeBarn distributes all three products through our website, direct to our customers.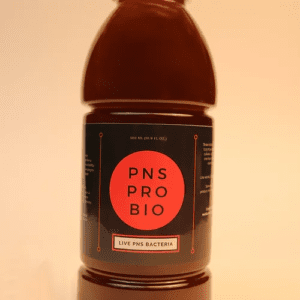 PNS ProBio is a supplemental formal containing purple non-sulfur bacteria that aids in facilitating the nitrogen cycle of your aquarium and brings balance to your system as a whole. Therefore, it acts as an enhancer to your biological filtration which serves as your tank's primary source of filtration. Among other qualities, the bioremediation properties of this product help support an ecologically stable habitat and consume biological waste products while providing a food source for bacterivores.

PNS Substrate Sauce helps create and further establish a microbiome for your reef aquarium.  This product is incredibly useful when starting a reef aquarium or to give your biological filtration a boost in both diversity and effectiveness.    

PNS YelloSno is a reef aquarium marine snow planktonic feed.  Marine snow is a diverse supplement of a variety of organic matter food
sources.  PNS YelloSno replicates marine snow on the reef and includes purple non-sulfur bacteria.  This feed is loaded with protein, B vitamins, and amino acids, all of which will serve your corals and ecosystem well.
AlgaeBarn would like to recognize Kenneth Wingerter of Hydrospace.  He is a long-time friend of AlgaeBarn and the reef-keeping community. His superb product is a result of his tenacious work ethic and mastery of his products.  Algaebarn has always been impressed by the quality and consistency of the PNS products as well as Ken's dedication to customers and their aquatic systems.  Ken works hard to ensure both AlgaeBarn and Hydrospace customers receive fresh, top-of-the-line products for their aquatic systems through every order.  We are honored to partner with another Colorado-based business that helps facilitate the success of aquariums and the well-being of aquatic life.  AlgaeBarn's top aquarists utilize Hydrospace products and recommend you give them a look as well if you have not done so already!