August 17th is National Nonprofit Day and today we are celebrating our favorite organizations. These not-for-profit groups are doing incredible work to improve the health of our reefs. At AlgaeBarn, we feel that it is crucial to recognize nonprofit groups for several reasons. First, these groups are making tangible progress in their recovery efforts. More than that, they inspire others to get involved and volunteer wherever they can!
Nonprofit Day lets us acknowledge the positive impacts being made through volunteer work. It's also an opportunity to reach out and raise awareness of their cause and how we can all do our part to help. In this post, we would like to spotlight one of the groups working to restore coral reefs in Florida, The Reef Institute.
The Reef Institute was formed by two Florida veterinarians in 2015. Since then, their goal has not wavered one bit. The Reef Institute has been working nonstop to improve the health of the ocean and they have made incredible progress!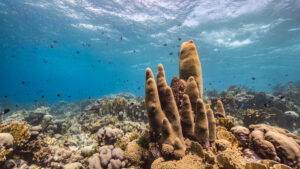 Teaching the next generation of environmental stewards
As a group, The Reef Institute values the importance of teaching others about conservation and sustainability. The Reef Institute focuses on coral conservation through teaching, research, and restoration. Environmental stewardship is a concept that basically embodies the conservation of natural areas. It advocates the responsible use and protection of the environment.
There are three types of environmental stewards: doers, donors, and practitioners. People, nonprofit groups, and federal agencies contribute through conservation initiatives and sustainable practices.
The Reef Institute (TRI) unites science and education to collaborate and develop better understanding of the reefs while also taking action to safeguard our seas. Staff scientists guide their research to maintain and grow Caribbean coral species in the Florida Reef Tract. TRI's education outreach has grown from just a few hundred children to nearly 9,000 students per year.
TRI's mission starts in the local communities of southern Florida. Outreach events raise awareness of the effort to restore the FRT. People in the community get a better understanding of how we can all contribute to conservation efforts. TRI collaborates with local governments, and schools to produce field trips for students. These events are always fun, and they help the public to learn about the ecology of the Florida Reef Tract.
Thanks to modern technology, students from all over the world can connect with TRI! Staff marine scientists and veterinarians help students in virtual classrooms to learn about how important the FRT is to the world's oceans. Locally, outdoor classrooms let students interact with the underwater residents of the FRT.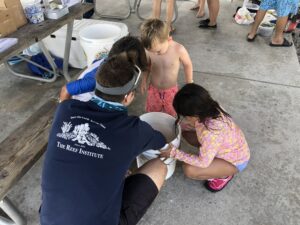 The FRT faces challenges that are critical to its survival. However, TRI is dedicated to teaching the next generation of environmental stewards. They are working hard to provide students with the knowledge and resources to conserve and restore this ecosystem.
TRI uses a student-centered approach to learning. This teaching method is designed to enhance learning for students in grades K-12. Student-centered learning strategies allow children to work in groups to solve problems. This learning model is shown to be a very effective way to increase student participation and encourage teamwork.
TRI and the battle against stony coral tissue loss disease
The Florida Reef Tract (FRT) is the largest coral reef habitat in the continental US. In fact, Florida is the only state with substantial coral reef formations near its coastlines. These reefs stretch over 300 miles from Martin County to the Dry Tortugas in the Gulf of Mexico. The most productive reef growth occurs just outside of the Florida Keys. Coral structures in the FRT are very similar to those in the Bahamas and Caribbean Sea.
The FRT is home to over 1,400 different species of marine plants and animals! Here we can find over 40 species of stony corals and 500 species of fish. And these are just the species that have been identified! It is possible that 1-8 million unidentified species are living on reefs worldwide. The FRT also provides a barrier against rough seas which helps to preserve delicate shorelines from heavy surf. But these are only a few reasons TRI is committed to education and conservation.
A coral disease known as stony coral tissue loss disease (SCTLD) has been causing a decline in the health of Florida's Coral Reef Tract. SCTLD was first identified in 2014 off the coast of Miami-Dade County and has since expanded throughout Florida and to Caribbean reefs. The Reef Institute is working with government agencies and research institutes to limit the devastating impacts of SCTLD and prepare to rehabilitate the reefs in the future.
According to the Florida Department of Environmental Protection, over 96,000 acres of Florida coral reefs have been affected by SCTLD. As of today, the disease is still advancing through the reef tract. Sadly, SCTLD infection rates have not slowed in the last three years. Almost half of Florida's reef-building coral species have been affected. This includes five species of coral protected by the Endangered Species Act.
The incidence of SCTLD is high on Florida's coral reefs. The disease is found in more than half of every 100 colonies surveyed in certain species. SCTLD also has high disease transmission and fatality rates. Routine observations show that once a coral begins to lose living tissue, the colony will perish within weeks to months. While the exact cause for SCTLD is not yet known, it is believed to be bacterial. More research is still needed to understand this fatal coral disease. And thanks to efforts of organizations like TRI, there are promising signs for effective treatment methods on the horizon.
TRI's Peanut Island Coral Project
Peanut Island is a 79-acre island in Palm Beach County, Florida, in the Lake Worth Lagoon. In 1918, the island was formed as a by-product of dredging work of the Lake Worth inlet and the Port of Palm Beach. Peanut Island is a popular boating destination in Palm Beach County.
Although it gained a reputation as one of the wilder Sunday Funday destinations, it also has some of the best snorkeling!
The southeastern portion of Peanut Island received a $15 million makeover project in 2005. This included the addition of boardwalks, docks, a boat basin, restored mangrove hammocks, a lagoon, and a snorkel trail. Peanut Island is now a great snorkeling location, especially for beginners. Water depths are shallow, hardly reaching 10 feet in most areas. The man-made reef ledges reduce boat wakes and incoming currents. This makes water conditions more comfortable for snorkelers and swimmers.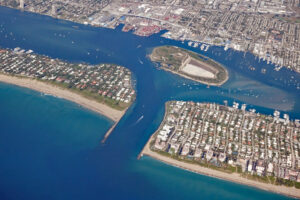 However, the location of this artificial reef poses unique challenges. Due to the reef's proximity to the inlet, salinity and temperature fluctuate widely. There is also the turbulence from local boat traffic, and damage from the increasing number of tourists to this area. But surprisingly, the island is proving to be a haven for many reef building corals!
Coral colonies have settled into the artificial reef along the snorkel route and the lagoon. The number of marine life species in the lagoon alone is astounding just like the natural reefs of the Florida Keys. TRI began monitoring the corals of Peanut Island in 2018 with the approval of the local government.
TRI immediately spotted several healthy coral colonies developing in the lagoon and snorkel trail. They began to monitor the coral on a routine basis. This is to ensure that the coral's growth and health are being recorded to ensure longevity. To date, TRI has recorded over 18 coral species at the Peanut Island Reef. This makes up over half of the reef-building coral species in the Florida Reef Tract.
Conclusion
Nonprofit Day lets us acknowledge the positive impacts being made through volunteer work. Groups like TRI are doing incredible work to improve the health of our reefs. TRI's education outreach has grown from just a few hundred children to nearly 9,000 students per year. They also help to monitor the health of corals on the artificial reef surrounding Peanut Island. In addition to their efforts at Peanut Island, TRI is working with other groups throughout the Caribbean. At AlgaeBarn, we are all thrilled with the progress TRI has made in restoring the Florida Reef Tract. We can't wait to share more of TRI's progress with our readers in the near future!