There are all sorts of things that make some aquarium fish more desirable than others, for beginners in particular. Yes, yes, color is important. We all love bright colors. But some other things are quite important–especially when they're actually in our tanks, and not just in some pretty photo. These are qualities like:
How "reef-safe" they are really are.
How easy to feed they are.
Their ability to resist disease.
Their overall sensitivity to suboptimal water quality.
Their sustainability (available as captive-bred?).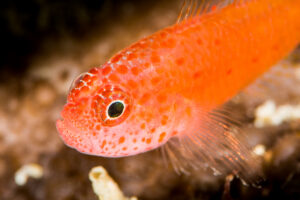 When it comes to these considerations, few fish families hit all the marks. Gobies, however, not only pass with flying colors, but they are also small enough to be appropriate for all size tanks including (but not limited to) nano aquaria–aquarium systems as small as around 15 gallons in volume. Oh, and color? For the most part, these little fishes are pretty easy on the eyes!
Gobiidae is a gigantic fish family. Marine aquarists have been keeping gobies for as long as there were marine aquaria. And we're talking about a lot of aquarium goby species. In point of fact, it is likely that more gobiids have been kept in captivity than any other group of fish. For that reason, we're going to focus on the relatively small handful of goby species that have (so far) come under commercial production in hatcheries and are available as captive-bred in the trade.
Cleaner
There are a few fish by this name, all members of the genus Elacatinus. Most characteristic of these fishes is a bluish stripe that serves as the main signal to other fish that they are cleaners. This color pattern is exhibited in four cleaner goby species (E. evelynae, E. genie, E. prochilos  and E. oceanops).
Of the above, E. oceanops is the best known. Usually called the neon goby, it is among the first few staples of the ornamental marine fish hobby. Not only is it the first gobiid to be bred and raised in captivity, it is one of the first marine aquarium fish in general to be cultured. If you like blue, you'll love this one, because it has the most neon blue coloration you'll ever find.
If you like the idea of keeping a cleaner goby, but desire something a little less common, you might enjoy the broadstripe goby (E. prochilos). This cleaner goby, brought into production much more recently, is more variable in the stripe color; its stripe may be yellowish, or even completely neon yellow, in color.
Starry goby
If you fancy spots instead of stripes, the starry goby (Asterropteryx semipunctatus) might catch your eye. This aptly named fish has a dusky, almost black, base color that is covered with a smattering of tiny blue speckles. These guys have a stubbier, less elongate shape than many others in their family. They like to burrow, so all they need to be happy is a small area where they can dig out a little home/hide-out/territory for themselves.
Whitespotted dwarf goby
If there is such a thing as "holy grail" gobies, the whitespotted dwarf goby or grooved goby (Trimma cf. caesiura) is one of them. This jewel is exceptionally pretty, with a silvery, icy blue base color and large, rich red blotches that thicken toward the anterior. This is one of those rare captive-bred offerings that is unusual in that it came out of nowhere–was available as cultured even before it was ever common in the trade as wild-caught. At this time, demand greatly exceeds supply of this highly collectible species!
Yellow trimma
This is another fairly uncommon species in the trade. There isn't even much known about its natural history, and its name in the hobby remains simply (for now) Trimma sp. Its common name "yellow trimma" sure makes enough sense though, as it is covered from head to tail with a rich, golden yellow color. In the right light, its yellow actually takes on a metallic hue, reminiscent of some of the most premium golden koi.
Link's goby
The Link's goby (Amblygobius linki) may not be super brightly colored, but looks nice nonetheless. This tiny fish has a set of really tiny horizontal stripes that make it quite adorable. We've given props to all gobies for being hardy, and they deserve that, but this species is especially resilient and adaptable. Thus, it is a great choice for beginning hobbyists or for new systems. Considering that it naturally occurs in places like estuaries and mangrove forests, it might also fare well in the planted refugium (if you don't mind it consuming a good many pods there). This one is still pretty hard to find, so get one when you can!
Court jester
The court jester goby (Koumansetta rainfordi) stands out from–maybe even above–many other gobies. This is for a couple of reasons. First, it is arguably one of the most brightly colored and boldly patterned of all gobies (that says something!). Also, it is a slightly better swimmer, and so spends more time in the water column. Finally, it has the very much welcomed habit of grazing on hair algae. This species was once considered very delicate and difficult to feed–until captive-bred specimens were available! These cultured stock are quite easy to care for and live happily in any well-maintained nano tank.
Conclusion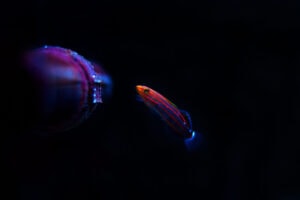 It's hard to imagine stocking any marine aquarium, but especially a nano reef tank, without at least one goby of some kind. They're just such awesome aquarium fishes! And captive bred specimens are exponentially better. So don't hold back–with all the diversity they show, there's no reason to not keep several. All the species listed here go well together. Just don't get more than one of the same species, particularly for nano tanks, as they might squabble over territory (that goes for the two species of cleaner goby featured above, which are too similar to cohabitate safely). You couldn't ask for a prettier, cuter, hardier, easier to keep marine aquarium fish than a captive-bred goby!