If you guessed that a refugium is a wordplay on refuge and aquarium, you guessed right! A refugium is simply a tank for plant and animal species that are more delicate or vulnerable. A refugium, or fuge, acts as a less hectic environment than a display tank. This benefits the overall health of the reef tank system. Filling the fuge with suitable inhabitants improves filtration, making for a healthier reef tank system.
You may be unsure about what to add to the fuge, but it can be stocked to improve the health of the reef tank. But before you rush to the LFS, there are a few things you need to know! This article will discuss what inverts are good choices for the fuge and how to care for them. We will also answer some common questions about pods and their interactions with inverts. So, let's get started!
What is a Refugium?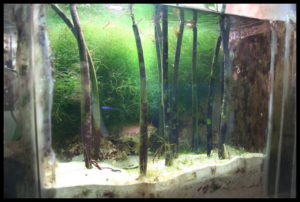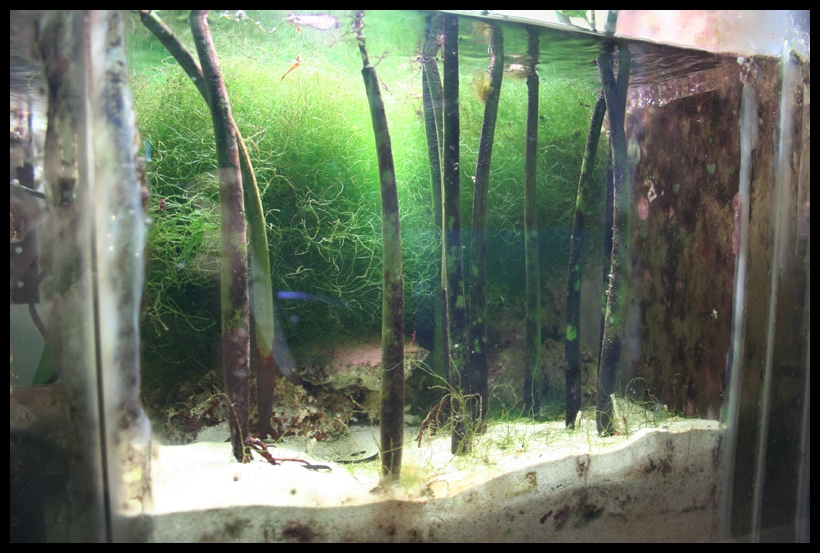 Refugiums, as we've mentioned above, are refuge systems. These refuge systems share water with the main display while remaining isolated. Reef keepers use refugiums to protect fragile species from predators.
A fuge can come in various sizes and have altering purposes. Refugiums are most commonly one-tenth the size of a main display tank. They house oxygen-producing macro and improve biological filtration in the reef tank system. Refugiums can also serve as breeding ground for pods and macroalgae! These are moved into the main display as live food for fish and coral.
Is it Safe to Add Snails to a Refugium?
The short answer to this question is: it depends! Regardless, if you want the fuge to serve as filtration, choosing the right snails are crucial. Why? There are major variances in marine snail species. Some snails are peaceful herbivores, while others can be predatory. However, most predatory snails get introduced as hitchhikers.
If using a fuge for aesthetics or to raise young fish, there are more options when selecting snails to add. Refugiums will give snails added protection from larger and predatory fish that live in the display tank. However, if your fish and snails are compatible, then you can transfer your snails to the display tank to serve as cleaners.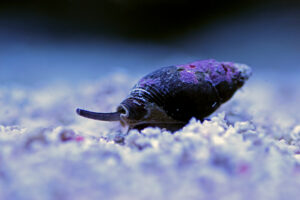 Snails -in particular, Cerith snails – are remarkable for removing algae and filtering water. Another couple of contenders to add to your refugium are Trochus Snails and Nassarius Snails. Many reef keepers intend on using snails for tank maintenance purposes. But we would recommend keeping other herbivores in fuge limited. Too many of these critters can lead to starvation as there is too much competition for food and nutrients.
Benefits of Adding Snails to the Refugium
Cerith snails provide excellent algae removal for the average reef tank system. Nassarius and Cerith snails are light eaters, so it's not difficult to meet their dietary needs. On the other hand, Trochus Snails are bigger eaters and face the risk of starvation if you do not supply them with enough algae or vegetable wafers.
Drawbacks of Adding Snails to Your Refugium.
If not careful, many species of reef snails can become bothersome to your reef tank system. Some species can even reach plague proportions. We would even go so far as to call them a pest snail. While it's crucial to ensure the snails have enough algae to prevent starvation, overfeeding can cause other problems.
Clearly, adding too much food to the reef tank can create water quality issues. But snails that are being overfed may cause rapid population growth. An abundance of snails in then reef tank system means less algae and nutrients to go around. Sadly, this can result in starvation for the weaker snails.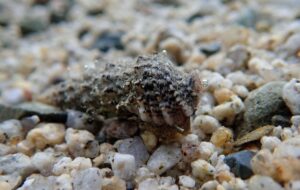 What are Cerith Snails Good For?
Let's take a second to discuss a little species of snail called the Cerith snail. Cerith snails are tiny, slimy scavengers with a sharp spiral shell. They may only reach about 1 inch in length and work great in smaller and larger reef tanks.
This tiny, inconspicuous creature is one of the most frequently selected participants for reef tank cleaning and maintenance. This low-cost invert lives in harmony within community reef tanks all over the world.
The Cerith Snail is a non-aggressive tank cleaner that won't harm any other reef tank dweller. Their tiny size makes them preferable compared to other larger snails. Ceriths are tiny champs of the clean-up crew because they can get into tight gaps and around frags without knocking them over.
Pros and Cons of Keeping Cerith Snails
PROS
They're hardy and simple to maintain. Cerith Snails are one of the toughest snails in a typical reef tank.
Peaceful, reef-safe, and non-hostile to any tankmate.
They are great for removing detritus and algae.
They dig into the sand substrate and stir it up, helping to oxygenate it.
CONS
You can't replace human elbow grease! They do a fantastic job but they won't eliminate the need for cleaning the reef tank system.
Will Copepods Harm Snails?
Reef keepers are always concerned about compatibility when considering adding to the reef tank. One of the biggest questions reef keepers have about inverts is whether they'll be compatible with the existing residents.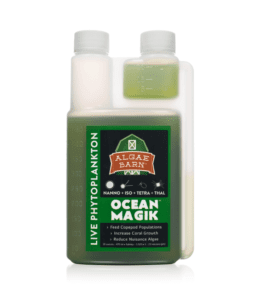 There is truly very little concern on dealings between snails and copepods – they will live together in harmony. Copepods eat phytoplankton and Cerith snails are detritivores. As detritivores, Ceriths will eat a decaying copepod, but they are not predatory in most cases. Now, if there was a complete absence of preferred food sources, many marine snails will eat any available food. However, in most cases these two inverts live in complete harmony! Cerith snails just don't have an appetite for copepods. So, if you're trying to grow your copepod population, you don't have to worry.
Let's get back to how copepods affect snails. As we've mentioned, copepods won't directly harm your snails. They don't see snails as a meal; copepods mainly eat soft algae such as phytoplankton. They typically will not even eat a calcerous algae like coralline. One of the best ways to keep pods well fed is by dosing a live phyto like OceanMagik.
A regular dosing regimen of OceanMagik will also benefit the cerith snails. Copepods may indirectly impede your snail's health because they are still competitors for food. So, if you have a healthy pod population, keeping them well fed with OceanMagik will help keep the ceriths fed.
Conclusion
Adding Cerith snails to the refugium can benefit the reef tank system. These tiny, peaceful scavengers will eat detritus and algae. The ceriths work by helping to oxygenate the substrate and reduce the amount of waste in the system. While pods won't bother snails too much, they may compete for food resources. As a result, it is best to maintain a consistent OceanMagik dosing schedule.
Do you have Cerith snails in your refugium? Let us know in the comments below!