Recently, we have been hearing a lot of questions about the unique harpacticoid copepod, Tisbe biminiensis. Tisbe pods are a super versatile species to grow for a cleanup crew teammate and dietary support for fish, coral, and inverts.
Since we've heard so many great questions about these pods, this article is all about the Tisbe pod and why we think it is perfect for feeding and cleaning in the reef tank. So, without further ado, let's jump right in!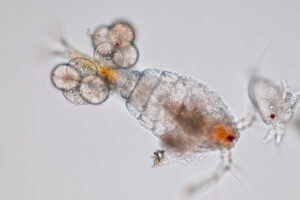 How do you raise Tisbe copepods?
Tisbe is a very adaptable copepod found in a wide range of tropical and subtropical areas. Over the course of its life, a single female can have about nine broods. Which makes this species of pod a great candidate for reef tank nutrition! Tisbe pods can also adjust to a wide range of temperatures and salt levels.
The larval stage of Tisbe pods is planktonic which means they swim freely through the water column early in their life span before settling into the rocks and substrate as adults.
Pods usually have a good nutritional profile and are chock full of rich lipids. Some harpacticoid pods have a lot of important lipids, like fatty acids, in their bodies. Tisbe biminiensis seems to be able to make its own DHA, EPA, and ARA, which are unsaturated fatty acids.
How Big do Tisbe Pods Get?
Pods are one of the most interesting sea creatures you can find. The length of these tiny crustaceans can range from 0.04 millimeters to more than one foot! Pods are amazing little creatures that eat phytoplankton they filter from the water column. There are many kinds of pods, but there are two orders that have been shown to be very helpful in the reef tank. These are the pods of the cyclopoid and harpacticoid orders.
Pods are a family of small scavengers that live in all bodies of water. They eat organic waste, and fish love to eat them because they are a tasty and nutritious food source. Copepods also have a fast rate of reproduction. It does seem as though their entire life cycle is accelerated; the copepod lives only a few weeks to a month at maximum.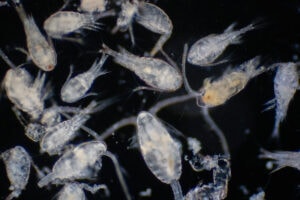 The life cycles of copepods will be greatly affected by things like the availability of refugium space, the number of fish in the system, and the quality of the water. Pods do a few main things in a reef tank: they eat unwanted algae, they let fresh microalgae grow, and they feed fish, corals, and inverts. The best way to increase the number of pods is to have a healthy stock of seeds. Natural filtration methods will help keep the tank clean and the number of pods at a healthy level.
Two other species that are very helpful to coral reefs are Oithona colcarva and Apocyclops panamensis. The species of copepods described in this article have been known for a long time to be the best for reef tanks. Because of this, the EcoPods blend is made up of Tisbe, Tig, Apocyclops, and Oithona pods. One of the most exciting foods we can offer our reef fish are live pods.
What eats Tisbe pods?
Almost everything loves Tisbe pods! Once you know what Mandarins eat, there is no secret to keeping them in captivity. They are one of the pickiest reef fish when it comes to food, and they can be hard to take care of. Some mandarins won't eat frozen or pelleted food. Sadly, many Mandarin fish have starved themselves rather than accept frozen or pelleted food. Tisbe pods, is a very tough pod that lives in the roughest intertidal zones. These pods can handle changes in pH, temperature, salinity, and the amount of dissolved oxygen.
They are also one of the most important critters on the crew that cleans the reef tank. When the pods can live on their own, they will provide a Mandarin almost an endless supply of food. When adding pods to the reef, we suggest putting about 30% of them in the refugium. But we want to give the pods time to get comfortable in the rocks before we eat them. Before adding the pods and turning off the lights, it's a good idea to feed the fish.
Many reef keepers think of pods as a food source, which is true; however, pods can also be the missing link in the chain that forms the perfect cleanup crew.
Copepods are small creatures that eat microalgae, protozoans, and small bits of organic matter (POM). Pods help move energy from food up the food chain. We have found that five species of the thousands of copepods in the ocean are the most useful in reef tanks. The harpacticoids are very small animals that are only about 2 millimeters long.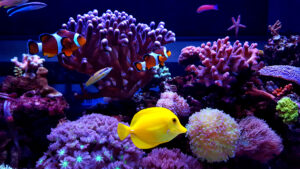 Tisbe pods are a unique harpacticoid
Pods help stop algae from spreading before it gets out of hand. With our Pod Subscriptions, AlgaeBarn also makes it easy to keep pod populations full. Tisbe pods are an important part of any tropical reef tank system because they provide food and keep the environment safe for living things. These pods have a very interesting life cycle. In the first ten days of being alive, the female begins to lay clutches of eggs.
Small pods attack debris and algae from the bottom up, stopping big piles and growths from happening before there are enough larger organisms to clean them up. Copepods are also very important to making sure that the nutrient cycle works well. Harpacticoid copepods, like Tisbe, are especially helpful to people who keep marine aquariums. This is because they usually go through both planktonic and benthic stages as they mature.
Their tough exoskeletons are an important part of reef fishes' diets. Like Poseidon's Feast, 5280 Pods is a copepod blend that has Tisbe and Tigriopus. It also has the cyclopoid copepod Apocyclops, which is good for plankton-eating fish like seahorses, anthias, and many small wrasses because it is planktonic as an adult. These pods have more rigid exoskeletons that provide the roughage these fishes need in their diets.
Harpacticoid copepods usually scavenge for things to eat that are on the sea floor. Their legs are made so that they can walk on these surfaces, and their mouths are made so that they can eat from them. When bottoms aren't covered, bacteria can't use the valuable surface area for nitrification and denitrification. Harpacticoida is a big group with a lot of different shapes and behaviors.
Tisbe is a type of pod that is very productive and eats anything it can get its tiny mouth parts into. Because they are so small, these little pods can get into tight spots that snails and crabs can't. Copepods are an important natural way to recycle nutrients because they are eaten by a wide range of aquarium animals. Any harmful things that the pod eats are just used to make more pods.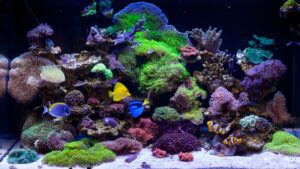 We hope this article has helped to explain some of the more specific features of the Tisbe pod. Tisbe is a type of pod that is very productive and eats anything it can get its tiny mouth parts into. Copepods are an important natural way to recycle nutrients because they are eaten by a wide range of aquarium animals. Any harmful things that the pod eats are just used to make more pods. Copepods are an important natural way to recycle nutrients because they are eaten by a wide range of reef tank critters.
Do you have a favorite copepod for your reef tank? Drop us a line and let us know!