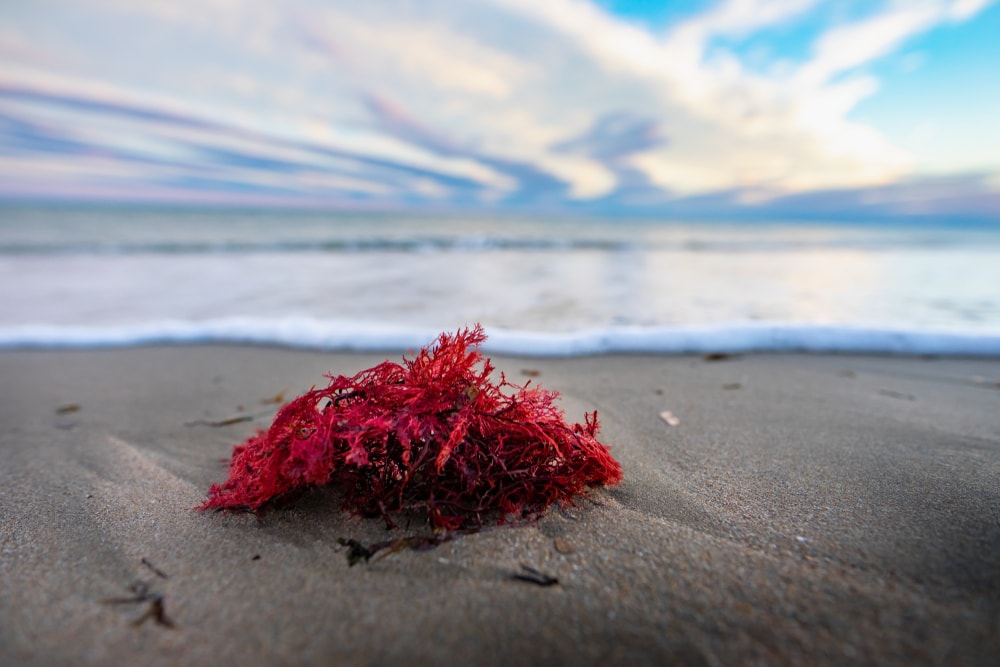 It's been a looong time since there was a "typical" refugium. And even if there was a typical sort of refugium today, it wouldn't look exactly like the one of yesterday. One very notable change is the greater diversity of macroalgae used, including Red Macroalgae. Gone are the days where nearly everyone with a refugium had a monoculture of Caulerpa growing under their tank. Now, depending upon intended use and even the keeper's aesthetic tastes, some combination of green or red algae might be cultivated together.
Though green algae (i.e. chlorophyte) genera such as Caulerpa and then Chaetomorpha have dominated the refugium in years past, red algae (i.e. rhodophyte) genera such as Gracilaria and Halymenia are clearly gaining prominence as of late. Part of this trend is surely due to changing uses and tastes. But it may also just be due to a better selection in the trade of macroalgae in general and of red macroalgae in particular.
[Refugium]
We here take a look at seven refugium-friendly rhodophytes and discuss why each might be appropriate for your system.
Red Ogo Plant (Gracilaria parvispora).
Red ogo is a delicately beautiful macroalgae. It is between reddish and bergundy in color. Its form is thin with short but thick, bushy fronds. Red ogo is a fast-growing and hardy macroalgae when kept under proper conditions. It is also great for nutrient export in heavily stocked saltwater aquarium systems. Additionally, it is prized by many herbivorous fish keepers (especially tangs) as a healthy live seaweed food. As red ogo grows out in the refugium, older growth can be harvested and fed to herbivorous fish as a nutritious snack.
Green Ogo Plant (Gracilaria tikvahiae)
Green ogo is unusual in that its green pigments are so pronounced that this rhodophyte appears more verdant than ruddy in hue. Like red ogo, green ogo is normally very fast-growing and hardy. Furthermore, it is also a great vehicle for aggressive nutrient export. Additionally, it is prized by many herbivorous fish keepers (especially tangs) as a healthy live seaweed food. It grows well with and looks nice with red ogo.
Thick Red Ogo Plant (Gracilaria sp.)
Thick red ogo resembles the related red ogo plant, but has somewhat thicker blades with a stockier and spindlier appearance. Its pink to deep red colors add color and beauty to an otherwise plain refugium. This one is a bit more rare than its lacier counterpart, so get it when you can!
Spike Sphere Macroalgae (Gracilaria tikvahiae)
Spike sphere macroalgae is a very attractive seaweed. This macroalgae is a bit more slow-growing and most appropriate for more established systems with lower dissolved nutrient loads. This particular Gracilaria is often chosen by aquarists primarily on the basis of its appearance. Additionally, while not quite as palatable (soft) as the ogos, freshly harvested spike sphere macroalgae can nevertheless be offered as a live seaweed food.
Pom Pom Macroalgae (Gracilaria hayi)
The pom pom macroalgae (sometimes called the red bush macroalgae) has rather broad, flat, leaf-like blades. This is the Gracilaria most oft used for ornamental purposes. While a bit less palatable than most of its congenerics, pom pom macroalgae can be offered to determined herbivores such as rabbitfishes, sea urchins, etc.
Leafy Sphere Macroalgae (Halymenia maculata)
Leafy sphere macroalgae closely resembles other members of its own genus as well as many Gracilaria spp. It is most distinctive in its heavy blades and its highly blotchy pink, purple and deep reddish coloration. In fact, though it grows well in the refugium, it can also be used in the display tank (if no large herbivores are present) as an ornamental. Halymenia maculata grows either free-floating or attached to rock. This species grows slowly (for a seaweed) and thus requires less frequent harvesting than some other refugium macroalgae. It does prefer good water quality and stronger water movement.
Dragon's Tongue Macroalgae (Halymenia dilatata)
Dragon's tongue macroalgae is one of the most highly sought-after refugium macroalgae species. It is prized by marine aquarists as an ornamental macroalga due to its pink to bright red coloration and deeply furcated, flame-shaped fronds. Though it is quite attractive in the main tank, it can be used in the refugium for steady (but slow) nutrient export similarly to leafy sphere macroalgae. It prefers areas of moderate to high water flow. Halymenia dilatata tolerates lower light conditions and can flourish in shadier or deeper parts of the tank. It can grow either free-floating or attached to rock (attached individuals can grow to heights of over 1.5 feet in the wild!).
Red Macroalgae: Grow Them All!
Different aquarists have different reasons for wanting to grow macroalgae. Even just among the red macros, there are some species that are better suited for certain purposes than others. For example, if you have a newish refugium (or even a new system) and nutrient levels remain high and/or unstable, you might want to go with an ogo (or mixture thereof). You might likewise select an ogo if you intend to use harvested material as a fish feed. On the other hand, say you have a more established system and your nitrate/phosphate levels are mostly under control; you then might want to enjoy of the more exotic looking, broader leaf types such as pom pom macroalgae.
Most aquarists will start with one or two good nutrient exporters, but add more colorful, interesting and challenging forms as the system matures. Eventually, you could end up trying out all of them as your needs change and your collection grows!
[macroalgae]