Coral is a vital part of the ocean's ecosystem. All coral plays a crucial role on the reefs of the Indo-Pacific and the Red Sea. If you're not already aware, coral reefs are not just beautiful to look at. These fantastic ecosystems help to improve water quality and provide a habitat for other marine life. Although they cover only less than 1% of the ocean floor, the reef is home to many creatures. Coral reefs provide habitats for over 25% of all aquatic life! So, in honor of World Oceans Month, let's take a closer look at the aquaculture of coral and how it benefits our planet.
ORA Pearl Bubble Coral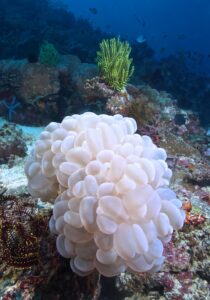 ORA's Pearl Bubble Coral is a beautiful and unique species of coral found in the Indo-Pacific region. This coral gets its name from the large, round bubbles covering its surface. Pearl bubble
coral is a type of large polyp stony (LPS). These polyps have a symbiotic relationship with algae, which live inside their tissues. These algae provide nutrition and give the coral its color. ORA's Pearl Bubble Coral is an essential member of the reef community. This coral and many others play a vital role in the health of the Indo Pacific & Red Sea.
Why is coral vital to the health of the reefs?
Coral is an integral part of the reef ecosystem for several reasons! Coral helps to improve water quality by filtering out pollutants. In regions of higher organic waste, coral can pull excess nutrients from the water. This helps to keep the reefs healthy and free of harmful algae blooms. ORA's Pearl Bubble Coral also provides a habitat for other marine life. Small fish and inverts often live among the bubbles. These vulnerable, little critters use this coral as shelter from predators.
ORA's Pearl Bubble Coral plays a vital role in reef-building. This LPS coral's calcium carbonate skeleton helps add structure to the reef. This is essential for the long-term health of the coral reef. In addition, the ocean's coral reefs provide life for people as well as animals. Over half a billion people globally depend on coral reefs for food, coastal protection, income, and more.
Corals are near threatened.
Although coral is an essential part of the reef community, they are currently near threatened. The main threat to this coral is over-harvesting for the aquarium trade. Anchors, chains, and boat propellors damage reefs. Wild harvesting removes critical members of the coral reef. Other hazards include pollution, climate change, and disease.
What is aquaculture?
Aquaculture is the process of farming marine life. Fish, invertebrates, and seaweed are currently sustainably farmed. Aquaculture is an important part of maintaining healthy marine populations. It also helps preserve our oceans. Aquaculture also has many other benefits! It is providing a source of food for people and communities. Aquaculture is also helping to improve the ocean's water quality.
In this case, ORA's aquaculture farm is growing the Pearl Bubble Coral in captivity. This coral is grown at their aquaculture facility is in the Marshall Islands. The Marshall Islands is a group of islands in the western Pacific Ocean. Many local families in the Marshall Islands will grow coral and rely on this source of income. By sourcing and growing this captive-bred coral, ORA has greatly reduced the demand for wild collection.
One of our goals as a company is to help restore reefs that have been damaged by pollution or other human activity. Aquaculture is a sustainable and environmentally-friendly way to improve the health of our oceans. It helps to create new habitats, improve water quality, and provide a source of food for other marine creatures.
In aquaculture, coral can either reproduce sexually or asexually. In sexual reproduction, coral multiplies through the release of sperm and eggs. Asexually, coral is cloned by cutting or 'fragging' to promote new colonies. Most reef restoration projects use both methods to maximize the number of new corals produced.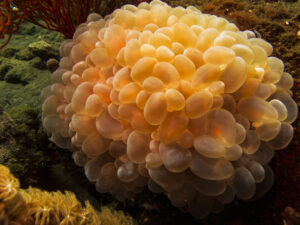 Asexual reproduction
The asexual reproduction of corals sometimes involves coral culture in what is called 'underwater nurseries.' These nurseries can be made in multiple ways but most commonly involve the use of PVC pipes or nets. First, the coral polyps are collected from the wild; most commonly, the broken fragments of coral from severe storms are collected. These fragments are then brought to the nursery, where they are attached to the PVC pipes or nets. The coral is then cared for in the nursery until it is ready to be transplanted onto the reef.
Sexual reproduction
The sexual reproduction of corals involves the release of sperm and eggs into the water. This process is called broadcast spawning and usually takes place at night. For example, ORA's Pearl Bubble coral spawns in late spring or early summer. After spawning, the eggs float in the water for a few days before they hatch into tiny larvae called planulae.
These planulae drift in the ocean for a few weeks before settling. They will grab onto the reef or any solid surface and begin to grow into new corals. Coral can also be propagated through the fragmentation of tissue culture. This is referred to as 'fragging'.  This process involves taking a small piece of coral and growing it into a new colony in a reef tank system.
You can help protect coral reefs!
We can do several things to help protect the coral reef ecosystem. First, support sustainable fisheries. It is best to avoid purchasing fish that are caught using harmful fishing practices. Second, reduce your use of plastics and other pollutants that can end up in the ocean. Third, support organizations that protect coral reefs and advocate for their conservation.
Conclusion
ORA's Pearl Bubble Coral is a beautiful species of coral. In nature, bubble coral plays a vital role in the health of the Indo Pacific & Red Sea. Coral aquaculture is sustainable and preserves and improves the health of our oceans. By restoring damaged reefs and creating new habitats, we can help ensure these ecosystems can thrive for generations to come.
We can all do our part to help protect our coral reefs! Supporting sustainable fisheries, reducing the use of plastics, and supporting organizations working to protect coral reefs are just a few ways we can help. By working together, we can help ensure the reefs that are home to the Pearl Bubble Coral thrive for future generations.