Nothing turns an aquascape into an artistic masterpiece like a huge coral specimen. Whether a massive acro colony, leather coral or whatever, they serve as centerpieces that create a focal point and impart a pleasing visual balance. And, well, if they're really impressive, they also function as a conversational piece. Arguably, few corals "work" as well for this purpose as the majestic bubble coral.
Sure, one could say that bubble corals kind of fell out of fashion over the last decade. Even so, the recently increased availability of captive-propagated specimens and a renewed love for LPS types in general has made more than a few reef aquarists take a second look at them. This article provides a brief overview of their biology as well as their captive care.
Bubble coral natural history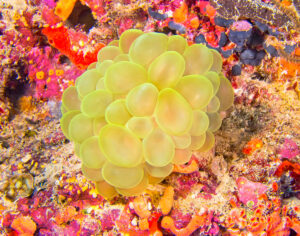 The term "bubble coral" (as well as pearl coral, bladder coral and grape coral) are variously used to identify several species of coral from two different genera (Plerogyra and Physogyra). Some tentacles of this distinctive group are modified into large vesicles that expand during the day and then completely retract at night. Thus, it is reasonable to assume that these structures play a major role in harvesting light. Depending upon light conditions (and perhaps coral strain), bubbles may be pearly white to light blue or green in color and are usually covered with a fingerprint-like or net-like pattern. Single, straight, hazy, light-colored stripes across each bubble create a cat's-eye appearance. The bubbles can inflate to rather large sizes (up to a couple of inches across in Plerogyra). Come nighttime, as the bubbles retract, comparatively long, slender sweeper tentacles are deployed for feeding on plankton and combating nearby corals.
The skeleton is more or less hidden while the coral polyp is expanded. It bears heavy, deep, conspicuous septa along the top edge. The septa have rather smooth margins. Polyps cling to the septa as they emerge from a deep valley along the center line of the skeleton. Young specimens exhibit an unusual budding method whereby the costae on young colonies develop spiney lobes; new polyps grow over the spines. Colonies may grow to sizes of over a few feet in width (or even much larger in some cases).
Plerogyra and Physogyra are distributed across the tropical Indo-Pacific region. They often inhabit walls and overhangs in turbid waters on protected rocky or coral reefs. Physogyra is most easily distinguished from Pleropyra by its vesicles; though they too are bubble-like in shape, they are smaller (but more numerous) and bear little tapered tips.
Bubble coral captive-care
Many aquarists cherish bubble corals on account of their hardiness, adaptability, ease of care, rapid growth and dramatic (if not odd) appearance. You can even forgive their subdued coloration; when mixed among a bunch of bright, flashy SPS corals, their huge, waving, pearly white polyps actually stand out brilliantly. Thankfully, they're not quite as fragile as they appear from their big, thin, delicate vesicles. Just be careful when handling them to avoid puncturing the soft tissue on the exposed septa; this can cause infections or protozoan infestations that may eventually kill the polyp if not the whole colony.
Due to the skeleton's thick, heavy build and its irregular shape, it can be a little hard to mount securely. Its inverted conical shape makes it a bit top-heavy and presents a yet another challenge while securing it to the hardscape. Glue alone won't do the trick, so have some epoxy on hand as well for this job. Try to mount the coral in as level a position as possible; this prevents physical stress to the polyp if it is hanging over one lower side of its skeleton.
While this coral obtains the majority of food from its zooxanthellae, feeding can increase its growth and improve its overall health by supplementing scarce essential nutrients. Moderate amounts of small or finely chopped meaty items may be used. Some even suggest regular old flake food. The trick is to drop the food directly onto the oral disc closest to the mouth or onto the feeding tentacles when they are fully extended at night. You may of course have to cut the water flow momentarily to keep the food from blowing away, and maybe even have to chase away a few thieving fish or shrimp. 
These species love a mellow environment where there is moderate-strong lighting and low-moderate water flow. When hit by an especially strong or direct current, they may close up and refuse to open. Chaotic water movement that is just strong enough to jiggle the bubbles around a bit is ideal. Bubble corals can adjust to fairly bright lighting when necessary, but should be photo-acclimated as to avoid stress-related damage. 
Though bubble corals typically do not "get sick," it is always a good idea to watch out for parasitic flatworms, particularly on newly acquired specimens. The best way to avoid disease here is to obtain farmed individuals. Bubble corals are now being produced at a commercial scale by Biota (e.g. the lovely icy-blue Pearl Bubble Coral).
Perhaps with the better availability of Grade-A, farm-raised bubble corals, we'll soon see these big, glorious hulks at the center of many more reef aquaria!