How EcoPods Builds the Reef Tank's Ecosystem
In this post, we will discuss the major advantages that EcoPods can bring to your reef tank system. In addition to improving the overall aesthetics of the reef tank, maintenance routines will also become easier. In short, EcoPods helps to make reefing easier! If you are looking for ways to reduce the amount of time spent on servicing your reef, EcoPods helps with just about everything.
A reef tank's ecosystem wouldn't be the same without copepods. Without pods, the marine food web would collapse. For this reason, AlgaeBarn created EcoPods. Incorporating this medley of pods into a reef tank will create a thriving marine ecosystem. All four types of pods were chosen because of their flexibility and ability to thrive in a variety of environments.
Copepods are crucial for the ocean's food webs, from primary producers to fish and beyond. These micro-sized crustaceans play a vital role in maintaining a healthy ecosystem. However, pods are generally not given credit for all the work they put in! At AlgaeBarn, we recognize that pods carry the weight of an ocean's food web. Our mission is to do everything possible to preserve natural populations and still provide the highest quality copepods in the industry.
Four species of copepods, each chosen for their hardiness and nutritional profile are in each jar of EcoPods. At our aquaculture facility, we have built a state-of-the-art hatchery so we can provide our customers with the healthiest specimens possible. Our hatchery design has also allowed us to ensure that each jar of EcoPods is densely packed with pods that have a wide age range distribution.
From the very beginning stages of the reef tank build, pods are responsible for clearing nuisance algae and detritus. These little critters are so much more than just a live food, they are key biological components in the reef tank. At AlgaeBarn, we recognized the demand for an effective blend of pods that provide reef nutrition and clean up duty. We truly believe that every reef tank system can benefit from adding EcoPods.
EcoPods Helps Feed Finicky Reef Fish
When it comes to marine organisms, copepods dominate the zooplankton community. These microscopic crustaceans play a crucial role in maintaining a healthy ecosystem. Pods are crucial for the ocean's food webs, from primary producers to fish and beyond.
Copepods are excellent fish food because they feed on organic waste compounds. An abundant pod population is essential for a healthy reef tank, as many reef keepers will attest. When trying to feed shy fish, such as mandarin gobies, having live pods is essential. Mandarin gobies have very fast metabolisms. These fish are constantly scouring the rocks for food on the reef. In captivity, they behave similarly. However, they will quickly become malnourished if they are unable to find a consistent source of food.
Having established pod colonies in the reef tank system will aid in the acclimation of these reef fish. Of course, those pods must be sourced from somewhere. In the early days of reef aquarium keeping, pods would often hitch a ride into the tank on coral or live rock. Thankfully, we have made great strides forward since then. The process of adding pods to a reef tank has been simplified greatly in recent years. We recommend adding about 30% of the pods to the refugium.
EcoPods Feeds Corals and Filter-Feeders
One of the biggest advantages of establishing a pod population with EcoPods is the ability to provide food to corals and filter-feeders without polluting the water. Many prepared and packaged foods that are formulated for filter-feeders are effective, but they will also degrade water quality. If only there was a way to provide the essential nutrients and fatty acids required by filter-feeders, without destroying your water quality…The answer is EcoPods!
The Oithona pod species is quite possibly the cleanest source of nutrition for filter-feeders. Oithona's size range (60-220 micrometers) makes it suitable for even the finest of filter-feeders. This pod species also has a life cycle between 14-16 days. Oithona has a high nutrient content. As we said earlier, Oithona has a high amino and unsaturated fatty acid profile.
EcoPods Can Clean Up Detritus and Film Algae
Algae can quickly become a major problem in the reef tank, but Tisbe pods help prevent that. Debris and algae are attacked from below by small pods, preventing large accumulations and growths before larger organisms can respond. Tisbe pods typically forage for food on the ocean floor. Tisbe are extremely prolific and their tiny mouth parts can devour virtually anything.
These tiny pods have an advantage over larger critters like snails and crabs because of their size. The four types of pods found in EcoPods each have important jobs to do in the reef tank. Each one feeds on debris, detritus, or film algae, making cleanups easier for the reef keeper. In addition to Tisbe, Tig pods are also great cleanup crew members in the reef tank system. Tig pods will help to clear piles of detritus and nuisance algae in the reef tank and in the refugium.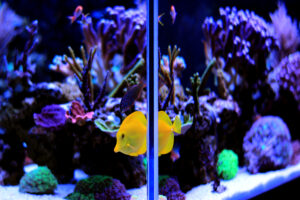 EcoPods Helps to Stabilize New Reef Tanks
Solid fish waste, bacteria, algae, and even diatoms are all consumed by the EcoPods team. This is in addition to the nutrients they send up the food chain to larger predators like fish. So, how is this being helpful for reef keepers? First, this is a way of providing a clean, natural, nutrient-rich food source for corals, fish, and inverts. Secondly, when we add EcoPods to our reef tanks, we are also building a community of animals that help keep the tank clean and fend off pests.
Pods are a key member of the natural clean-up crew we rely on. They help to maintain a stable ecosystem in our reef tanks. They eat a wide variety of single-celled organisms, microalgae, and decaying organic matter. Pods are opportunistic feeders that will eat whatever is most readily available. Although their preferred foods vary from species to species and throughout their life cycles.
The best way to ensure that pods can establish a stable population is to introduce them early, before lights, fish, and clean-up crew critters are added. When introduced alongside livestock, the pods increase competition and can even consume photosynthetic pests. Many types of pods are predators in well-established aquariums, eating everything from phytoplankton to diatoms to microalgae to detritus. They play a vital role in nutrient cycling and the natural food chain in the reef tank.
Closing Thoughts
Copepods are crucial for the ocean's food webs, from primary producers to fish and beyond. These micro-sized critters play a vital role in maintaining a healthy ecosystem. Incorporating this blend of pods into the reef tank will create a thriving marine ecosystem.
Each jar of EcoPods contains about 7,000 copepods and our state-of-the-art hatchery ensures that we are providing a wide age distribution range in every jar. At AlgaeBarn, we believe in improving aquaculture and promoting better, more sustainable practices in the hobby. We are certain that this will in turn promote the creation of better products.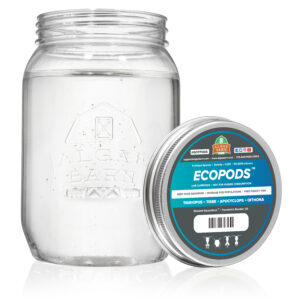 EcoPods are widely regarded as the industry standard by aquarists. Four species of copepods, chosen for their hardiness and nutritional composition, were used in the development of EcoPods. These pods were also selected in part because they are cultured sustainably.
You can confidently put these pods in your reef tank and expect to see incredible results. It is recommended to use one 16-ounce jar for every 15-30 gallons of water. While the pod population will level off in response to the reef tank system's conditions, it's always better to give them a head start. After feeding the fish and turning out the lights, add the pods to the reef tank. This improves their chances of finding refuge in the rocks and substrate. It is also important to feed your pods regularly. Check out our OceanMagik subscription to save 10% on your next order!
We hope this article has been helpful in answering questions about how EcoPods helps improve the reef tank system! For a short time only, we are offering a four-pack of EcoPods for just $99! And as always, we offer our AOA guarantee, so there is really nothing to lose except maybe some detritus and nuisance film algae.