Are you in the research and comparison stage of choosing a new system? Has your reef outgrown it's current home? If you're just in the market to for a bigger tank, we would be honored to help you upgrade to a CADE! AlgaeBarn is proud to carry the highest quality tanks in the industry. In this article, we are comparing two of our most popular systems, the Reef 1500 S2 and the Peninsula 1500 S2/P. And for the beginners looking to build a new reef tank, CADE Aquariums are affordable and well-designed. So, let's get started straight away with some basics!
Choosing the CADE Aquarium that fits best
Both systems are a great choice for anyone looking for a larger and more affordable reef tank system. These systems come with all the features you need to create a beautiful coral reef ecosystem. In fact, both CADE systems come out of the box with a ton of features! The Reef 1500 S2 and Peninsula1500 S2/P systems include a built-in overflow system and adjustable water flow. The tank also has a stylish black finish that will look great in any home.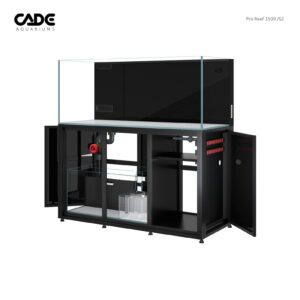 Both tanks are beautifully made by CADE Aquariums, so you can be sure that they are of the highest quality. Your individual needs and preferences will ultimately guide you toward choosing an aquarium. Both systems are perfect for anyone who wants a reef tank that is affordable and designed to last a lifetime. Both CADE systems have all-glass sumps, ATO, power boards, plumbing, low iron Opti-Clear glass, dual weir intakes and laminated rear glass panel that discretely covers the ATO reservoir.
When it comes to aquariums, CADE is a name that you can trust. They make some of the highest quality tanks on the market, and their Reef and Peninsula 1500 series systems are no exception. CADE Aquarium tanks are strong and well-designed. Which makes them perfect for all reef keepers. If you are looking build the reef tank of your dreams, then you have come to the right place.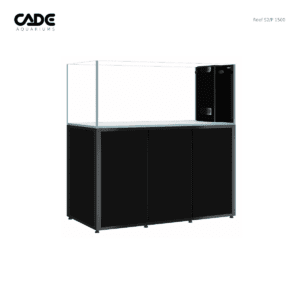 If you're looking to upgrade to a CADE and need a larger system or are looking for a stunning system to divide a room, the Peninsula 1500 S2/P may be a better fit. This tank is six feet long, giving you plenty of room to create an impressive coral reef habitat. It also comes with all the features of the Reef 1500 S2, including the adjustable water flow, ATO, sump, and a sleek black finish.
CADE Aquariums knows size is important in a reef tank
The CADE Reef 1500 S2 system holds a maximum capacity of 181.4 gallons of water and the CADE Peninsula 1500 S2/P holds slightly more at 210 gallons. Which tank size is best is probably the most frequently discussed topics in the tank size discussions. All sizes are advantageous for reef keepers with a wide spectrum of experience in the hobby. But there are a hundred different reasons why one size will work for a reef keeper, as well as disadvantages.
Newcomers to the hobby frequently believe that smaller aquariums are easier to maintain than bigger ones. This is partially true, however smaller tanks are often more time consuming to maintain. At the same time, a 200-gallon tank might be a little more than some novices will bargain for. Although it's not improbable for beginners to succeed with larger sized systems, they are more physically demanding to maintain.
Why are small aquariums not generally recommended for beginners? First, the term small is referring tanks that are under 40 gallons in size. Stability is crucial in the reef keeping hobby. The most important aspect of keeping reef fish, corals and inverts healthy is maintaining stable water conditions. Although there is a general range to aim for in water parameters, smaller volumes of water are more volatile and prone to spikes and swings.
It will be harder to maintain stability if there is less water present. A smaller system will be more affected by a tiny amount of extra nutrients than a larger one because there isn't as much water to counteract it. Because of this, everything moves much more quickly in a smaller tank. This is not to argue that a novice cannot successfully maintain a nano-reef. It just implies that, surprisingly, smaller systems tend to require more maintenance.
Typically, it is the low cost that brings new hobbyists to small tanks. In every way, a small system is substantially less expensive to build. The cost of the tank is lower. The equipment is less expensive. Substrate expenses are generally lower as well. Even less electricity is used to operate a small system. For this reason, a 200-gallon system may not be the best choice for a beginner. Although a larger tank is more forgiving to maintain, it is also significantly more expensive.
The downside of larger systems? Well, there's a few. You will need more powerful lights. You will need a larger skimmer, larger pumps, and additional substrate. Additionally, there is a lot more water at play. Your water bill won't be much affected by a little five-gallon water change, but a monthly twenty-gallon water change plus ATO water will add up.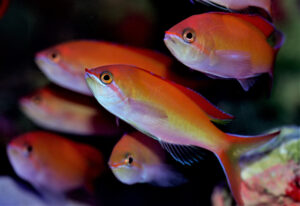 How do beginners go about choosing an aquarium? For beginners, anything between 50 and 175 gallons is excellent. Remember that the price will increase overall the larger you go. For a newbie, a 90-gallon tank would be ideal because it strikes the right balance between being simple and affordable. Then if the reef keeper enjoys the system and decides to stick with the hobby, you can easily upgrade down the road.
CADE Reef 1500 vs. CADE Peninsula 1500:  both are great systems for fish
Let's not forget about the critters that you'll be stocking your new reef tank with. Bigger fish need more space to swim and explore. If you have your heart set on a certain fish, make sure to do your research and find out what size tank it will need when fully grown. It's always better to err on the side of caution and go with a larger tank rather than a smaller one.
If you are an experienced hobbyist, you probably have some idea of the size range of tanks that will work for you. It also depends on the type of tank you want to maintain. Larger tanks are required if you want more fish. Consider a smaller tank if you don't want to have to mix as much water for water changes.
How many fish can I keep in a tank is a question that new enthusiasts frequently ask. Internet tales from a time back said that the rule was "one inch of fish per gallon." This guideline is not the best rule of thumb since you cannot keep 20 fish that are one inch long in a 20-gallon tank nor can you keep one fish that is 20 inches long in a 20-gallon tank. But this is just a guideline, you can keep several small fish in that 20-gallon tank that will reach a mature size of 2-4 inches in length. While it is cruel to cram too many fish into a tiny tank, the inherent bio load is the main reason this rule fails.
The number of fish you can keep in a specific tank often depends on how much bio load the tank can support. Keep in mind that larger fish produce greater bio load than smaller fish. A higher bio load will be manageable with good filtration, a sump and a refugium.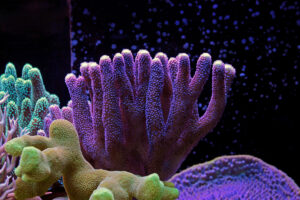 The Reef and Peninsula S2 series systems from CADE have an amazing sump, a pre-assembled stand, and an ATO chamber.
Cost must also be considered. Do you want to save money for fish and corals by purchasing a less expensive tank? Do you want to purchase the top of the line tank available? You should think about each of these factors. You undoubtedly have a clear vision in mind for your ideal reef tank. These tanks, which are among the best on the market, are now sold here at AlgaeBarn. We also offer financing which makes these gorgeous systems more attainable for different budgets.
Final thoughts on CADE Aquariums Reef vs. Peninsula systems
Choosing an aquarium should be an exciting decision! If you are looking for an affordable reef tank, CADE Aquariums will be perfect for you. If you want a large aquarium to separate or divide a room, the Peninsula 1500 S2/P is ideal. Both the Reef and Peninsula 1500 tanks are made by CADE Aquariums, so you can be sure that they are of the highest quality. Make your decision based on your individual needs and preferences, and you will surely be happy with your choice!
Hopefully this article gave you a better idea of the size tank you want to look for. Keep in mind that everything is dependent on your circumstances. If you have any questions, please don't hesitate to contact us or leave a comment below. We would love to hear from you!
What are your thoughts on the CADE S2 series aquariums? Let us know in the comments below!