Many invertebrates need a consistent source of food to thrive in a reef tank. This is especially true for coral. While there are many different types of live food, some are better than others. We provide a wide variety of live foods perfect for coral, including phytoplankton and copepods. This article will address some of the things you need to know about feeding coral and keeping a vibrant, healthy reef.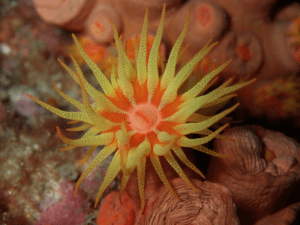 Why Live Foods are Important for Coral
Coral are marine invertebrates that belong to the Phylum Cnidaria. They are primarily found in shallow, tropical waters and are known for their beautiful colors and intricate structure. However, many people don't know that coral is a very fragile animal. In the wild, they are constantly battling powerful waves, currents, and predation. This means that they must be able to adapt quickly to changes in their environment.
One essential thing for coral is having access to a constant supply of food. In the wild, coral gets their food from algae and tiny organisms, such as plankton. They filter the plankton from the water. Many corals also get nutrients from the sun, relying on their own zooxanthellae for nutrition. But this is not enough to sustain them, hence the importance of feeding coral in captivity.
When live food is offered to coral, we are providing them with a source of nutrition that is very similar to what they would find on the reef. This replication of the corals' natural diet will help them stay healthy and vibrant. And for that reason, it is vital to offer a variety of live foods so that your coral can get all the nutrients they need.
What are the benefits of feeding coral live food?
Improved health and vitality: Live food is packed with nutrients that coral needs to thrive. By offering them a steady diet of live food, improvements will be seen in their health and vitality.
Better coloration: Live food also helps bring out the color that the coral produces. This is because they get the nutrients needed to produce pigment.
Increased growth: Coral that is well-fed will grow faster due to having the nutrients necessary to support new tissue development.
We can offer many different types of live food to coral. Some are more nutritious than others. Here we will look at two of the most crucial live food sources on the reef: phytoplankton and copepods!
Phytoplankton:
Phytoplankton is microscopic algae that is an excellent food source for coral. It is packed with nutrients and is easy for coral to digest. Although not every species of coral will feed off phytoplankton, it is a nutritious food source for a plethora of species. In addition to coral, phytoplankton is a food source for copepods (also a live food for coral). Therefore, adding phytoplankton to your live-feed mix will directly benefit your coral as a food source and supply your copepods with the nutrients they need to be a beneficial food source to coral!
Copepods:
Although often overlooked for the more famous Zooplankton, copepods are a keystone species. They play a very significant role in the functionality of the entire aquatic food chain. Keystone species are species on which the ecosystem largely depends. The ecosystem would change drastically or collapse entirely if that food source were removed.
Copepods affect the local inhabitants by ensuring the food chain remains intact for small and large marine life. And because copepods live out their lives in water columns, they are essential food for marine inhabitants like coral and fish.
Copepods love phytoplankton which makes them perfect for corals to feast on! As these tiny crustaceans feed on phyto, they become dense with fatty acids. Along with being a significant food source, copepods serve as a constant source of essential fatty acids for corals. This, in turn, makes them a simple and effective way of elevating corals nutrition.
Let's look at two of the live foods that we recommend for reef tanks: OceanMagik and EcoPods. Both products are very effective and nutritious. They are also very easy to order and use. For the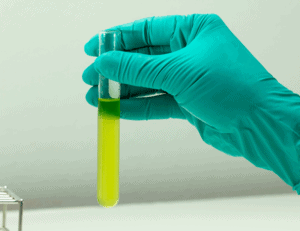 newly established reef tank, it is suggested to regularly add live copepods and phytoplankton to the system.
OceanMagik | 4 Species Phytoplankton Blend
OceanMagik is a nourishing combination of four Live Phytoplankton strains (Nano, Iso, Tet, and
Thal). These phytoplankton are ideal for feeding copepods, corals, and other filter-feeding invertebrates. OceanMagik is a hand-picked combination of the most nutritious live phytoplankton strains available.
Purchasing options for OceanMagik range from one 16-ounce portion to eight portions! And if you love the product, you can subscribe and save a minimum of 10% on your purchase. Delivery frequencies range from once to every two weeks and up to every eight weeks!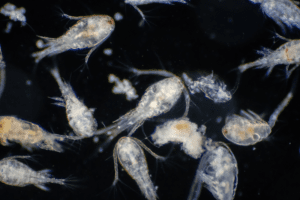 EcoPods | 4 Species Mix Live Copepods
EcoPods 4 species mix is a great live food blend for your coral and a tank cleaner! Each EcoPods mix contains 16-ounces of an ecologically balanced blend of copepods – Tirgiopus, Tisbe, Apocyclops, and Oithona. In addition, each pod is 100% viable to reproduce in your saltwater aquarium!
Purchasing options for EcoPods come in various quantities, from one 16-ounce portion to eight portions! We also offer subscriptions, with savings of at least 10% off your order. Deliveries vary from once every two weeks to every eight weeks, depending on how frequently you want them!
Conclusion: Now that you know all about live foods for your coral and are looking for a reliable and nutritious live food source look no further than Algae Barn. We offer a wide variety of high-quality live foods that replicate what your marine life would eat in the wild. In addition, our 100% Alive on Arrival Guarantee ensures that you'll always get fresh, healthy food for your coral. Shop now and give your coral the best chance at a long, healthy life!
AlgaeBarn prides itself on providing hobbyists with a reliable source of nutrient-dense live foods. We take the quality of live foods seriously as they replicate what your marine life would be eating in the wild. AlgaeBarn strives to make life in captivity as close to nature as possible. Therefore, we know it is vital to provide our customers with the freshest and healthiest live foods available.
All our advertised live food products include a 100% Alive on Arrival Guarantee! If you find that your copepods perished in transit, we'll send out a replacement. AlgaeBarn values the health of your marine life. It is our priority, so you can trust that we will always make it right.