Salt water aquariums can house some of the most beautiful fish. It is a hypnotic experience to watch these creatures move through their underwater world with such grace and beauty. Among the many beautiful fish that are popular aquarium dwellers, the Mandarin goby is one of the most dazzling.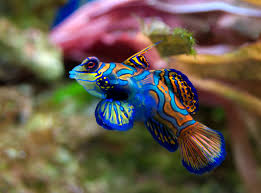 The Mandarin fish is also known as, and commonly referred to as, the BIOTA Mandarin Dragonet. There are several types of Mandarin, varying by color, such as the spotted Mandarin, stripped "psychedelic" Mandarin, green Mandarin, and red Mandarin. All Mandarins are brightly colored, with hues ranging from bright blue, red, green, yellow and orange; arranged in exquisite stripes, spots and patterns. Mandarins are arguably the loveliest fish found in many saltwater aquariums.
Growing up to 3 inches in length and native to the South Pacific, Mandarin fish are found on sandy ocean floors between rock and reef crests. They can be found in groups or in pairs and are very docile.
[CFish]
The Mandarin's non aggressive nature and beautiful colors make them a popular choice for aquarium hobbyists, but with this popularity comes some drawbacks. Mandarin fish are very finicky eaters and due to this, they are the most likely fish to die when introduced into a new aquarium. Mandarins feed primarily on copepods and amphipods and prefer live copepods and amphipods to frozen foods or pellets. Add to their picky eating habits the fact that they are a slow moving fish, slower than other aquarium fish that will get to the food first, and the feeding problem is compounded. In short, if they don't like the food and are too slow to get to any live food, they will starve.
When introducing Mandarin Dragonets into an aquarium it is important to have enough rock and coral to mimic their natural environment. The rock and coral also help in building up a natural environment for live copepods to hide, reproduce, establish a colony and provide a renewable food source. By using live food for Mandarin fish a food chain is created, the fish is well fed and you are one step closer to a sustainable aquarium.
The Mandarin fish is a beauty. Their calm nature and striking colors make them a wonderful addition to any saltwater aquarium. With special handling and preparation, a Mandarin will happily transition to your aquarium and become a brightly colored, pretty new addition.
[CFish]