The Mandarin Goby is a very captivating fish. This fish is mostly prized because of its appearance. Its vibrant colors and patterns are adored by all. Mandarins are also very graceful swimmers. They spend most of their days scouring rocks for tasty crustaceans. But many shy away from them because they can be difficult to care for. This is especially true for beginning reef keepers.
Whether you're a beginner or a seasoned hobbyist, you've come to the right place for help! There is no secret to keeping Mandarins in captivity once you understand their eating habits.
In this article, we will go over what you need to know about keeping this amazing fish. So, without further ado, let's get started!
If you've started doing some research into the feeding habits of mandarins, then you're already ahead of the curve. Mandarins have earned a reputation as being one of the pickiest eaters in reef keeping. Some mandarin gobies will avoid anything except live food. Sadly, some have even been known to starve as they refused to accept frozen or pelleted food.
Mandarins have very fast metabolisms. On the reef, these fishes are constantly scouring the rocks for food. They do the same in captivity. If they are not able to locate a stable source of food, they will become malnourished very quickly. This is especially true for wild-caught mandarins.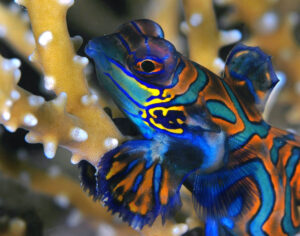 Can mandarins eat pellets?
Not all Mandarins will accept prepared food. Feeding more than once a day means an increase in the amount of nutrients going in the reef tank system. This has potential to degrade water quality in fast order. Feeding might seem like a simple task that just takes a few minutes, but Mandarins are not like other fish. They will not swim up to the water surface to capture food. Nor will they swim into the water column to chase it down if it is washed away. Sometimes mandarins will need to be spot fed.
Spot feeding is a method when you use a tool, such as a baster or syringe, to place the food in front of the animal. We also use this method to target feed coral in the reef tank. This might take some practice to develop a routine. In the beginning, this can be trying for the reef keeper. But with some patience, this method can be used to feed a mandarin.
However, there is another option that benefits both you and the mandarin. Biota and ORA have been breeding Mandarins that will accept frozen food. Some captive bred mandarins even consume pellets. Buying captive-bred fish also benefits the ocean. It reduces the demand for wild-caught fish while supporting aquaculture.
Do mandarins eat phytoplankton?
No, mandarin gobies do not eat phytoplankton. They spend much of their day foraging rocks and substrate looking for tiny crustaceans called copepods. Copepods are small crustaceans that thrive in reef ecosystems. Pods play a crucial role in the ocean's food web. In the reef tank they contribute to algae management, and biodiversity. They do all this in addition to feeding corals and other fish!
When choosing pod species to add to the reef tank for mandarins, there are a few factors to keep in mind. No two systems are alike and so it would be hard to suggest one specific species of pod. It is better to introduce more than one type of pod. Remember, we always want diversity in the reef tank.
Another thing to keep in mind is the copepod life cycle. Pods can have separate levels of mobility in their life cycle. That simply means that one pod's larval stage can occur as a free-floating plankton. The same pod species may then spend adulthood as a substrate dweller.
What kind of copepods do Mandarins eat?
Tigriopus and Tisbe are two copepod species that make up a nutritious diet for mandarins. Tigriopis californicus, also known as Tig pods, is a very tough pod. They have been observed living in the most hostile intertidal zones. Tig pods are resistant to changes in pH, temperature, salinity, and dissolved oxygen levels. They are also one of the biggest players in the reef tank clean-up crew. Also, they are big time pod-pop boosters. A single female Tig pod can lay hundreds of eggs!
Tisbe biminiensis, or Tisbe pods, also develop as larvae in the water column. Tisbe and Tig pods will settle into the rockwork and sand when they approach the adult phases of their life cycle. Tisbe pods are also excellent breeders. Females start to lay eggs in the first 10 days of their lives. They only live for a few weeks. However, a female Tisbe pod can produce eight or nine broods in her life cycle.
Mandarins will adapt to captive life more easily if pod colonies have been established in the reef tank system. But the pods must come from somewhere! Back in the early days of the hobby, pods usually hitched their way into the reef tank on coral or live rock. But thankfully, we have come a long way since then! Adding pods to the reef tank couldn't be easier today.
We have a lot of pods here at AlgaeBarn. And we even have blends of pods that we selected with mandarins in mind. Our Ecopods and Galaxy Pods blends are ideal for seeding a new refugium. Another thing to keep in mind about diet is that you can combine pods with other live foods. Our Mandarin Feeder Kit was designed to meet just this demand.
We recommend adding a jar of NanoBrine to the system whenever pods are being added. This helps to avoid having the entire population from being eradicated before they even have a chance to settle in. NanoBrine is a very nutritious live food for Mandarins. They can also help prevent a mandarin from starving during their acclimation period.
When the pods can sustain their own colony, they will provide your Mandarin with an almost unlimited food supply. When pods are added to the reef tank system, we recommend adding about 30% of the product to the refugium. The remainder can be added to the display tank.
However, we want to give the pods a chance to settle into the rocks before they become dinner. It is good practice to feed the fish prior to adding the pods and then powering off the lights. The NanoBrine can also be added at the same time. We do this in hopes that the nighttime foragers will grab the brine before they can get to the pods.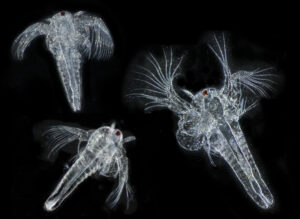 Conclusion
We hope this article has been helpful in deciding if a mandarin goby will make a good addition to the reef tank system. It is a delicate fish but once the feeding concerns are met, these fish are quite hardy. Mandarins are known to be more disease resistant than other fish. This is due to their lack of scales and thick, protective mucus coatings.
The last thing to remember about keeping these fish fed is that it is important to feed their food, too! That's right, to keep that pod-pop booming, we must keep them fed. We've also made that part easy too with OceanMagik, our live phytoplankton blend. Until next time, happy reefing!