As a beginner, selecting an aquarium system can be a difficult challenge. The truth is that this choice has the potential to have a significant effect on the caliber of our lives. An aquarium is not merely a piece of furniture or a cage for animals; it is a home for your very own coral reef. In addition, the tank you install can have a significant impact on the level of enjoyment you receive from the hobby. This is why we've teamed up with CADE to provide aquarium systems that are as durable and functional as they are beautiful.
Since there are so many factors to consider when selecting a new aquarium, we wanted to highlight a few of our most popular CADE systems. And since the cost of implementing a new system can be substantial, we are going to talk about money. Specifically, there are a few ways that CADE systems can save you money, but we'll go into that more later in the article!
There are a few features of these systems that we are excited to highlight. We will also discuss a few features that we believe make the CADE Aquarium systems ideal for beginners. So, let's get started!
The CADE Reef 900 model features an incredible 85-gallon display and a total capacity of 105 gallons in a compact footprint. Ideal for office and professional settings, as well as the one wall in your home where nothing else seems to fit! The Reef 900 Series 2 model is the ideal size for a new reef keeper, it's not too big and it's not too small!
The CADE Reef 900 S2 system features a rimless, open-top design. The display is constructed with ultra-clear Opti-Clear glass and flat, polished edges. Seams are made from the finest German Whacker silicone. Black double-laminated, color-impregnated glass is used to construct the interior rear panel. But these qualities are not unique to the Reef 900 S2. In fact, these features are standard for all CADE Aquariums.
The dimensions of the Reef 900 S2 are perfect for housing all sorts of reef dwelling critters. The display tank is roughly 24 inches tall, which is ideal for a multi-level coral reef ecosystem. In other words, you will have plenty of room for activities! In all seriousness, 24" is the perfect height as there is the capacity for a generous deep sand bed and still have 16" remaining for rockscaping. For most reef keepers of average height, this system will be tall but not too tall at just under 60 inches in height.
CADE systems are expertly crafted to allow reef keepers to build truly personalized tanks without limitation. Combining functional design and unique sophistication, they complement contemporary home decor while meeting all your reef keeping requirements. The CADE Frag Series 1200 is the upper mid-sized system of low-profile CADE frag tanks. Just like all CADE systems, the Frag 1200 S2 has an impressive list of features.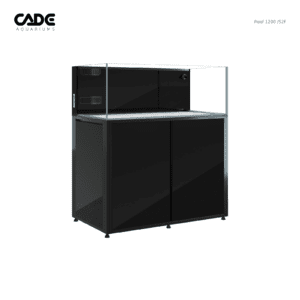 With a shallower display tank, the CADE Frag 1200 S2 is a variation of the CADE Reef systems. This series is intended to facilitate coral propagation for reef keepers. These systems are created with a modern aesthetic, but they also blend beautifully with traditional décor. Coral reproduction is an essential component of reef conservation. By cultivating healthy coral in captivity, reef keepers can aid in the preservation of reefs globally. Unique to the CADE Frag series of systems is a built-in refugium with a removable baffle. This makes it very simple for novices to personalize their reef aquarium systems.
The bottom pane of the CADE Frag 1200 S2 are laminated with white glass. This detail is perfect, as the majority of frag systems forgo a sand bed or only have the thinnest layer of sand. The white color aids in light reflection and produces a bright display. This is ideal for coral propagation or shallow reef applications requiring bright lighting. However, for the reef keeper who appreciates the look and function of a sand bed, the dimensions will possibly limit the depth. Overall, this system stands at about 4' which makes servicing the display a breeze.
The CADE Reef 500 S2 is meticulously crafted to enable reef keepers to create a completely customizable Nano Reef system. CADE combines their impeccable style and design to create a system that functions as beautifully as it appears. The Reef 500 S2 nano system delivers a total capacity of 38.5 gallons. This is the perfect size for a nano reef system but large enough to promote stability.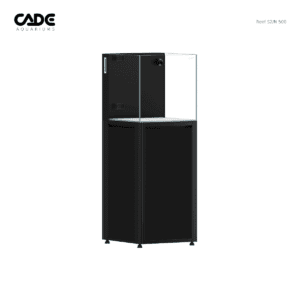 As with all CADE systems, the Reef 500 S2 features a contemporary rimless open top design with flat polished edges. Opti-Clear glass panes of the highest clarity are joined together with clear Wacker silicone. CADE uses clear silicone precisely applied to produce flawless seams and a minimalist finish with razor-sharp edges. CADE only uses transparent silicone because black silicone conceals flaws such as air bubbles and silicone separation.
CADE Aquarium systems are cleaner and more efficient, two qualities that are crucial for successful nano reef tanks. Surface skimming and low-level water intakes allow for the capture of heavier debris that would otherwise fail to reach surface intakes on conventional weir overflows. The Reef S2 slimline glass weir is discretely concealed behind the rear glass panel, allowing for a clear view of your nano reef.
The CADE Reef 500 SN is an ideal nano system for the reef keeper who likes a bare bottom. The base pane of these systems has white laminate applied to the underside to help reflect light and add to the contemporary aesthetic. The back space of the tank is utilized as a 2.6-gallon ATO reservoir. This system is designed to operate a protein skimmer or reactor chamber, and a chamber for bio or chemical media. The entire reef tank system is efficient, clean, and completely silent.
Now that we've discussed some of the factors that make each of these systems ideal for reef keepers, let's go over a handful of the standard features that make them the most cost-effective option on the market.
CADE stands are built to last a lifetime
Aluminum is the best available material for aquarium stands. The openness and accessibility of an aluminum stand allow for the modern aquarium's typically large filter system. Aluminum is considerably lighter (for the same strength as steel), so aluminum stands lighten the floor load of an already weighty fish tank. CADE stands are pre-installed, ready-to-plumb aquarium cabinets. The anodized aluminum frame provides a lasting finish that is highly resistant to saltwater. Adjustable caster feet help level out the tank on uneven floors so there is no need to level with shims.
Gravity-fed ATO means more stability
The ATO systems on CADE Aquariums are gravity-fed, which means that the water is automatically replenished by gravity. This is a highly effective method for topping off the tank with RO water. Additionally, it does not occupy any valuable space in the sump. In addition to being an industry standard, the float valve is highly reliable and simple to operate. With a constant and consistent addition of top-off water, the reef tank system will not see dramatic fluctuations in parameters.
Pre-assembled aluminum jump net
The aluminum jump net is an outstanding accessory for CADE Frag series tanks. It is included with the system and comes assembled, making it extremely convenient. Jump nets prevent valuable reef fish from leaping from their aquariums. This is also a great feature if you have young children or pets that may disturb the aquarium.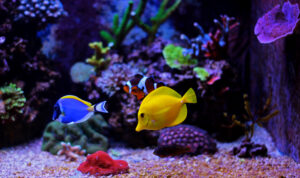 Why we are proud to team up with CADE
At AlgaeBarn, we believe that CADE systems have already established a larger and more enduring legacy than any other aquarium manufacturer ever has.
In this industry, CADE continues to make great improvements on design and function. In terms of all-in-one systems, we also believe they have reinvented the wheel. CADE Aquariums has successfully simplified the setup and operation of a reef tank system.
We will be the first to admit that CADE Aquarium systems are not cheap, in any sense of the word. They are constructed with the highest quality materials and intelligently designed. There is not one scrap of particle board in these systems! But now that AlgaeBarn has introduced financing options for CADE Aquariums, the reef tank of your dreams is affordable and attainable.
Financing options for CADE Aquariums purchased at AlgaeBarn are made available through Affirm. The financing rates are dependent on your eligibility, the purchase amount, and a down payment may be required. But the best part is that the APR can be as low as 0%!