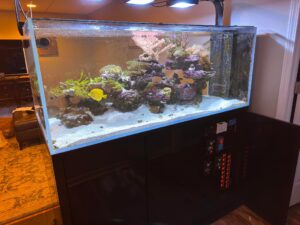 Brad Ramsdell, a Novi, Michigan-based hobbyist, recalls that he first came to become an aquarium hobbyist when his girlfriend (now wife) bought him a 20-gallon tank for his apartment. He soon thereafter became hooked on reefkeeping and "just kept upgrading." Like it is for most of us, this doesn't just mean getting better stuff, but also BIGGER stuff. Eventually, he ended up with a Red Sea Reefer 450.
But then he first laid his eyes on a CADE tank!
The ultimate upgrade
"I saw them on AlgaeBarn's site and just thought they looked amazing." And it wasn't just the quality and design of the tank itself that caught Brad's attention. "I loved the sump and control panel. A place to put all my controllers sold me." In weighing the pros and cons of glass and acrylic, it was easy to settle on acrylic, especially given the high quality materials used in CADE products. "I've only ever had glass, so it wasn't a factor," he explains.
Of course, an inevitable trade-off with a rugged construction is always a bit of added weight. And this certainly didn't escape Brad's notice upon the arrival of his unit. "I thought it was heavy, haha." However, he says, "once I got it to its final destination it was easy to set up."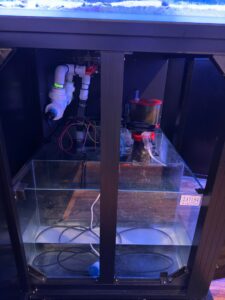 And, according to Brad, operation and maintenance have generally been quite easy as well. He sums this up pretty simply: "It runs great!" He credits this to the simplicity of design–specifically to its centralized and easy-to-reach components. "The best feature by far is the control panel, followed by the metal frame, and last the access from all sides to the sump." Most notably, in addition to an ultraviolet sterilizer and an in-sump protein skimmer, he has incorporated dosing pumps and Trident system. He maintains a planted refugium, which is lit with a small AquaIllumination light. He also makes good use of his CADE's ample built-in shelving, using it to keep some of his most frequently used bottles of supplements, reagents, water conditioners, etc. handy. But there's always room for improvement, right? Brad might suggest a greater degree of versatility in future designs. "Most of my equipment fits, but I'd like for the media basket's baffle to be removable so I can just have a larger chamber for other equipment." 
All in all, Brad is extremely pleased with his CADE system, as well as its value. "It is a quality product. Especially considering import costs from Australia." He adds that "support has been great. I would go for a CADE again." 
At home in the CADE
In terms of the living inhabitants of his system, he's just about got everything nailed down. "I have a minimal aquascape. I like to have room for coral to grow and fish to swim. The build is pretty much in place, just need more fish!"
There is no doubt here that Brad is being modest about the results of his build. His display is superb, and perfectly capitalizes on all the advantages of a peninsula design. As with most peninsulas, his system is a prominent feature of the room. His hardscape is very 'airy' as to allow plenty of empty space, not just for the fish to swim through, but also to provide points through which the viewer can see beyond the other side of the tank, and from either side. It's so open, in fact, that the rocks seem to float, which shows off his ample sand bed beautifully. The hardscape also has plenty of empty space all around it–between itself and the glass–so that the fish have plenty of unimpeded space to swim (this surely makes keeping the glass clean, too!). Despite being well hidden, his pumps (which include a gyre style unit at the far end of the tank) deliver adequate flow throughout the aquascape.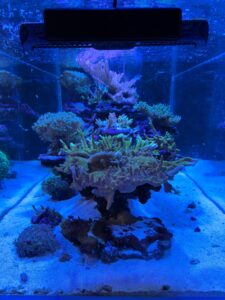 Brad's lights are suspended high above the tank, which always looks especially nice over a peninsula style set-up. Despite the relatively great distance between the fixtures and the water surface, his lighting is clearly intense enough to support lush growth of SPS corals such as Acropora (we'd add that they look pretty sweet here whether in "blue" or "white" modes).   
More to come..?
It's a shame that we couldn't show all of the images we have of Brad's awesome system here–hopefully he'll continue to post more on the CADE Owners Group Facebook page!
Many thank to Brad for sharing his experiences with us. Can the real lesson to be learned here be that the partner who buys you your first aquarium is the partner worthy marrying? We think so! 
If you're a CADE owner and would like to share your CADE experiences with the aquarium community in an article such as this, please reach out to [email protected]. We'd all love to hear from you!