If you've been keeping aquariums for a long time, you've almost certainly owned a pressboard stand at some point. And if you had that stand for very long, there's a chance you saw it lose its trustworthiness over time. Particularly if these cheaply made stands are exposed to moisture for extended periods, they gradually warp, swell and crumble. This makes for a rather unsafe situation–both for you and for your aquarium animals. While pressboard is perfectly suited for use as inexpensive dorm room furniture, it has absolutely no place under a fish tank. 
Maybe a couple of entire generations of aquarium hobbyists relied on pressboard cabinetry. We also listened to cassette tapes and talked on phones attached the wall. Point is, we modern aquarists have significantly higher standards. And, generally, much greater investment in our systems. Therefore, the modern aquarium must be (1) sturdy as hell and (2) built to last. Oh, and a slick look never hurts, right?
Built for now
Sure, there are some true craftsmen and craftswomen who produce absolutely gorgeous solid-wood aquarium cabinetry. And we've seen more and more steel-frame stands in more recent years. But let's face it–prolonged exposure to water can rapidly deteriorate even solid oak. And we all know what water does to iron (yeah, sorry, ten coats of paint will do almost nothing to stave the inevitable rusting). And wow is steel crazy heavy!
So, what should a tank stand be made of? When it comes to durability and longevity, no aquarium cabinetry material compares to anodized aluminum. 
Like steel frame stands, the openness and accessibility of an aluminum stand allows for the modern aquarium's typically large filter system and complex plumbing configuration. However, as aluminum is considerably lighter (for the same strength) as steel, aluminum stands lighten the floor load from an already weighty fish tank. Yeah, some hobbyists like the idea of hiding equipment within an old-fashioned wood stand. Using simple but classy glass panels to cover the front and/or sides, one can do the same with an aluminum stand. Further, if you change your mind and actually want to show off your filter and refugium, you can easily switch to an open style. 
Aluminum cannot rot like wood, and it is far more resistant to corrosion than iron. Anodized aluminum is even more bulletproof. With anodized aluminum supporting your tank, you can always rest assured that you'll never have dismantle and move your aquarium due to a failing cabinet–or worse, shovel it off of your ruined floor.
CADE aluminum stands: Simplicity, quality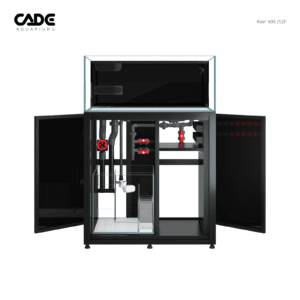 CADE Aquariums are now well-known and highly regarded for their uncompromised attention to both performance and aesthetic appeal. Their choice of aluminum frame for every model in their all-in-one aquarium series is certainly a reflection of that fastidiousness. Does it matter to them that they could manufacture their cabinetry more cheaply with wood? Steel? Maybe even some kind of plastic? Hell no. Aluminum is the best available material for aquarium stands, so that's the only thing you'll ever see under a CADE tank. 
One particularly beautiful thing about CADE aquarium stands is that they arrive ready-to-go, right out of the crate. The sump even arrives inside the stand, ready to plumb. To be clear, that means that they don't require any assembly whatsoever! All you have to do is screw the pre-fitted plumbing together. Seriously.
CADE  aluminum cabinets feature front and side doors with hinges and magnetic latches that are hidden within the framework; not only does this look really nice, but it helps protect them from corrosion from spilled water. In standard models, the right side cabinet door provides easy access to the Controller Management. This area securely mounts electrical controllers to keep them away from saltwater. Most (larger) models include a Chiller/Accessories space on the right side of the cabinet; the roomy depth provides enough space for both a chiller and other stuff like dosing vessels. The shelf above stores items such as dosing pumps as well as providing space to manage power cables to the Power Distribution Unit. 
Industrial grade adjustable caster feet help to level out the tank on uneven floors (no more ugly wood blocks). Would you prefer to have foam padding on your stand to protect the tank? No worries if you get a CADE because it'll already be pre-installed! Perhaps best of all, the stand's beautiful color is anodized to the aluminum frame, providing a lasting finish that is highly resistant to saltwater. 
Conclusion
Today's reef aquarium is meant to run for a very, very long time. CADE Aquariums are meant to run for a very long time. These aluminum frame stands will last as long as your CADE tank, if not for the rest of your life! And that might be just fine, because with their highly functional and attractive design, you'll likely never want another.