No one said that reef aquarium keeping is a cheap addiction (hey, at least it's a healthy one!). The hobby is rife with stories of reefkeepers playing shell games to keep their spouses unaware of their aquarium expenditures… of reefkeepers eating raman so their fish can eat fresh seafood… of reefkeepers taking up a second job as coral farmers in order to "pay for their habit…"
We all get it. Most of us have been there. And, it's something we all readily acknowledge as a community–hell, compulsive buying has become such a deeply ingrained part of this pastime that it's become ready fodder for umpteen wise-cracking memes. But that is emphatically not what this article is about.
Bells, whistles and side cabinet entry
By now, most serious marine aquarists have heard of the advanced reef aquarium systems introduced by Australian glass aquarium manufacturer Cade. Cade USA has recently partnered with AlgaeBarn LLC to bring Cade's well-made and cost-effective tanks, as well as its top-notch customer support, to American hobbyists. What's more, AlgaeBarn has made the Cade aquarium experience more financially accessible to the average consumer through affordable affirm financing.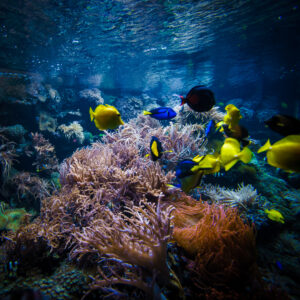 Yes, Cades are not "cheap." They are expertly engineered and fabricated with the highest quality materials. They are truly complete (as in, built-in power management setups with external switches) and include far more than the typical aquarium "combo." And compared to other so-called all-in-one systems, Cades run on the larger side (70 to 221.4 gallons total capacity). Take a closer look and you'll see that the manifest value of a Cade tank is much greater than its sticker price. With financing, obtaining one is entirely feasible. 
That being said, like any larger, smartly styled, high-quality aquarium system (specially purchased as complete), these tanks can put a dent in your statement balance. For most aquarists, under normal circumstances, the only option to buy a system such as this would be by old-fashioned saving. But it doesn't have to be that way. And that's why AlgaeBarn has introduced an attractive financing plan for your new Cade.
Yup, payment options on Cade products at AlgaeBarn are provided through Affirm by these lending partners: affirm.com/lenders (options depend on your purchase amount, and a down payment may be required). And check this out… Affirm APR is only 10-30% or even 0% APR based on credit rating (subject to a fast eligibility check).   
It is of course gratifying to get the things we want when we want them. Certainly no exception here, we're sure. But that's not the only point. With this option, you can now get a complete system up-and-running at its full capacity right off, giving you (and your animals) the benefit of the healthiest start possible. No more expensive additions, modifications or "upgrading" down the road! 
You can get all of the core components of a cutting-edge system in a single purchase–down to the AlgaeBarn bundle items available through November. This incredibly generous bundle includes quality base rock and substrate as well as an array of chemicals and additives (only while supplies last!); see individual tank listings for Cade Black November Sale bundle details! 
Oh… and just to make the deal even sweeter, you'll get a CADE Owners VIP Membership which rewards you with special discounts forever on AlgaeBarn products, plus an Exclusive Support Line and Social Group. Seriously. 
Conclusion
Veteran hobbyists might remember the excitement surrounding releases of exceptionally well-crafted aquarium systems over the last few decades. Take for example the original Oceanic Reef-Ready series. These systems were study enough to survive a quarter century to the present. And they were so damn nice that aquarists still want them. In fact, perhaps due to the nostalgia they elicit, you could say that they've become a sort of collector's item.
Let us say here that we believe these Cades have already started an even bigger and more indelible legacy than any premium aquarium system made before them. That's not market-sized hyperbole; AlgaeBarn is downright stoked about these systems and is proud to partner with Cade USA. 
Aquarium systems are not just something to look at. Nor are they mere toys we use to "play" with new technologies or methodologies. They are the framework for a life support system used to maintain a diversity of delicate aquatic lifeforms. As these animals' keepers, it is our responsibility to provide the best living conditions available. We believe that Cade manufactures the best aquaria that any money can buy. We are confident that American hobbyists will agree. That's exactly why we are offering the greatest ever promotion on every Cade tank we offer–with financing that ensures nearly everyone can afford it. 
Right, sure… "greatest sale ever." They all say that. Maybe so. But this really is a promotion like no other. In addition to our really fab financing ops, the valuable goodies included in the Black November bundle genuinely make this promo an offer you can't refuse. As such, it's not an offer that AlgaeBarn, or anyone, can offer every other weekend. And that's okay, because this is a celebration (did we mention that we're excited about these tanks?). 
We really mean it when we say that we'll always consider our 2020 Black November CADE Owners VIP Members as ambassadors for these innovative aquaria. And we sincerely can't wait to see what all you innovative aquarists out there can do with them!