At AlgaeBarn, we are on a mission to create a more sustainable hobby. Sustainable reef keeping entails maintaining a system that reduces damage to coral reefs. Sustainability also means making choices that benefit the environment. And thanks to some innovative products and improvements in equipment, a more sustainable hobby is in reach! In this article, we will be talking about setting up a reef tank that is more viable and helps keep natural coral reefs intact.
Building a more sustainable reef tank is easy and economical. Many of our customers that are newer to the hobby have been asking for guidelines to build a reef tank that is more sustainable. At AlgaeBarn, we have dreamed of reef tanks that are fully stocked by aquaculture. This is finally a reality!
Most reef keepers genuinely care for the environment and recognize the value of aquaculture in the hobby. Only within the last few years have we been able to truly promote a fully sustainable reef tank. Coral mariculture, aquaculture, and captive bred fish are affordable and widely available online and at the LFS.
Sustainable rock for the reef tank
Algae, bacteria, and marine inverts cover live rock. Live rock is used to seed reef tanks with many of the beneficial organisms that act as a foundation for nitrification. These microbes also stabilize pH levels and water chemistry, and thus acting as a biological filter. However, because the live rock is collected from living coral reef, it is not a sustainable choice.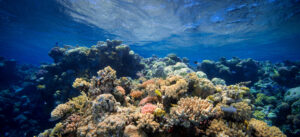 Artificial and mined live rock are new, more sustainable option options. These rocks are composed of a cement-like mixture of calcium carbonate material, sand, and crushed shell. It is highly porous, allowing coralline and other microbes, algae, and inverts to grow on it. This provides a great foundation for the beneficial microbial growth that will act as a natural filter in the reef tank. Its application lowers the economic and ecological costs of using wild harvested live rock. Artificial rock that has been inoculated and cured can then be used to set up new reef tanks.
Manufactured live rock has been made by using all the elements that nature uses to construct a coral reef. The only difference is that this method is entirely eco-friendly! While there have been many sustainable live rock options available through the years, it has only been very recently that a genuine 100% eco-friendly alternative has become available. There are now several kinds of eco-friendly rock readily available at AlgaeBarn. And to truly make this a more economical option, we offer free ground shipping on live rock orders over $59.
Dry live rock comes in an extensive collection of shapes as well as sizes. There is even branching rock that can be used to create breathtaking and unique aquascapes. We also carry sustainable forms of aragonite sand for use as substrate. To simplify choosing the right products, check out our Starter Kits! We include everything needed for seeding a new reef tank at a discounted price.
Dried live rocks also help keep pathogens out of the reef tank. For instance, dry live rock is an ideal habitat for live pods, like those found in our 5280 Pods blend. If we start our reef tanks without pests or parasites, we are saving time and money in the long run.
Choosing captive bred fish
It is now possible to obtain a wide range of beautiful captive-bred fish for the reef tank. Moreover, as our hobby advances year after year, more species become available. However, there are additional considerations that are important for beginners.
When selecting multiple fish for the reef tank, it is crucial to select fish that will not have territorial or aggressive behaviors. You will want to make sure that you choose to fish that have peaceful temperaments. Also, it is very important to choose fish that are reef safe. Most reef keepers want energetic fish that do not spend their days in hiding. These are just a few things for reef keepers to think about when choosing their fish.
Here are a few of our suggestions for captive-bred fish:
ORA Electric Indigo Dotty back (Pseudochromis fridmani x sankeyi)
ORA Black Snowflake Clownfish  (Amphiprion ocellaris)
ORA Neon Dottyback (Pseudochromis aldabraensis)
Choosing aquacultured corals for the reef tank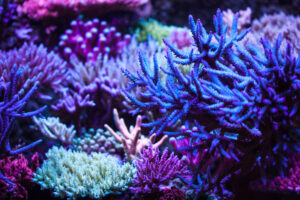 While choosing corals, AlgaeBarn suggests starting with hardy, easy-to-care-for soft corals. After the training wheels come off, move onto LPS corals, and gradually progress to SPS corals. LPS corals and most softies add movement to the reef tank. There are various species of coral available that are perfectly sustainable, and captive bred.
We have several species of LPS, SPS and soft corals. We stock over 100 coral species that are easy to care for and entirely sustainably grown.
Here are a few of our favorite corals that are very easy to care for:
ORA  Toadstool Leather (Sarcophyton sp.)
ORA Green Finger Leather (Sinularia sp.)
Biota Green Yuma Mushroom Coral (Ricordia yuma)
ORA Marshall Island Hammer Coral
Using sustainably grown macroalgae in the reef tank system
Many species of macroalgae are cultured right here at AlgaeBarn. These are easy to order right on our website. Macroalgae can be kept in a refugium, tank, or an algae scrubber. This helps assist in removing excess nutrients and waste compounds from the reef tank. Our macroalgae varieties are sustainably grown and can even be used to add color and interest to the display tank.
Here are a few of our best-selling macroalgae varieties:
Conclusion
Sustainable reef keeping is a commitment but today it is easier than ever! We can all do our part as reef keepers to preserve natural coral reefs. Choosing reef fish and corals that are captive bred helps to reduce the demand for wild harvested coral. Reef keeping is a great hobby and reef tanks create a calming aesthetic in homes and offices. And today we have the benefit of building reef tanks that minimize impacts to coral reefs.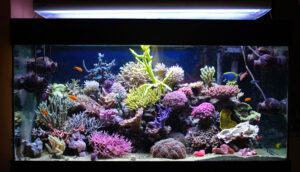 We are proud to be a leader in the movement to promote sustainability and conservation in reef keeping. It is possible to have diversity in a reef tank without collecting any wild fish and coral. Thanks to the work of facilities like Biota and ORA, we can choose captive-bred fish that are healthy and affordable. And this is another reason why we strive to provide the best aquacultured live foods in the industry.
We believe that when people learn from the creatures in our oceans, it's the best way to inspire others to join our conservation efforts. Drop a comment below and let us know what you do at home and in your reef tank to conserve wild coral reefs!