While most popular reef aquariums come pre-drilled with bulkheads and overflow boxes installed, there may come a time when you find the need to drill a tank. Since you're reading this article, that time is likely now. This article will give you all the necessary information to drill a glass aquarium successfully. Drilling an aquarium is a large task, especially if it's your first time. Although it is intimidating, it is likely not as challenging as you think.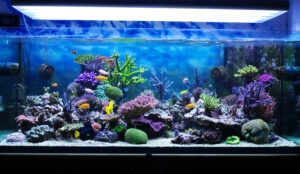 Why would you drill an aquarium?
It is likely for a new hobbyist never to drill a tank. Aquarium producers offer many options that are pre-drilled or don't require using a sump. Still, there are situations in which you may need to drill a tank. Perhaps your aquarium has the needed holes and bulkheads, but you want to add another bulkhead for the return line. You could also come across a used aquarium with perfect dimensions that needs drilling. You have two options. You can use hang-on-the-back equipment to filter your aquarium. While you can have success with this route, it might be limiting.
Most hobbyists prefer a sump because it is the most versatile filtration method. Before you drill your aquarium, you should determine why you want to. Is a sump necessary for what you want to do? If you still need to purchase your aquarium and are deciding whether to get a pre-drilled tank or drill it yourself, reading this article will help determine if the labor is worth it.
Let's say that your aquarium needs drilling. You don't have to do it yourself. You could take your aquarium to a professional to get it done. Sure, it will cost some money, but it may also save you from a cracked or scratched tank. If you're interested in drilling a glass aquarium, you likely want to do it for the accomplishment and the thrill of doing it yourself. The DIY spirit is an understandable reason for wanting to make that hole yourself. To drill your first tank, you must do it with the correct method. Unlike other aspects of this hobby, there is generally one method with slight variation for drilling glass aquariums.
Tools and equipment
Before getting crazy with the drill, let's review the necessary equipment.
Variable speed drill, preferably a corded one. This drill should have low to medium speeds. You should also have general knowledge of how to operate the drill.
Rags.
Diamond-coated drill bit that is the right size.
Bulkhead.
Easy access to water.
Safety equipment.
Optional: plumbers putty, disposable packing material, cutting guide, strong tape, marker, clamps
Prep work
Before you start drilling, there are some essential things you need to determine.  You first need to ensure you aren't drilling into tempered glass. Tempered glass will shatter when you try to drill into it. The easiest way to determine if the glass is tempered is by checking with the manufacturer. Aquariums typically have standard side panels and tempered bottom glass. Of course, it varies from tank to tank. Another way to determine if the glass is tempered is by looking for a sandblasted stamp on the glass. This stamp will show the manufacturers name and the Consumer Product Safety Commission (CPSC). There might be a sticker telling you which panel is tempered. Only drill glass once you are sure it is not tempered.
Now, determine what size bulkhead will be going in this hole. If you want to add an overflow box, find out what size the bulkhead is for the specific box you plan on buying. It's best if you buy the overflow box before. That way, you know what size bulkhead you will use.
Next, you need to get the right bit for the bulkhead. The bulkhead's fitting or internal size does not determine the correct bit size. For example, a 1/2″ bulkhead does not use a 1/2″ hole. You should find the information on the packaging or from the seller. For example, Bulk Reef Supply Displays the hole size for all of their bulkheads.  Here are some popular bulkhead sizes and the corresponding hole size. Always refer to the seller or packaging before using a general list such as this one.
1/2 inch bulkhead = 1 and 1/8 inch hole.
3/4 inch bulkhead = 1 and 1/1 inch hole.
1 inch bulkhead = 1 and 3/4 inch hole.
1 and 1/2 inch bulkhead = 2 and 3/8 inch hole.
2-inch bulkhead = 3-inch hole.
After determining the hole's size, you need to choose the location. Having the overflow box at this point will help with selecting the site, using the overflow box to estimate where the hole will be—using the marker and drill, mark where the hole will be. Then double-check that everything is aligned and is going to fit. The exact location may not matter much to you, but it never hurts to double-check.
Next, you can use plumber's putty to make a dam around the drilling location. Use the putty to contain water around the drilling area. Water is vital to keep the glass cool, so take this step. Another way to do this is by having another person pour water onto the drilling site while you drill. You could also make a piece of wood with a hole, which could double as a cutting guide if the hole is the same size. You could clamp this piece of wood down to contain the water better. Some overflow boxes have a cutting guide that makes this a bit easier.
One final precaution is preparing for the circle of glass to fall out. There are two ways you can safely do this. One way is to use rags or packing material to catch the piece on the other end. Another way is to tape the opposite side of the drilling location.
One final thing you can do for prep work is practice on another aquarium. Depending on the aquarium you want to drill, you could risk hundreds or thousands of dollars. For this reason, it makes sense to practice drilling on cheaper aquariums. At this point, you are close to being ready, but not quite. Safety is the last thing we need to go over before you start drilling.

Safety
When you are using any power tool, there are always safety concerns. However, the circumstances are more serious when drilling glass.  Here are some tips to avoid injuries or expensive trips to the hospital. After all, you'd rather spend that money on corals!
First, always wear eye protection. Ideally, the glasses should be transparent, not sunglasses. However, wear sunglasses when deciding between sunglasses or no eye protection.  Second, wear gloves. You are dealing with glass, so there is always a risk of cracking and creating sharp shards. For this reason, you should wear thick gloves. Also, drilling glass makes cloudy water containing tiny glass shards, which can be painful if you get them on your bare hands. Gloves will easily prevent this.
Third, if you can, do this with another person nearby. In the rare event that something terrible happens, the other person will be able to help. Having another person can also help will providing water to the drilling location. Fourth, do not do this around children or pets. Drilling glass around them risks their safety and can cause you to become distracted.
Lastly, only do this activity when you are energized and are thinking clearly. You might have everything set up right, but fatigue and lack of mental clarity can ruin all of that. Today might not be the day to do it, and that's okay. Do it on a day that you feel alert and ready. Also, avoid caffeine, as jittery hands will make this task more difficult.
Time to drill
While the safety considerations and prep work might seem overkill, it will likely save you time, effort, and money in the long run.  After all of that, you are finally ready to drill. If you are starting to get anxious, that is okay. It is entirely understandable. Remember, it is easier than it appears. Take a deep breath and relax. Being calm and confident will help you get the best result. If you are using a wood guide, this will be a lot easier. Either way, this process is the same. Place the drill perpendicular to the glass pane. Some people will tell you to start it at an angle, which can work. However, starting perpendicular will decrease your chance of losing control of the drill. The weight of the drill is usually sufficient pressure, but you may have to apply light pressure. Start the drill slow. Once it creates a groove, you can speed it up, but don't go too fast. You should maintain a medium speed until you drill through.
Throughout this process, you will likely need to add more water. Also, don't worry if you hear an awful screeching sound. That is normal as long as you have enough water on the glass. An excellent way to think about this is that you are not cutting the glass or drilling it. Instead, you are grinding it down until you get through. For thin glass, this will likely take 3-5 minutes. For thicker glass, it will take longer. Regardless, take your time with this.  DO NOT RUSH. Drilling too fast can cause you to lose control. The drill may "jump" away from the drill area and scratch the tank. Be patient, and you'll have a hole before you know it.
Clean up
Hopefully, at this point, you have a hole in your aquarium without cracks or scratches. The final part of this project is cleaning up. Wipe away all of the glass dust and rinse out the aquarium. Keep your gloves and safety glasses on until you remove all the glass dust. Some of the glass can chip on the other end, especially for thinner glass. While not ideal, this is okay. If the edges are too sharp, you can use sandpaper to smooth them out. The bulkhead will cover the area around the hole, so it doesn't matter much.
Getting on with your aquarium build
If you successfully cut the hole, congratulations. Hopefully, that was easier than you thought.  Now you are ready to continue with your aquarium build. Next, you will install the bulkhead and the overflow box. After that, you can test for leaks and then aquascape. We are sure that you will create a stunning aquarium!
Drilling a glass aquarium can be stressful, but it is a lot easier than it seems. You'll have your bulkhead installed quickly with patience and proper prep work! Great job, and happy reefing!