Geologically speaking, "reef rock" (including 100% wild-extracted live reef rock) is not actually rock–rather, it is an accreted mass of mostly calcareous, biologically derived materials (coral skeleton, mollusk shells, worm tubes, coralline algae, forams, etc.). Moreover, biologically speaking, "live" rock is of course not live at all but rather serves as an attachment site for a broad array of benthic organisms ranging from bacteria to sea squirts. Now, a reef aquarist might argue that frankly any material you use to construct a reef (lava rock, artificial resin-based rock, even cinder blocks) is technically reef rock as soon as you position corals clams, and other animals on it. Even more so once it is encrusted with coralline algae, sponges, etc. But there's no cause for bickering on the distinction between live rock and dry (i.e. lifeless) rock.
So, wouldn't you just automatically prefer to use live rock for you reef base? Even just intuitively, live is better than dead when it comes to anything for your reef tank, right? Sure, if you've never dealt with Cryptocaryon or other fish diseases. Or Valonia algae. Or Aiptasia anemones. However, if you still have nightmares from your past experiences with these or other all-too-common aquarium plagues, you likely can appreciate the peace of mind that comes from building your reef structure with dry rock (oh, and the huge ease on your wallet, too).
Yeah, we get it: Dry rock can't exclude these pests forever. As soon as you start adding livestock, these bugs will be able to hitchhike in anyway. True. But the idea here is that with dry rock you start out with a guaranteed clean slate. Controlling pest invasions later will be much easier and much more successful, as you will only be tasked with inspecting/quarantining/treating relatively small volumes of material. In other words, you can fully build a completely pest-free hardscape without worry, and then focus your biosecurity efforts on each frag, clam, fish etc. as you acquire it. The dry rock simply becomes "live" after you've seeded it with targeted types of beneficial microbes and coralline algae. And, thanks to Florida-based Pristine Rock, you can obtain clean, premium dry reef rock that is actually sourced from a real coral reef–an ancient coral reef, in point of fact.
The perfect dry rock alternative
Pristine Rock was born of owner Jonathan Airado's own personal needs for his own reef tanks. Specifically, he sought to produce a completely natural (yet sustainable) material that is cleaner with a focus on those fine imperfections that make the rock more appealing to the eyes. They even collect the bits of rubble that break from larger pieces during processing and put them to use on smaller works; indeed, they go so far as to collect the sand as it erodes from the rock, creating an economical and ecologically sound business practice.
Thusly created was Pristine Rock's premium oolite limestone-based aquarium rock known as "ancient reef rock." This highly porous, ancient coral skeleton is sourced from bedrock in the southernmost region of South Florida. After it is pressure washed, it is bleached clean, de-bleached and finally rinsed of sediment before being packed and shipped. Ancient reef rock is available in virtually any size and shape. It is easily chiseled to create custom shapes; likewise, you can create custom rock scapes with smaller pieces. 
Pristine Rock also offers "ancient reef cuts." This ancient reef rock is cut flat to create a perfect base to start your rock scape. These pieces can be flipped to have a flat bottom for placing corals higher up in your scape. "Ancient shelf rock" is roughly the same as ancient reef rock but it is normally younger; thus, it has more coral formations in it and hasn't been compacted into boulders. It comes out in shelves and has beautiful lines naturally carved into it. Shelf rock goes through same processing as reef rock but with the added use of muriatic acid to get a deeper cleaning. "Clam rocks" are essentially ancient reef cuts that are hand carved using an angle grinder to create a nice bowl for a clam to live in. This is especially welcomed by tridacnids such as Maxima clams which typically bore out small depressions into the underlying rock for added security/protection.
Conclusion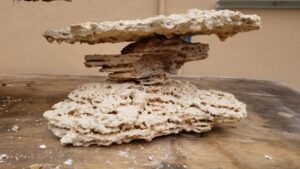 Dry rock is an economical, environmental-friendly, easy-to-work alternative to wild live rock as well as man-made rock. It is easily made "live" by inoculation using nitrifying bacteria such as TurboStart, purple non-sulfur bacteria such as Substrate Sauce, coralline algae such as Coralline Algae In A Bottle, and so on. The many beautiful, healthy dry-rock-constructed reef tanks out there attest to that. Perhaps best of all, these materials present zero risk of introducing pests during the critical early stages of reef construction/development. We'll even go beyond that to state that Pristine Rock offers some of finest (if not THE finest) dry reef rock that the hobby has ever seen!