The relationship with aquascaping the reef tank can be a complicated one! The hobby of reef keeping has advanced significantly. Back in the early days of the hobby, wild harvested rock was the only option. To clarify, live rock was harvested directly from the ocean. Presently, reef keepers can choose from a variety of rocks, each with its own benefits and drawbacks.
Most reef tanks have rocks, which are used for a few different reasons. First, many reef keepers like the look of a natural aquascape. The rock work is also used as a place to attach corals. Lastly, the rocks in a reef tank are a breeding ground for bacterial MVPs!
Dry rock has grown in popularity due to its pest-free nature and low cost. AlgaeBarn's dry live rock arrives in pristine condition and is ideal for creating stunning aquascapes. Other types of rock, like Fiji and Tonga, are more difficult to find. We hope to answer some common questions about dry live rock today. So, without further ado, let's get started!
How Does Dry Rock Become Live Rock?
The population of live bacteria that act as a natural filter is what that makes live rock 'live'. These bacteria can be added by dosing the system with live nitrifying and denitrifying bacterial products.
These types of bacteria will continue to grow on their own, even if nothing is done to encourage growth. When there is a food source, such as fish waste, the nitrifying bacteria will immediately begin inhabiting the rock. This process can be accelerated by using booster products. AlgaeBarn recommends products such as PNS ProBio, NitroCycle and OceanMagik for inoculating a new reef tank.
Live Rock Vs. Dry Rock
New reef keepers may have seen the term "live rock" at the LFS. Live rock is the foundation for all lifeforms in the reef tank. In the early days of the hobby, many aquarists used wild collected live rock as it was inexpensive. Quite honestly, little thought was given to sustainability in those days. Live rock also comes with the potential to introduce parasites into the tank. It is common to find pests like bubble algae, parasitic crabs, aiptasia, and nuisance clove polyps, just to name a few.
Does Dry Rock Provide a Pest-Free Aquarium?
The short answer is no, but it drastically reduces that possibility! Live rock is one of the biggest culprits for introducing pests. Stone crabs, predatory shrimp, planaria, aiptasia, and nuisance algae are just a few of the most common offenders. Using dried rock can eliminate this problem. It is possible to avoid unwanted critters in the reef tank. Quarantining and inspecting new additions is crucial before placing them in a new system.
Does Cycling Take Longer When Using Dry Rock?
Typically, it takes anywhere from a few weeks to a few months to cycle a new system. This can be sped up by using bacterial booster products (such as the Ultimate Aquarium Cycle Kit). Bacteria multiply fast! 25 becomes 50, then 50 becomes 50,000. Before you know it, billions of microscopic bacteria are breaking down ammonia and nitrite. Many reef keepers will use a pinch of sand from an existing tank to seed a new system. Mature bacterial strains can also help speed up the cycle process.
Will Coralline Algae Grow on Dry Rock?
The answer to this question is a resounding, yes! Coralline algae will grow on practically anything. So long as the chemical components are in the water column, it will form all on its own. You can speed up the process by using an additive like ARC Coralline Algae in a Bottle. Every tank is different, and some reef tanks get coralline growth within a few weeks.
In other tanks it could take a year or more for coralline algae to appear. Remember, the best way to get coralline algae to grow is to keep the calcium and alkalinity levels balanced.
Is It Different to Care for a Reef Tank with Dry Rock?
Both dry and live rock contain organic material. Over time, the organic matter will break down into nutrients. After live rock is harvested from the ocean, sponges and algae begin to decay. They continue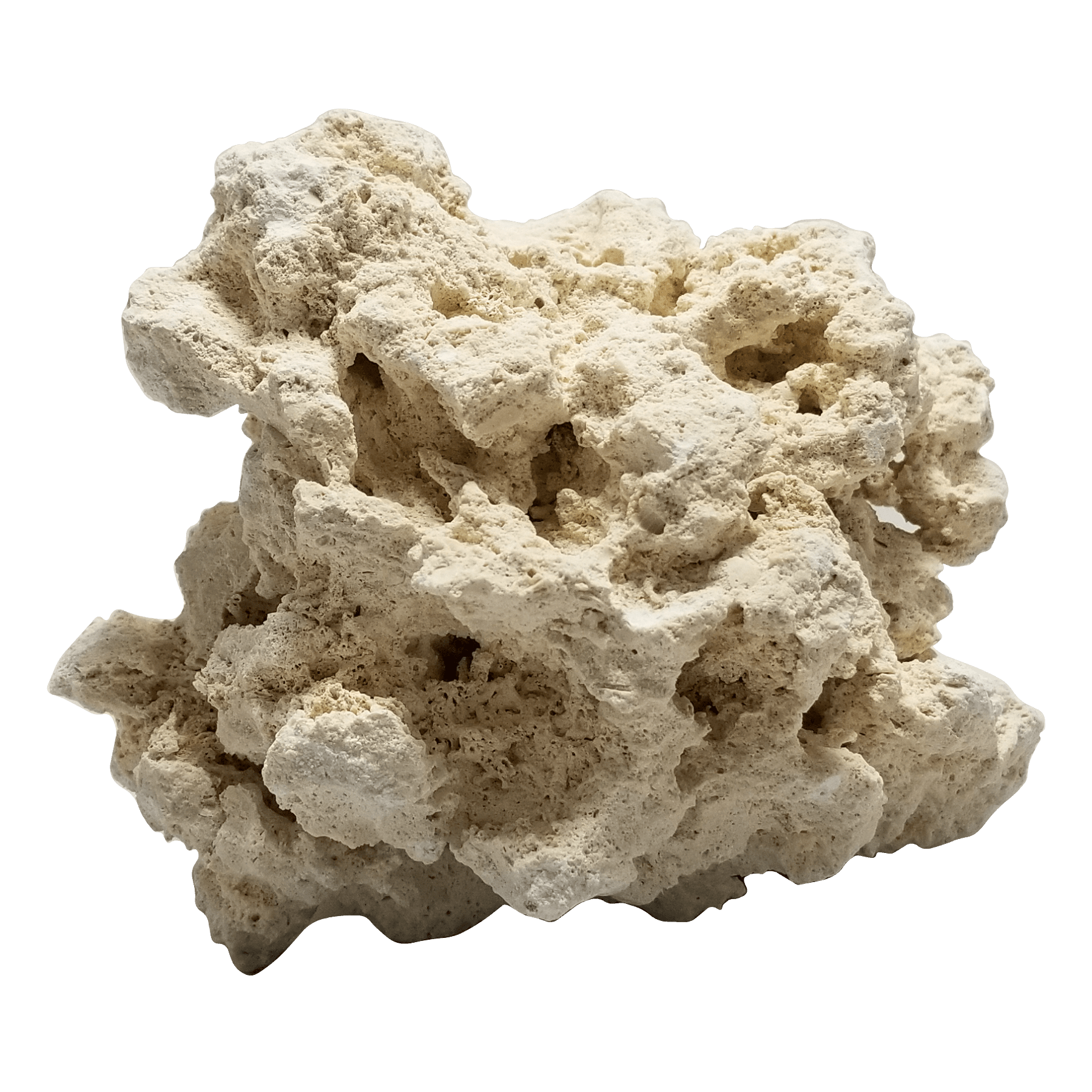 to produce waste when they are placed in the tank. In a tank that has already cycled, this could be a problem. Although in a new system, the added waste products can be of benefit to the cycle.
To avoid any issues with adding live rock, it is suggested that it be cured. Curing is a process that could take time, but the results are worth it! It entails removing as much encrusting matter from the rock as possible. The rock is then soaked in a vat of warm seawater with high flow and no light. Although it is best to let nature take its course, there are products that can speed things along. Bacterial booster treatments such as NitroCycle are included in our Aquarium Cycle Kit. NitroCycle can help to remove the ammonia and nitrite from rock in as little as five days.
Dry rock transitions to live dry rock once it has gone through a curing stage. Dry rock is easier to work with than wild harvested live rock. It is less expensive and more efficient to ship. Dry rock is also more sustainable than wild collected live rock. In fact, AlgaeBarn's dry live rock is mined from prehistoric coral reef. Our rock also has very little negative impact on the environment.
AlgaeBarn's live dry rock is easy to arrange and comes in various shapes and sizes. We carry stackable shelf rocks, foundation rocks with flat bases or pedestals, and platform rocks. In addition to dried live rock, we also carry manufactured rock. These rocks are made from natural calcium carbonate and aragonite. They can also be customized to match existing rockwork. Manufactured rock is available in purple and pink to mimic natural coralline algae.
Conclusion
By now, we have probably answered a lot of questions about using dry rock in a reef tank. Attention to detail and quality material sets the stage for a stunning display tank. But this step is about more than just aesthetics. The rock and substrate will house the tiniest creatures that are the most vital to the health of the reef tank. And don't forget to use reef-safe epoxy or cement products when building the aquascape! Once this step is complete, the next task is building the pod population.