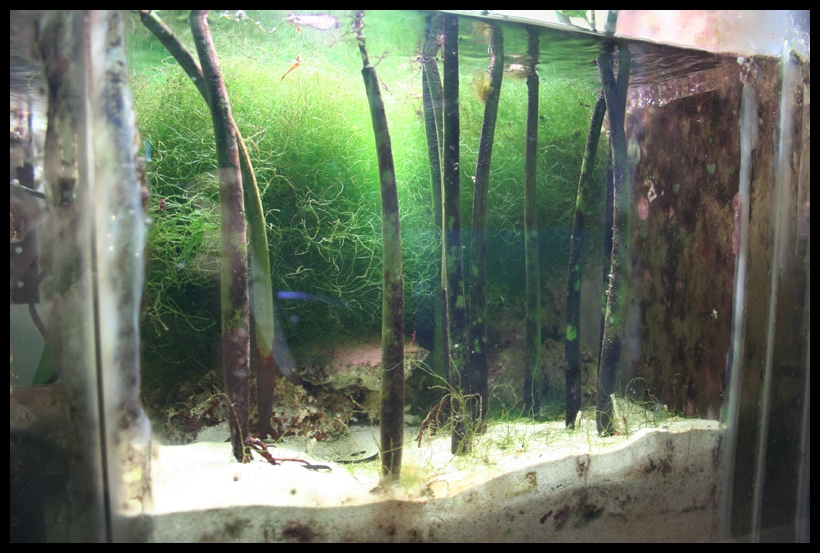 It just isn't enough to say that a refugium is "a tank on a tank" or "a sump with some macroalgae in it." When used to their full potential, refugia make for a far more dynamic—yet more stable—captive ecosystem. Though they are typically smaller in size than the main tank, refugia play a major role in supporting the very base of an aquarium system's food pyramid. Traditionally, they are used primarily as nurseries for Nature's basic foodstuffs, namely algae and pods.
It's pretty hard to overemphasize how important the concept of the refugium has been to marine aquarium keeping (and it is, at its heart, a concept rather than a mere piece of equipment). Many aquarists joke about how they set up their first refugium—technically as a "filter," after their significant other demanded that they acquire no more "fish tanks." Even so, after running a refugium for some time (and seeing the marked improvement in the health of our animals) many of us would never even consider building another system without one. Nowadays we keep a great variety of plants and animals in them, sometimes even blurring the line between display and purely utilitarian purpose. But let us not forget their nominal function!
[Refugium]
In the Beginning There was Light, Algae and Pods
If there was a single element of system design that radically changed the way we keep marine aquaria (and certainly our odds of keeping them successfully), it was the sump. Perhaps this came about from the need to drop water to lower levels for "trickle" filters, which really began to become commonplace by the mid-1980's. But aside from the advantages of so-called wet/dry filtration, we saw so many other boons to this technique. For example, by drawing water from the surface, much floating waste such as oils and foams could be more easily removed. Most significantly, we could move much equipment away from the main tank (where it was an unwelcome distraction from the display).
As we figured out ways to centralize this clutter in our sumps, they evolved into a sort of little hidden workshop. In a
sense, these consolidated clusters of gadgets became the brains of our system—the core of the filtration system, if you will. However, we did not even consider using these "extra" tanks to house living things (aside from bacteria). This all changed fairly quickly (and just as sump-based systems were becoming the norm) after reef aquarists started to hear about the work of one particularly industrious marine biologist at the Smithsonian Institution.
Dr. Walter Adey was already using the term refugium to refer to any space in an aquarium where certain organisms, specifically those at or near the bottom of the food chain, could subsist without being consumed by other aquarium inhabitants. Originally, this could have referred to any safe haven including deep pockets in the rock structure. But Dr. Adey went one, or two, steps further.
This was an especially difficult time for marine aquarists, many of whom wanted to be reef aquarists. The major impediment to keeping (particularly stony) corals at that time was overgrowth by nuisance algae. In light of the costly failures it caused, to call benthic microalgae a "nuisance" seemed a huge understatement. In due course, we tried all sorts of things to control algal plagues. This included (1) the addition of herbivorous "pods" such as copepods and amphipods as well as (2) nutrient control via the addition of macroalgae and/or deep, denitrifying sand beds. Acting on a stroke of genius, Dr. Adey put all of these things together in a single, separate but connected tank.
The experiment was wildly successful. Kept away from large herbivores such as tangs and maintained under a concentrated light source, the macroalgae thrived. The connected tank itself worked well as a settling basin, collecting detritus that provided additional nourishment for the microcrustaceans within. As their populations exploded, these protected pods steadily spilled into the main tank where they were readily consumed by small fishes and corals. This extremely effective system was immediately duplicated and improved upon by many others. The word refugium was forever after meant specifically as a pod refuge of this specific kind.
The Ideal Refugium
Over the course of the last few decades, the concept of the refugium hasn't really changed very much. Let's just say that it didn't need to change; as it (1) focused on producing a good supply of a natural food source and (2) served well to protect algae and pods while providing them with an ideal living space, it didn't require much improvement. That's not to say that improvements haven't been made to refugium materials/design.
Today, for example, we have much better aquarium lighting technology. Some types are even specially designed to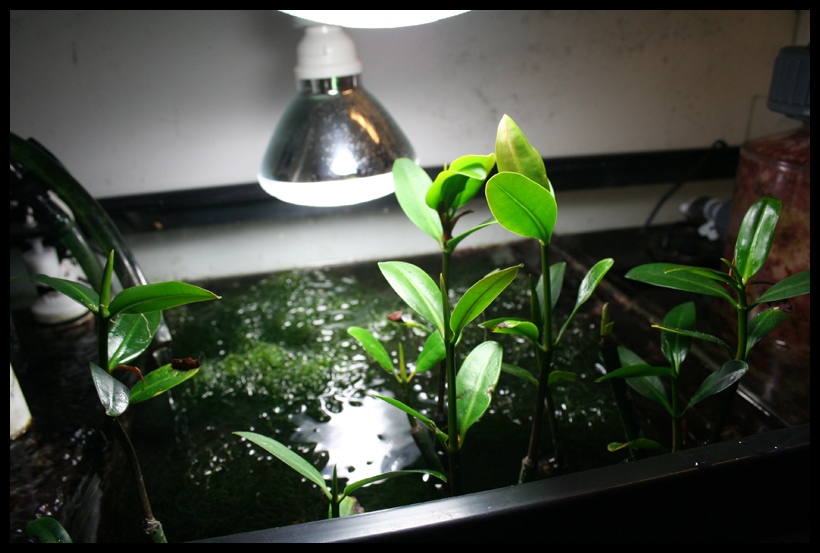 grow macroalgae and are thus very well suited for use on refugia. Refugium tanks are themselves better than ever. Deluxe models such as the AlgaeBarn Triton Style Sumps by Crystal Reef Aquatics offer highly specialized spaces and fittings for certain pieces of equipment even while providing a large, dedicated compartment for use as a refugium. Additionally, there has never been a better selection of both pods and macroalgae. Best of all, the availability of quality live phytoplankton and bacterioplankton such as OceanMagik and PNS Probio™ respectively have made it even easier to maintain sizeable pod populations.
So what does the future hold for the refugium? That is pretty hard to say for sure. Like so many things in the marine aquarium hobby, just when we think we've finally mastered something, along comes another big innovation. And it's really the pursuit of new innovations that keeps the hobby interesting, is it not? Algae and pods will of course always be at the center of refugium keeping. Still, aquarists will perhaps work with many more species of macroalgae, copepods, phytoplankton, etc. in coming days. It is certainly possible that even more refinements of refugium design are to come. There may even be other, novel methods of refugium keeping to try out. But one thing is pretty certain at this point: refugia really, really work and they are here to stay!
[Refugium]