We are excited to have you join us for this series on building bulletproof refugiums. It shouldn't come as a surprise that we receive a lot of inquiries about refugiums. Many of our long-time customers here at AlgaeBarn have asked us about how to optimize their refugium. In light of this, we've resolved to produce a series of articles on the topic of designing a bulletproof refugium. In this post, we will be covering the fundamentals of refugium equipment. We hope that by the end of this series, your questions about refugiums will be answered!
How big should your refugium be?
One of the most pressing concerns we all have when starting a refugium how big it should be. Much like many other aspects of this hobby, there is no one-size-fits-all answer to the question. And there is also a ton of aquarium equipment on the market. So, if you're a reef keeper on a budget, you don't want to waste money on supplies that you don't need.
Thankfully, here at AlgaeBarn, we have plenty of experience with refugiums. We also love to share our experience and knowledge with our customers. Although we can make suggestions and recommend what might work for your system, ultimately, you will make the best choice for your system. And AlgaeBarn has a great selection of supplies and equipment so you can get everything you need right here.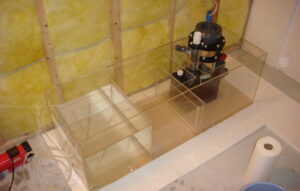 One common guideline for calculating refugium size is to aim for 10-50% of the systems total water capacity. While this is not set in stone, it's a good enough range to give you some idea of what to plan for with space and configuration of the plumbing. But 10-50% is a very large range when we are talking about tank sizes. For example, 50% of a 300-gallon tank would give us a 150-gallon refugium! That's just not practical for many reef keepers.
To be honest, there is more to take into consideration than just the numbers and volume. What are we planning to stock in our reef tank? Do we want to have a dense population of fish? Or do we want an SPS dominant system? Either way, a well-planned refugium can be just as effective as one that is double in size.
The final verdict on refugium size is: go as big as your space and budget allows!
How do you set up a refugium?
The good news is that since refugiums are now so common, most aquarium manufacturers include compartments within the sump for a refugium. For example, CADE Aquariums designed their sumps to include space for a chamber to grow macroalgae. CADE also considered reef keepers' preferences so refugium chamber includes a removable baffle. This gives hobbyists plenty of room to customize their refugium without the hassle of pricing out all of the equipment for the sump.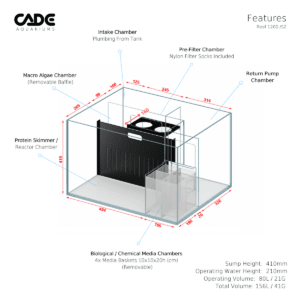 There are so many options for setting up a refugium, and one day we hope to discuss them all! But, to keep this article focused on building a truly efficient and stable refugium, we will assume we are setting up an in-sump refugium. If you do not have the space for a refugium in your sump, hope is not lost! Many reef keepers have also gotten very creative with DIY refugium builds as well.
The preferred components to build a refugium include a glass or acrylic tank. However, any nontoxic container will do, such as a tub, bin, or even a bucket (although this is not ideal). Refugiums that are not in-sump are more commonly found below the main tank and plumbed into the sump. Since we want the rate of water flow to be gentler in the refugium, it can be easier to adjust flow rates in an external refugium that is plumbed into the sump.
There are also refugiums that attach to the edge of the tank called hang-on-back (HOB) refugiums. This design involves moving water from the system into the refugium through an intake pipe. Once the water level in the refugium is high enough in the reservoir, it flows back into the reef tank system.
HOB refugiums are convenient to access and maintain. They can also be placed on the back or side of the display tank or the sump. The only real downside is that HOB refugiums are a bit bulky. When the refugium is placed on the display tank, it changes the overall aesthetic of the reef tank system.
Do I need a protein skimmer with a refugium?
This is a great question! There are a few different factors at play here so let's break it down.
The protein skimmer is designed to remove organic wastes before they decompose. When organic wastes break down, they form phosphate and nitrogen compounds.
A protein skimmer and a refugium can be used to remove organic waste from the reef tank system. A good protein skimmer can remove a large amount of dissolved organic content in the water. When organic wastes get broken down into nitrate and phosphate compounds, a skimmer will not remove or reduce them. The macroalgae in the refugium soaks up phosphate and nitrate in photosynthesis.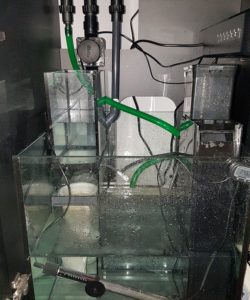 The key is to find a balance because skimmers and refugiums both play important roles in maintaining the reef tank system. A protein skimmer is the best way to increase the oxygen levels in the reef tank system. Oxygen levels are depleted in the water as fish use their gills to breathe. Carbon dioxide then gets released into the water by the fish. Protein skimmers create microscopic bubbles that allow for efficient gas exchange.
Where should the refugium be in the sump?
The protein skimmer and intake are in the first compartment or chamber in the sump. The refugium will go in the second chamber. This helps to ensure that our precious pods don't get sucked up and pushed into the skimmer. In the third section, we will have our return pump that moves water back into the display tank.
Even if carbon, GFO, reactors, and dosers are being used, the best place for your refugium is at the very end of the filtration process. As we said above, this placement allows your protein skimmer and other filtration to function more effectively. It also helps to keep copepods and other beneficial critters from being filtered out before getting moved to the display.
There is another reason why the skimmer comes first in this configuration. This is because of the priority of the waste material it is designed to filter out. As we mentioned in the section above, protein skimmers and refugiums are each removing a different type of waste from the water. The idea of using a protein skimmer is to remove as much organic waste as possible before it can have a chance to decompose. Once the waste decomposes, it is converted into phosphate and nitrate.
Final thoughts on choosing equipment to build a bulletproof refugium
While there are not very many one-size-fits-all answers to a lot of these questions, we hope this article has helped to establish some helpful guidelines in the process of choosing equipment for the refugium. This list is by no means exhaustive, we are only just scratching the surface! When we set to work on the refugium installation, we will also have gathered the odds and ends like plumbing and fixtures to secure our lines.
Another key takeaway from this article is the importance of choosing equipment that is durable enough to withstand corrosive salt creep. This means we should pay close attention to metals in particular! DIY refugium construction is an area where many reef keepers have shown a lot of innovation so double and triple check that your material will hold up over time.
And finally, a few last words on an appropriately sized refugium. While there may not be a calculation or equation to tell us about the perfect size for the refugium – just go as big as your budget and space (and spouse) will allow. But don't worry too much if we need to keep the refugium a little smaller, in the next few articles we are going to discuss which methods create the most efficient refugiums.
Is your refugium set up already? Do you have any advice for the newcomers? If so, please share your experience below!