Keeping The Reef Tank Happy and Healthy with OceanMagik
In this post, we are going to revisit some of our favorite ways that OceanMagik Live Phytoplankton benefits the reef tank system. But first, we want to give a shout out to our friends at Bulk Reef Supply and send them our gratitude for taking the time to review OceanMagik!
We are very proud to share BRStv's review of OceanMagik Live Phytoplankton! Here's the video in case you haven't seen it yet!
Here at AlgaeBarn, we like to team up with other companies that share similar goals as we do. We know that BRS works as tirelessly as we do in providing great customer service. And we also share the mission to promote knowledge and increase participation in the reef keeping hobby.
How OceanMagik Was Designed
OceanMagik is our exclusive mixture of the highest-quality, most bioavailable live phytoplankton species. Nano, Iso, Tet, and Thal are the four species that go into every bottle of OceanMagik. These phyto species are essential for maintaining a healthy coral reef ecosystem. The phyto species in OceanMagik are like superfoods for the reef and will ensure it receives the nutrition it needs.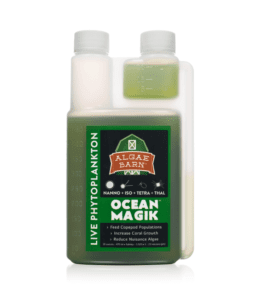 Corals, bivalves, filter-feeders, and marine inverts can benefit from supplementing with OceanMagik. In addition to feeding, the live phyto is consuming excess nutrients. This is key in limiting the spread of nuisance algae. If you've had trouble keeping your tank's nitrate levels in check, OceanMagik can help to resolve it.
Phytoplankton are simply microscopic algae. They are the source of life for most marine organisms. These microalgae are like plants. Phyto contains chlorophyll, which means they need sunlight to survive. It's why phyto prefers to stay near the water's surface. This is where phyto receives the most sunlight.
For many marine organisms, phyto is their only source of nutrition. Phyto is an essential source of nutrition for many snails, shrimp, filter-feeders, and jellyfish. Phyto uses photosynthesis to convert nitrates, phosphates, and Sulphur into proteins, carbohydrates, and fats.
Each species of phyto in OceanMagik has a specific quality that makes them a perfect match for reef tank systems. Here, we will talk a little bit about each one that makes up OceanMagik.
Nannochloropsis gaditana
The first thing we want you to know about Nano is that it is very small, even for phytoplankton. Nano is only 1-5 microns across! Also, it is round and does not move which makes it easy to catch and eat. Nano is usually included in food products for filter-feeders. Additionally, Nano is rich in essential fatty acids. Nano will not pollute the water column or produce any toxins. By absorbing excess nutrients, Nano can significantly improve water quality. Nano will also outcompete nuisance algae growth, so it improves the overall health of the aquarium.
Tetraselmis sp.
The Tetraselmis sp. (Tet) are extremely versatile and can thrive in a wide range of environments. In comparison to other phyto species, Tet is quite a bit larger than Nano at 6-10 microns. Tet's has four individual flagella that are shorter than the cell body.
Tet's high lipid content makes it highly nutritious in the reef tank system. The essential fatty acids EPA and DHA are found in high concentrations. Amino acids stimulate the appetites of marine animals and contribute to rapid growth. Tet also provides a healthy dose of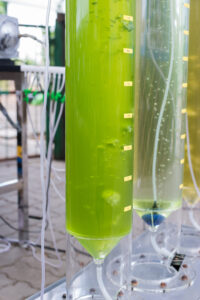 vitamins C and E!
Regular addition of Tet can significantly enhance the health of filter-feeders, corals, and clams. These inverts benefit from Tet's complex nutritional profile, high content of amino acids, and energy-fueling carbohydrates. Live foods like brine shrimp and pods also receive extra nutrition after feeding on Tet.
Isochrysis galbana
Isochrysis (Iso)has been discovered to be an excellent food source for the reef tank. Iso ranges in size from 10-14 microns and it is very mobile thanks to its pair of flagella. Iso contains high concentrations of Omega-3 fatty acids. Some of the fatty acids found in Iso include DHA and ALA. Iso has a lot of essential nutrients such as Vitamins A, B1, B2, B6, C, E, and folic acid.
Because of Iso's complex nutritional profile, it is commonly used to culture live foods such as brine shrimp and rotifers. Iso has been shown to be successful in feeding non-photosynthetic corals such as Dendronephthya and Tubastrea.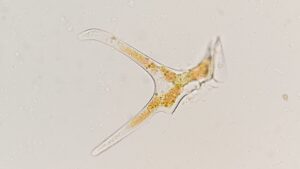 Thalassiosira weissflogii
Thalassiosira (Thal) is a large diatom ranging in size from 5-32 microns. Although Thal is a diatom, it is unlike the nuisance diatoms that are responsible for brown, slimy film algae. Since Thal is a pelagic diatom, it aggressively outcompetes the benthic diatoms by eating the silicates in the water column.
Thal is an excellent food source that has been used in commercial aquaculture for decades. Regular feedings can be used to increase copepod communities. Thal can also be used to gut load brine shrimp right before feeding. Tube worms, particular sea cucumbers, corals, and many other filter-feeders all benefit from Thal's ability to stimulate growth.
Thal can accumulate specific lipids. All marine organisms need these fats and oils, especially omega-3 fatty acids. With a high content of protein and amino acids, Thal also stimulates rapid rates of growth and repair.
How OceanMagik Works
AlgaeBarn's OceanMagik is the most popular live phytoplankton for reef tanks, and for good reason. It is rich in the fatty acids and nutrients that the reef tank system needs to function properly. Unlike some freeze-dried phyto products, OceanMagik will not foul water or produce any toxins. OceanMagik will rapidly begin absorbing excess nutrients, and that will significantly improve water quality.
However, it would also make sense that preventing the source of excess nutrients would be the most effective method of eliminating nuisance algae outbreaks. It's why we also advocate for the use of a refugium in addition to keeping a regular maintenance routine. In combination with good husbandry practices, increasing the biodiversity of beneficial algae species is the best way to inhibit outbreaks of pests and unwanted algae.
OceanMagik isn't just for non-photosynthetic corals and filter-feeders. It supports the reef tank system in numerous ways. If our goal as reef keepers is to create an aquarium inspired by a natural coral reef, we can't skip out on putting together the foundation. OceanMagik Live Phytoplankton is the best way to support the organisms that create the foundation of your reef tank.
AlgaeBarn designed OceanMagik to provide the best blend of phyto species in just the right proportions. We worked day and night to develop the perfect combination of phytoplankton species. It was important that the right particle sizes were chosen so that OceanMagik would satisfy a wide range of filter-feeders.
Another important component was that OceanMagik should be easy to use and have an extended shelf life. For this reason, we selected species that would ship and store well. OceanMagik simply needs to be stored in refrigeration and agitated regularly to keep the particles in suspension. And with our OceanMagik subscription options, receiving fresh phyto is easier than ever!
AlgaeBarn's subscription service is also customizable. We want our customers to have control over how much OceanMagik they'll receive and how frequently it will be delivered. We also offer discounts for bulk purchases and the OceanMagik subscription program will save you 10%!
Conclusion
We hope this article has clarified the science behind OceanMagik. At AlgaeBarn, we pledge that the products you receive from us will always be of the highest quality. With our AOA Guarantee, we promise to make it right if your products arrive at your door in anything less than perfect condition!
As it was mentioned in the BRStv video, starting an OceanMagik regimen will keep your tank crazy clean! And, if you are beginning to cycle a new system, BRStv has a segment on Biome Cycling which further explains how pods and phyto work together to eliminate nuisance algae and diatoms.
Thanks again to our friends at BRS and to all our customers for their unwavering support! Do you have experience with OceanMagik Live Phytoplankton? Please drop a comment below and share your results!