Like some of us, Danielle explains that she originally developed an interest in aquariums through her work as an employee for one of the big retail pet stores. "Thanks to my experiences there, I have been a fishkeeper in some capacity for 15 years." Her first personal experience with saltwater began in January 2018. "A friend of mine reached out to see if I wanted her old 20-gallon tall saltwater tank. It had some sand and rock, a pair of clowns she'd had for 10 years, and a royal gramma she'd had for about 3. She recently got married and moved out and it was living at her mom's because she didn't have space for it. She felt bad for the fish and was tired of driving back and forth to maintain it. SO, I picked it up and brought it home." Around November of that same year, "One of my LFSs did a first-come-first-serve giveaway of a used 90-gallon tank and stand. Since we lived so close, it came home with us and that tank served me until my CADE upgrade in 2021."
Danielle's move toward a CADE tank came out of necessity. After a couple years, her 90-gallon had a serious coralline growth problem (it was growing INTO the silicone sealant), and she came to realize that she needed to get a new (and perhaps better) tank. "I was researching the usuals (Waterbox, RedSea, etc.) and stumbled across a related video on YouTube for CADE. I wish I remembered who made the video, but it was love at first sight."
One of the things about the CADE brand that initially caught her attention was the stand; she explains that it was the sleek glass/aluminum build that really drew her eye. "As I researched more, the built-in ATO is what fully sold me." She also has a strong preference of glass over acrylic tank material. "There was no battle between glass and acrylic for me, I've never had an acrylic tank even when I was keeping freshwater–and to be quite frank with you, buffing it sounds exhausting."
A CADE to keep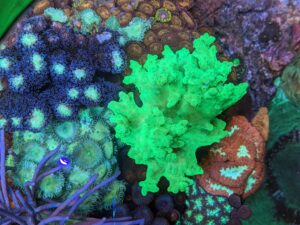 Danielle remembers the day her first CADE tank arrived very clearly. Unfortunately, the delivery driver was delayed by a day. She had originally planned to take the day off to meet him and help get everything unloaded. "I work retail management so it wasn't as simple as just bailing on work the day the tank did finally arrive." But the driver gave her a 1-hour heads-up call, and she took an early/extended lunch. "I got home and OMG, even though we measured everything out and knew it was going to fit, that first sight was overwhelming. It was still somehow MUCH bigger than anticipated." Thankfully, even with the prior setbacks, she felt that setting up the system was actually a breeze. "I was super stressed about it; even though my husband is great at all that stuff, I wanted to be able to do it myself (except the lifting). And I definitely was! One quick YouTube video to see where everything went, and everything popped together beautifully." Despite a couple hiccups connecting some pipes, she would describe the process as easy.
She certainly isn't disappointed by the ATO system. "The built-in ATO is a lifesaver. I love it so much." The integrated design saves her from having to acquire and install another piece of equipment. Further, she realized that one of the things that was important to her was not having filter socks. "I'm really bad with maintaining them. I did a lot of research before buying the filter roller I now have (Klir 4 drop-in). Everyone told me that I was going to have to modify the sump in order for it to be compatible, but that it would be a quick and easy mod. I was very happy to find out that I did not need to make any changes and it was a perfect fit. I'm hoping I'm as lucky with the 600 I just set up."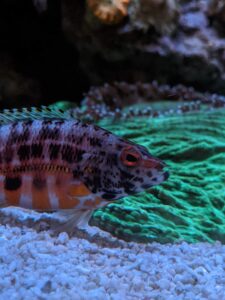 "Speaking of the 600, this one was actually a lot more difficult to get up and plumbed together, simply because all the connectors seemed to line up with each other and there's much less space to work with. My only major feedback is that if the piping connectors were staggered better on the smaller tanks it would make it a lot easier. I'm small and have fairly small hands and I struggled …. I can't imagine how difficult it would be for some of the guys putting these together." That being said, she believes that the 600 has some improvements on the piping. "There's a valve in the upper chamber to prevent backflow in the case of a power failure; I would buy that in a heartbeat to replace in my 1200 if available. I also really like that the ATO drop for the 600 has a cut off; that feature is missing in my older 1200, and I'd absolutely upgrade that as well."
When it came to stocking the 1200 with livestock, Danielle certainly knew what she liked. "That tank is a primarily softy/LPS tank. I know everyone is diehard for SPS right now, but they simply don't move around enough for me. And I like leathers too much for them (SPS) to do well. I have a couple mixed in throughout the tank, but because of the requirements of my other corals, they are not my focus." 
Moving on
Danielle is currently preparing for a move. As is usual in these cases, the move will occur with some necessary changes. "The plan is to downsize everyone in the 1200 to the 600 temporarily and break down the 1200 to store a few months–I'll sell off what I don't intend to keep, then set both tanks up fully at the new house. I know all three tangs will outgrow even the 1200 so they're going to be rehomed before that temporary downsize. When the 1200 gets set back up, it will get the LPS and most of the softies back as well as all of the fish I keep (marine betta, dusky wrasse, the original clownfish pair I mentioned earlier, and a few other assorted fish that are already in the tank). I intend to add a colony of anthias as well once everything is settled back in. The 600 at that point will be set up for seahorses and will keep some of the softies that are compatible with them."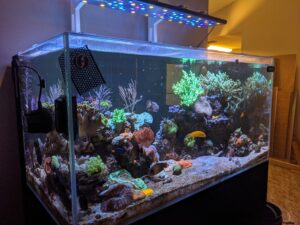 Thus far, she considers her CADE tank to be a good value. "Everyone I have interacted with from CADE and AlgaeBarn have been amazing and so helpful any time I've had questions. I'm already giving covetous eyes to that new 16-gallon All-In-One that was just announced and hasn't been released yet."  
It's pretty safe to say that she has enjoyed being a part of the CADE community of aquarists. "As far as anyone considering joining, please do. Yes, it feels like a hefty upfront price tag, but it's absolutely worth the peace of mind knowing that you have a beautiful and sturdy tank with a stand that isn't going to randomly fail on you. The community has been amazing and helpful. On Instagram, on Facebook, on R2R (Reef2Reef), everyone I have come into contact with within this group has been great with answering questions and working together."
On that note, we'd like to point out that Danielle has a build thread on R2R under the username danieyella (soon to be two CADE threads!). She also posts photos and updates on Instagram under @swampwitchreefs.
Thank you so much for your contribution to the hobby, Danielle, and happy reefing!
If you're a CADE owner and would like to share your CADE experiences with the aquarium community in an article such as this, please reach out to [email protected]. We'd all love to hear from you!