It's easy to think of that broad group of marine fish known as "basslets" as little thugs–because that's pretty much what most of them are. They are characteristically hardy, scrappy, thickheaded animals that are all-around tough-guys. A very notable exception to this generalization is the marine betta. 
Sometimes also called the comet, this species is far more timid and reclusive than its fellow basslets. While its name refers to its superficial similarity to the better-known freshwater betta fish (particularly in its slow, graceful swimming behavior and sleek body), it is not at all related to its namesake.
Given its unusual appearance and habits, many aquarists are not sure what to think of this fish upon first encounter. For sure, if you've ever seen one, and especially if you've ever owned one, you can never forget it! This article provides an overview of the marine betta as well as some tips for successfully keeping it in captivity.
Marine betta natural history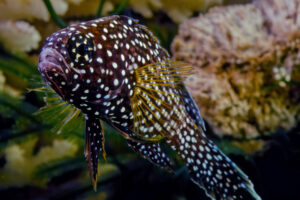 The marine betta (Calloplesiops altivelis) is distributed across the Indo-Pacific region from East Africa and the Red Sea to Tonga and the Line Islands. One might also find it from the Philippines eastward to Mozambique and the East Indies. It most often inhabits shallow (4 to 30 meters depth) tropical coral reef habitats. During the day, it spends much of its time hiding in dark caves and crevices (though it will venture into shaded areas during the daytime hours). At night, it roams the reef in search of food.
The marine betta is a predator, mainly feeding on small crustaceans and small fish. Its typical hunting strategy is to slowly approach its prey sideways; when its prey attempts to escape on the side of the fish, it flees towards the fish's mouth (well, half the time anyway!). There is almost something ghost-like in the way that this fish moves.
It is covered with very dark brown to black scales. Each large scale has a tiny white dot. A single huge eye-like dot rests over the far anterior margin of the dorsal fin. Because of this eye-spot, and the basic shape of the anterior part of the fish, it resembles the head of a moray eel. The manner in which it flares its fins and hovers with the tail pointed slightly upward helps to enhance the mimicry. Indeed, when the comet dives headfirst into a crevice (to escape a threat, for example), it suddenly appears to have morphed into a far more menacing animal. It typically grows to a length of around 8 inches.
Aquarium husbandry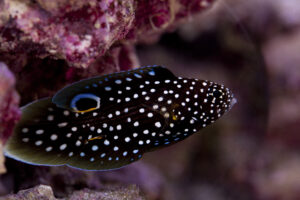 Wild-caught marine bettas have a reputation for being difficult to feed in captivity (in some reports, they only accept live foods). This is a bit of a misunderstanding. For one, they are simply exhibiting their habit of stalking their prey. Therefore, they may not act quickly enough to grab their share of the food when kept with aggressive eaters such as groupers, large wrasses, volitan lions, triggerfish, etc. One the other hand, they are great with slower predators such as anglerfish, peacock flounders, etc. It's all just a matter of allowing them time to follow their own unique (and fascinating) hunting instincts. While it's certainly a good idea to offer any new wild specimen live feed such as enriched adult brine shrimp or ghost shrimp when first acquired, it's generally pretty easy to adapt marine bettas to frozen diets over time.
The tank for a marine betta should be very rocky with plenty of cave-like hiding places. They are best in a FOWL set-up, though they are safe in a reef provided that there are no small fish or shrimp to attack. Think of it as "reef-safe with caution." 
Though you may not be able to keep it in your reef tank, take additional caution when keeping a marine betta with other predators; it is submissive and not at all interested in brawling, so don't house it with uber-aggressive brutes. Again, we can't over-stress the importance of providing a suitable dark cave for this species to hide in.
It is possible to breed and rear marine bettas in captivity. In fact, this species is now available as captive-bred from Biota. Juveniles are considerably smaller than the individuals we are used to seeing imported and are incredibly cute (seriously, these things are wicked adorable). Best of all, they are a bit more confident in the captive environment and take to most meaty aquarium foods immediately.
Conclusion
The marine betta presents a choice of a highly unusual basslet that is decidedly more peaceful, and more interesting, than most others. With its beautiful constellation of dots across its body, it is extremely attractive. And maybe even its shyness is a bit of a bonus–though it may not constantly be pressed against the front pane of your tank begging for food, when it does come out and strut its stuff it'll certainly have your full attention!