As you may or may not know, World Oceans Month and World Reef Day are in June! And here at AlgaeBarn, we wanted to take this opportunity to raise awareness about a vulnerable species of clam, the Tridacna derasa.
The derasa clam, Tridacna derasa, is a giant clam. On the reef, derasa can measure just under two feet in length, with the largest weighing 550 pounds! This fascinating creature is found in many of the world's coral reefs. And surprisingly, its distribution is even more widespread than the clownfish!
Unfortunately, however, over-fishing and pollution have taken their toll on giant clam populations. CITES has listed T. derasa as a vulnerable species. Although, in recent years, the establishment of captive-breeding programs has helped to preserve the natural populations of these amazing creatures.
Tridacna derasa's natural habitat
The derasa clam's (Tridacna derasa) natural habitats are areas in Australia and Fiji, Indonesia, Palau, Solomon Islands, Tonga, Papua New Guinea, the Philippines, and Vietnam. Thankfully, after local extinctions, the captive breeding and mariculture industries reintroduced large numbers back to their homes.
Derasa is an integral part of coral reef ecosystems. They provide food for fish and other invertebrates, act as a substrate for algae growth, and contribute to the structural complexity of reefs. Therefore, the loss of these clams can have severe consequences for the health of coral reefs.
The impact of overfishing
In the '70s and '80s came heavy international poaching of giant clams. Some Pacific and Southeast Asian communities eat clam meat, and livers are used in Chinese traditional medicine. Derasa clam shells were also famous for making mother-of-pearl buttons and ornaments.
By the 1980s, the impact of years of overfishing for meat caused by local and international demand resulted in giant clams reaching extinction in many parts of the Indo-Pacific coral reef.
As a result, T. derasa populations plummeted, and the species was placed on CITES Appendix II in 1992, which bans or restricts the international trade of endangered plants and animals.
The effect of pollution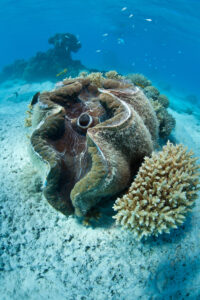 In addition to overfishing, pollution has also taken its toll on T. derasa populations. Agricultural runoff from the land and sewage discharge from coastal towns and villages can lead to the
 eutrophication of reefs. Eutrophication is when the water has an excess of nutrients which causes algae blooms that smother corals and other marine life. This event is commonly referred to as red tide.
But there is good news! The reduction of stormwater runoff and restrictions on damaging, chemical fertilizers have begun to make a positive impact on water quality. Captive-breeding programs are helping to improve the health of natural coral reefs by eliminating overfishing.
Captive breeding and Derasa Clams.
Captive-breeding programs for T. derasa have helped improve the health of natural coral reefs in Australia, The Indo-Pacific, and Polynesia. These programs allow for captive-bred clams to repopulate depleted areas. This can help researchers learn more about these animals' biology and ecology. These programs also generate public awareness about the important roles these animals play in maintaining healthy reefs.
In 2006, the Wildlife Conservation Society (WCS) started a captive breeding program for T. derasa clams at its Bronx Zoo in New York City. The goal was to eventually produce enough clams to replenish reefs in the wild.
The T. derasa clam captive breeding program at the Bronx Zoo is part of a more significant effort by WCS to restore depleted coral reefs around the world. The organization also runs similar programs for staghorn coral and giant clams in Fiji, Indonesia, and Polynesia.
Since its inception, the T. derasa clam captive breeding program has been a success. To date, the Bronx Zoo has produced more than 12,000 clams, which have been transplanted to reefs in Fiji, Indonesia, and Polynesia.
While captive breeding is not a silver bullet for saving coral reefs, it is a vital tool in the fight to help restore these crucial ecosystems!
Adopting captive-bred derasas vs. buying wild-harvested.
Derasa clams that are captive-bred are better than purchasing wild-harvested since they are healthier and help improve the health of natural coral reefs.
Each time a wild-harvested derasa clam is purchased, it contributes to this species' decline. Derasa clams that are captive bred are bred in controlled environments, which means that their health is monitored. Pests are more easily controlled, and they are not exposed to the same risks as wild-harvested derasa clams.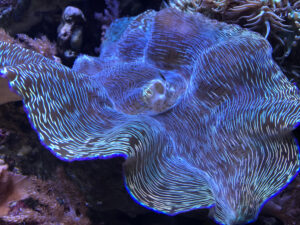 Captive-bred derasa clams are cultured and adapted to captivity, meaning aquarium life is less stressful for them. For this reason, captive-bred derasas are less prone to disease and more resistant to pathogens. Captive-bred specimens are also better acclimated to recovering from shipping stress.
Captive breeding also helps preserve T. derasa clam populations, which would otherwise be at risk of extinction. Therefore, when you purchase a captive bred Derasa clam, you are supporting conservation efforts. Each purchase of a captive-bred clam is helping to ensure the future of this amazing creature. In addition, these purchases get us closer to our goal to make reef keeping a fully sustainable hobby!
Why we're teaming up with Biota.
If you are interested in adding a T. derasa to your reef tank system, check out The Biota Group! Biota is a captive-breeding group that focuses on advancing the aquaculture industry. Biota has been taking the lead in pushing initiatives to protect and restore our oceans.
Since its founding, Biota has continued to develop new and innovative ways to improve sustainability. Biota has focused on sustainably breeding marine animals such as fish, clams, and corals for the global aquarium trade, conservation, and food security.
All fish at Biota are raised in captivity, never wild-harvested. Their marine life nursery works to safely acclimate these creatures for aquarium life so they can live as comfortably as possible.  With no fish being introduced from the wild, the risk of disease and pathogens is greatly reduced.
Biota has cultured over 100 species of fish, including rare and exotic species and endangered species. They have also cultured some world-firsts, including the Clown Triggerfish, Bumphead Parrotfish, and the Borbonious Anthias.
What You Can Do to Help:
If you're interested in joining us to help save coral reefs, here are a few things you can do:
Educate yourself about the important roles of coral reefs and giant clams to the environment.
Support conservation efforts by choosing a captive bred T. derasa clam.
Avoid purchasing wild-harvested T. derasa clams.
Support organizations that work to restore reefs, such as the Wildlife Conservation Society.
Avoid buying products made from endangered reef species, such as T. derasa clam shell jewelry or mother-of-pearl buttons.
Be a responsible tourist and avoid activities that damage coral reefs, such as touching corals or standing on them.
We can all make a difference in the fight to save our oceans by working together to meet this common goal!