Since coral reefs are (obviously) dominated by corals, it shouldn't be all that surprising that reef aquaria are dominated by corals. That will never change. Even so, corals are hardly the only exotic, beautiful, challenging animals you can exhibit in a healthy reef tank. Particularly for reef systems that are designed to house SPS corals, one might also be able to house tridacnid clams (Tridacna spp.). Of the handful of tridacnid clam species available, the crocea clam (Tridacna crocea) is most coveted by home aquarists.
Well, okay, fair enough, that might be a toss-up between the crocea and its close relative the maxima clam. They certainly are the most exotic, beautiful, challenging among their brethren. These two are similar in care as well as physical appearance. Croceas and maximas are indeed confused often. The main difference between them is that croceas are more stout whereas maxima clams are more slim. Which are more delicate? Many say croceas, but that really seems to come down to the personal experiences of those you ask.
This article provides an admittedly brief overview of the ecology and aquarium husbandry of this stunningly beautiful bivalve mollusk.
Crocea clam natural history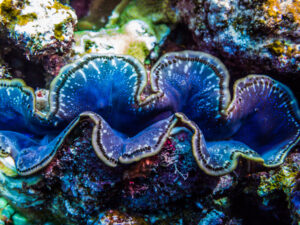 Crocea clams occur across the northeastern Indian Ocean as well as the western and central Pacific Ocean (from northwestern Australia eastward to the Solomon Islands to Malaysia to Japan). It has been introduced in some areas such as Fiji; unfortunately, it has also been declared locally extinct in some native regions such as Guam. 
Croceas may be found (sometimes quite abundantly) in the intertidal and shallow subtidal zones. They are often exposed by low tides in intertidal habitats. They tend to inhabit depths of around 20 feet. They probably are the most shallow dwelling species of the genus. Consequently, they require very intense light as they are especially dependent upon their symbiotic algae.
Through repeated scraping, as well as secreting mild acids, crocea clams bore deeply into the rocky substrate upon which they attach. Sometimes they are so deeply embedded that little more than the mantle pokes out from the pit.
Identification by mantle appearance is nearly futile, as the species is highly variable in color and pattern. Two individual T. crocea might have strikingly different mantles, even while either of them may bear an uncanny resemblance to a particular color morph of T. maxima. The "usual" crocea is blue and green, perhaps with some gold. Nevertheless, one may encounter specimens that are purple or orange or almost any other color (the only color that is truly rare in tridacnid mantles is red). The most unusual, vibrantly hued specimens are oftentimes labeled as "ultra" or "super" crocea clams.
Aquarium husbandry
To say the least, tridacnid clams are in general relatively sensitive animals and demand excellent water quality. This includes consistently optimal pH, alkalinity and calcium levels which are necessary for the animal to build and maintain a healthy shell.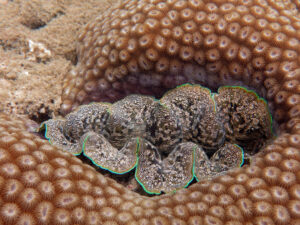 Feeding typically isn't an issue here, since they rely almost entirely upon their symbiotic algae for nutrition. That being said, the occasional offering of live phytoplankton can help to round out their diet and provide a slight growth boost (despite their affinity for brightly illuminated environments, they exhibit the lowest growth rates of all the tridacnids).
Since they are adapted to shallow environments, croceas are capable of tolerating fairly strong water currents. However, they prefer moderate water movement that doesn't continuous hit them from one direction (chaotic flow patterns are best). 
With respect to placement, a crocea clam is best on a large, solid rock (they do not like living on sand or rubble). Once it attaches firmly by its byssal threads, do not ever try to tear it off–unless you actually mean to kill it. If you wish to move an attached specimen, you will need to move the entire rock. Even then, do not move a crocea unless it appears to dislike its current location; moving a happy crocea might just make it unhappy (or dead). Assuming the lighting is extremely powerful, they are best placed closer to the bottom of the tank where their vibrant colors are most easily seen.
In case you haven't guessed by now… The biggest issue with these clams is lighting. To their great disappointment, many aquarists have underestimated this animals' light needs. If you have any worries about overdoing the lighting with this species, just set them aside right now. Even if you are using the brightest metal halide lighting system, you won't harm this clam, as it will most likely be placed on a lower level of the aquascape. Because they are adapted to shallow waters, full-spectrum light is ideal.
For sure, no one here is saying that crocea clams are easy to keep, though the instructions for keeping them may be deceivingly simple: "Maintain the very best water quality and very bright light." But this is an incredibly rewarding species. For those who have mastered reefkeeping, a crocea clam very well may be the veritable cherry on top of their display.