There are many types of invertebrates in the marine aquarium trade and typically you will see the same 10-20 types. However, this article will be showing you some of the more unique invertebrate additions you could add to your tank. One reason these aren't usually recommended for your tank is that these aren't technically part of your staple clean-up crew and will be in your tank mainly for looks. Most of these can easily be obtained at a local fish store or online; if your local fish store doesn't currently have them in stock, you can always request them by special order. 
All of these invertebrates would do best if drip acclimated when first purchased as most invertebrates do not do well with salinity swings. These definitely aren't going to be the first additions to your tank, as they require a stable aquarium. Once added, they will quickly become a talking point of your tank and will add a lot of personality. These are all wild-caught, so it is our job to try to give them the best possible housing to make them comfortable.
Porcelain crabs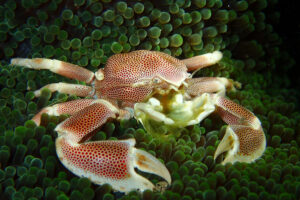 This first on this list would be a great addition if you have anemones in your tank. The porcelain anemone crab is a stunning white with red spots all over its body. They will only reach an inch in size and are docile towards other unique invertebrates. If you have anemones in your tank, you will find them hanging out underneath the skirt of your anemones all day. They have feather-like appendages which are used for filter feeding. These crabs will spend their days reaching out to these feathers and collecting any debris or food that comes their way. 
They are relatively easy to keep and will only reach 2-3 inches in size. A minimum of a 5-gallon aquarium is recommended. If you don't have anemones, they can end up hosting your coral which may injure or irritate the coral. So, it is best to keep these crabs only if you have anemones for them to hang around in. In the wild, these crabs rely solely on the safety of anemones to survive. Thus, if they are kept without anemones in captivity, they will spend their days stressed out and feeling vulnerable which may lead to an early death. 
Sexy shrimps
This shrimp really has a way of moving, and due to their striking dances they perform in your aquarium, they got the special name, sexy shrimp. This shrimp will only reach less than an inch in size and is perfect for any nano aquarium. They have red bodies with white spots with blue outlines and have a tail that is always arched upwards. You will see the guys spending most of their time waving their tail end around which many people believe is to replicate the waving of corals and anemones to blend in. These shrimps also associate with anemones and prefer being kept in groups to feel more secure. Although these shrimp prefer anemones, it is not required to keep anemones for them to thrive. 
It is important to note that these unique invertebrates are considered reef-safe. However, they are known to occasionally "go rogue" and pick at SPS corals. I've noticed that keeping them well-fed will usually steer them away from this behavior. They are carnivores and will thrive off of any meaty foods you offer. They are not picky and can even be seen eating flakes and pellets that they are offered. Keeping lots of live rock that can offer them hiding is best with sexy shrimp as they can be easily startled and need a place to refuge to. They easy to keep and the only special requirement with these shrimp is that it is usually recommended that you drip acclimate them. They don't do well with salinity swings and a minimum of a one-hour acclimation is recommended.
Decorator crabs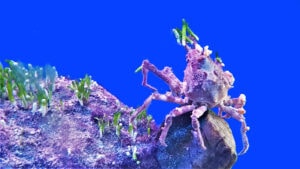 This next unique invertebrate is not considered reef-safe, and you will quickly find out why. The decorator crab certainly lives up to its name as it will spend its life picking up pieces of rock, shell, coral, seaweed, anything in its surroundings and placing it on its shells to blend in. It is rather amusing seeing what these crabs will decorate themselves with and some people will even throw in some reef-safe bedazzles or colorful beads to see if their crab will end up decorating itself with it. So no, they are not reef safe. I usually recommend these if people want to keep one in a fish-only tank. You could also keep inexpensive soft corals in their tank to watch the crab do its thing. Corals such as Kenya tree, green star polyp, and even macroalgae can be seen living on these crabs. It is quite fascinating to see that these corals will actually continue to grow on the crabs shell; once the crab molts, it will recycle its decorations and place all of it on to its new exoskeleton. 
These crabs reach around 4 inches in size and a minimum of a 30-gallon tank is recommended. They prefer a carnivore diet and readily accept frozen food. They are considered semi-aggressive and have actually been seen placing live crabs on their bodies to "decorate," so it is best to keep an eye out on your decorator crab to ensure that he isn't using his roommates as decoration.
Unique Invertebrates – A Conclusion
When keeping any out-of-the-ordinary unique invertebrates in your saltwater aquarium, it is crucial to ensure that it will be suitable in your tank. There are some species that have specific requirements such as the anemone crab, which does best in a tank with anemones, while others such as the sexy shrimp will host anemones but are not required to have one. Then you will have the decorator crabs that are not suitable for high-end reef tanks due to their occasional pruning of your corals. Always properly research any new addition to your tank to ensure that you are able to offer it the proper care it requires!