Recently, our friends over at Bulk Reef Supply filmed a product review on one of our bestsellers, EcoPods. If you haven't watched the video yet, you can see it here!
BRS is well known for the excellent support they provide to their customers! A major part of their mission is to improve education in the hobby and encourage learning and sharing information. BRS has done great work to break down barriers that discourage folks from getting into the hobby. Many newer reef keepers will find a wealth of guides and reviews in the BRStv library. This is one of the reasons why AlgaeBarn is so proud to have our products featured on BRStv!
In this post, we are taking this opportunity to thank our friends at BRS and our amazing customers for their support! We are honored that our products are trusted and proven to be effective in building a healthy reef tank system.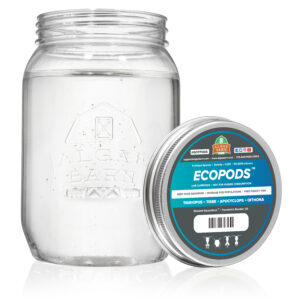 EcoPod Basics
To truly understand why we designed EcoPods to include a wide range of maturity, we will have to touch on some basic reproductive biology.
The copepods in EcoPods range from juveniles to adults. Although juveniles are nearly invisible to the naked eye, they are perfect for establishing long-term copepod populations. This is because fish and corals do not eat them right away as they are so small. It's the reason why size matters!
Tiny larvae are too small for most fish to notice. It's better to seed a reef tank system with larval pods as there will be a massive population boom in only a matter of weeks. Larval pods are preferable for seeding because of their longer life span. This allows more opportunities for more broods. And this is exactly what we want in the reef tank system!
By the time we can see mature adult pods with the naked eye, they may already be at the end of their lifespan. Pods can mature into a reproducing adult in as little as two weeks. Male and female reproductive abilities decline with age in most species of pods. Male pods can typically only fertilize one female per day. Additionally, their reproductive lifespan is barely more than a week. This just goes to solidify the understanding that introducing pods with variations in life cycle is crucial to building a strong community.
And for the aquarist who is replenishing an existing population, we recommend adding a couple of jars of NanoBrine to your EcoPods order. NanoBrine are super nutritious, just-hatched brine shrimp. Adding NanoBrine will help to distract your reef fish to allow the pods a chance to settle into the substrate and rocks. And as BRS mentions in the video, it is crucial to keep the pods well fed with OceanMagik live phytoplankton.
How EcoPods Works in the Reef Tank
If you are on the fence about adding EcoPods to your reef tank system and refugium, there is no better time to try than the present! EcoPods improve the biodiversity of the population that are helping to maintain a stable reef ecosystem. These little creatures can keep the reef fed and cleaning up at the same time! We will go over a few of the EcoPods basics here but for more detailed information, be sure to check our AlgaeLab Blog and watch BRStv's review on EcoPods.
A wide variety of microfauna, especially copepods and amphipods, go by the term "pods" in the hobby. These animals are found in massive numbers in the oceans of the world. They serve as an important component of the ocean's ecosystem. Pods also play a vital role in our reef tanks. They help regulate waste products and protect the system from being overrun with photosynthetic nuisances like algae and diatoms. In addition to that, they also feed fish, coral, and inverts.
Multiple copepod species can be found in many habitats, particularly those with a lot of diversity, like coral reefs. Although members of these pod communities live near one another, they avoid competition. Pods can coexist this way by a process called resource partitioning. They do this by dividing the resources (like space and food) so the pods can all coexist. Basically, each species has different needs and requirements and will not drive each other to extinction.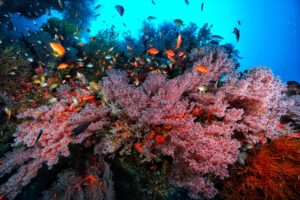 Each species of copepod in EcoPods is unique in size and behavior. As we have mentioned in previous posts, we have designed this blend to produce results. Although each species of pod is unique in terms of size and behavior, the combined effect is superior to any single species.
Bearing this in mind, AlgaeBarn has built the perfect team of pods! EcoPods is a blend of pods that feeds and cleans the reef tank system. The four species of pods included in EcoPods are Tigriopus, Tisbe, Apocyclops, and Oithona. Here we will break down the role that each of these pod species has in the reef tank system.
Meet the EcoPod Team
Tigriopus californicus
Large pods like Tig pods are easy prey for smaller fish due to their natural behaviors. Tig pods tend to swim into the water column in jerking movements which attracts a lot of attention. Tig pods are a great source of nutrition for picky eaters. These pods naturally have a high protein and omega-3 fatty acid content. High levels of carotenoids mean more vibrant coloration in fish and corals. Tig pods are great for getting rid of unsightly film algae on live rock.
Tisbe biminiensis
Tisbe pods typically live in the cracks and crevices in live rock. These smaller pods also proliferate in the shelter of a macroalgae filled refugium. Tisbe are also nocturnal. This combined with their preference to live in sheltered regions makes them ideal for reef tanks. Tisbe pods are a nutritious food for fish and coral. They also clean up the tiniest bits of detritus and algae.
Apocyclops panamensis
Adult Apocyclops are benthic, preferring to live in the substrate. However, the juveniles are planktonic, which makes them and easy meal for fish. Apocalypse pods are omnivorous but, they clearly have a taste for diatoms and cyanobacteria. Another reason why the Apocalypse pod is so great for reef tanks is their reproduction rate. Apocalypse pods lay eggs every 4-6 days! This is about twice as frequent as Tisbe and Tigriopus. These pods are generally hardier so they can last for several generations in the reef tank. Apocyclops has a high protein and amino acid content.
Oithona colcarva
Oithona pods spend more of their life cycle as a planktonic pod. These pods rely on their smaller size and nocturnal behavior to avoid being eaten. It is because of this behavior that Oithona can serve as a vital food source, but the population doesn't get decimated overnight. Oithona helps to control bacterial blooms after using chemical filtration media and phyto blooms after nutrient spikes. These pods also eat protozoans that can cause disease in fish and corals.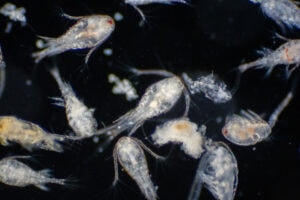 Conclusion
AlgaeBarn designed EcoPods so that each jar holds as many pods as possible, in all stages of development. We guarantee that each jar of EcoPods contains an age distribution range without gaps so the population will begin growing in your system immediately. At AlgaeBarn, we pledge that the pods you receive from our hatchery will be in pristine condition and we always stand by our AOA guarantee!
Just as it was mentioned in the BRStv spotlight video, when we introduce a variety of species, we boost biodiversity. One pod species may live a pelagic life in the water column, while another is benthic and dwells in substrates. Some pods will eat microalgae and others may prefer to eat detritus. The bottom line is that if we stock the reef tank with a variety of pods, it will be easier for them to establish a strong population and not outcompete each other for resources on the reef.
And to thank our customers for their unwavering support, we are offering an EcoPods 4-Pack for only $99!