We reef aquarists are a bit spoiled when it comes to jaw-dropping livestock. Weird stuff, colorful stuff… and just the shear diversity of it all. But we don't have it all, of course. For example, think of all the many cute little "dither fish" freshwater aquarists have to choose from. Just looking at the tetras alone, there are scores and scores of beautiful small schooling fish to try out. And man, while they're attractive fishes as individuals, the spectacle of the large group moving about in a loose cluster (something like a flock of starlings perhaps) can be totally mesmerizing.
That isn't to say that there are no small, shoaling reef fish at all to keep. The cardinalfishes (Family Apogonidae) are a fine example of this. Still, given the nocturnal nature of many cardinals, they are bit too shy in the eyes of many aquarists. The diurnal (i.e. daylight-loving) Bangaii cardinal has enjoyed some popularity; however, its attractive markings usually blur and fade with age, much to the frustration of many keepers. There is, fortunately, another beautiful cardinalfish species that is diurnal in habit and only gets prettier with age, and it loves to school: The BIOTA Seale's cardinalfish!
This awesome fish wouldn't even need an introduction to aquarists were it not for the fact that it is so rare in the trade. Many hobbyists have only recently heard of it for the first time. Unsurprisingly, that has kept the price of this highly desirable species beyond the reach of some hobbyists, particularly those who would otherwise intend to build a large shoal. Thanks to the hard work of hatchery technicians at Biota Marine Life Nursery in Palau, this has all changed as the Seale's cardinal is now readily available as captive bred!
Cardinals are hardy fish that adapt easily to captivity; these captive-bred specimens are especially rock-solid. Easy to feed and extremely disease-resistant, Biota's Seale's cardinals present a rewarding and unique fishkeeping experience for experts and newbies alike.
Seale's cardinalfish natural history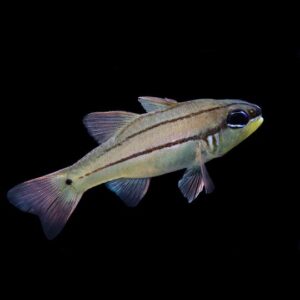 Once known as Apogon sealei, and now known as Ostorhinchus sealei, the Seale's cardinalfish (or the cheek-barred cardinalfish) is named after the esteemed American ichthyologist Alvin Seale (1871-1958). It sparsely occurs in the Western Pacific Ocean from northwestern Australia to the Solomon Islands to southern Japan. It typically shelters within coral branches in shallow (10-85 feet deep), sheltered areas. It generally congregates into large groups. Though it is a bit more wary of predators during the day, it is confident at night when it comes out to snatch plankton and small benthic invertebrates (like all cardinals, it still likes to play after dark).
This fish grows up to four inches in length, though three inches is far more common. One of its most distinguishing features is its shiny blue eyes. Juveniles are yellow-grey with dark horizontal stripes. As they mature, the stripes decrease in number and change to a pinkish red color while the base color changes to yellow-green. Both juveniles and adults have a single, tiny eye spot at the base of the tail fin. The bars on its cheeks become more elaborate with age.
Seale's cardinalfish in captivity
This cardinal, as mentioned, does not mind brightly lit conditions and therefore does well in the typical reef tank. That being said, like any small fish, it appreciates an abundance of caves and crevasses to hide in. It is considered to be reef-safe, though it should be kept with caution around very small shrimp. As it is timid and shrinks from competitors, it is important to not keep it with aggressive tankmates. If picked on by other fish, the Seale's cardinal might hide so much that it doesn't get enough to eat at feeding time. 
This fish is not at all finicky when it comes to food, but is best offered zooplankton and small benthic crustaceans such as brine shrimp and mysis shrimp. Frequent feedings are ideal, but they especially appreciate a bite during lights-down in the evening.
This mouth-brooder may form pairs and indeed may spawn in the home aquarium. It is not only completely peaceful towards other species, but it also gets along just fine with its own kind. While it is easy to keep this species as a solitary individual, it may be pretty tempting to acquire at least a trio if not a swarm (for very large tanks, that is!).
Conclusion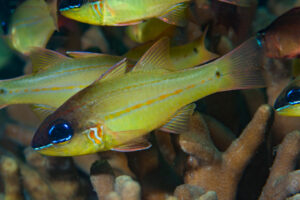 Every single new species that is presented as captive-bred to saltwater aquarium hobbyists is a great thing. But the Seale's cardinal, due to its rare availability as wild-caught, is especially exciting. This handsome species gives reef aquarists the relatively unusual opportunity to observe true schooling and shoaling behavior in their tank. In groups, this fish makes an incredibly impressive display. The semi-coordinated movement of the group is something that we hardly ever get to behold in the typical reef aquarium. And now it's available as a sustainably produced captive-bred offering! When you factor in this fish's hardiness and its (now) reasonable price, it looks like a pretty great candidate for just about any reef tank.