Nature is cruel. An ecosystem is, essentially, a bunch of different kinds of organisms trying to eat each other. We might envision this vicious free-for-all as a series of smaller animals getting consumed by progressively larger animals. But it's not that simple. For instance, even the largest and mightiest of creatures can get taken out by the smallest parasite (at least if there are enough of them). 
Coral reef environments are especially cut-throat. Here, more than anywhere else, predators are specialized to hunt and devour their prey. For example, a particular crab may be specially adapted to feed on corals or even very specific types of corals. Maybe even a particular species of coral. For sure, no animal is safe on an actual reef.
Things are not so different in a reef aquarium. Indeed, it's pretty likely that at some point one of your pets will eat one of its tankmates. That's Nature.
Hedging bets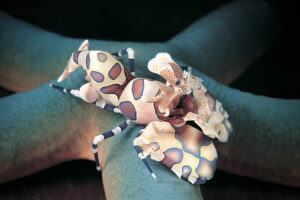 Reef aquarium livestock is generally pricey, right? They are either hand-caught in the ocean and transported through long supply chains or they are farmed in technologically advanced facilities by trained professionals. So regardless of their source, they simply are too valuable to use as pawns in "reef tank survival of the fittest" games. Thus, smart aquarists pay close attention to interspecies "compatibility" as they stock their systems. One market-ready designation, "reef-safe," is applied to those species that usually don't kill much stuff in an aquarium. But since all reef animals kill and get killed by other animals on a natural reef, what does that term actually mean in practice? Depends on who you ask. 
It's that "depends on who you ask" part that causes problems for poorly informed hobbyists on occasion. Why? For some, "reef-safe" means (and reasonably so) that a particular animal will not eat the reef itself–that is, will not eat corals. A lionfish would fit this description quite well; a lionfish would never, ever, under any conceivable circumstances eat a single coral polyp. 
Yet, lionfish are generally regarded as not reef-safe–at least per most hobbyists' understanding of the meaning of the term. Here, "reef-safe" is taken to mean that an animal is unlikely to harm any desirable tankmates (more about that in a second). As most of us know, a lionfish will happily swallow up any fish or shrimp it can get down its throat. 
Unnatural selection
So then consider a wrasse that doesn't eat corals nor bother other fish/inverts except for certain flatworms that prey on corals. Since this predator is specifically targeting an undesirable organism, it is still deemed reef-safe. Similarly, we like tangs because they eat undesirable algae; but are they not reef-safe simply because they would eat your highly desirable Dragon's Breath macro?
To make things yet more complicated, in many cases, reef-safeness can be a matter of degree. Sometimes, a popular type of animal will find itself in some shady area of the reef-safe spectrum. Coral beauty angelfish for example are much beloved by reef aquarists despite their habit of occasionally "nipping at" corals. Many of those who covet this species accept the risk of introducing this pretty fish to reef aquaria as "reef-safe with caution." We all say "caution" out of the sides of our mouths because there's practically nothing we can do to prevent any bad behavior; we thus won't know whether or not a particular individual will cause harm until after it's caused harm! 
Aside from mere prettiness, some "reef-safe with caution" species have attributes that can outweigh the risk they pose. For example, a tank that is heavily infested with aiptasia anemones will overall benefit tremendously from the addition of an aiptasia-eating filefish–whether or not the file takes an occasional nip at your bubble coral.
Reef-safe for whose what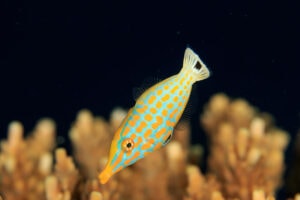 Alright, so is there at least some basic, yet authoritative, definition of "reef-safe" to use? Well, if we are to trust Wikipedia, we can all agree to agree that "Reef-safe is a distinction used in the saltwater aquarium hobby to indicate that a fish or invertebrate is safe to add to a reef aquarium. There is no fish that is completely reef safe. Every fish that is commonly listed as reef safe are species that usually do not readily consume small fish or invertebrates. Fish listed as reef safe also do not bother fellow fish unless in some cases, for instance tangs, they do not get along with conspecifics and sometimes fish with similar color or body shape." Whew!
Maybe "reef-safe" is an outdated term that is in desperate need of revision or clarification? Maybe it was a bad term to begin with; perhaps we should have just started out using more descriptive terms like "coral-safe" or "shrimp-safe" from the very beginning? Problem is, it's too vague from a practical sense to describe reef aquarium animal compatibility in terms of what specifically can (rather than cannot) go together. 
In the end, aquarists should never rely exclusively on simplistic or generalistic terms to guide them when selecting livestock. Instead, it is best to fully research the compatibility of each prospective species using trustworthy sources. Sorry, nothing comes easy in life–especially when reefing!