Choosing the right aquarium system as a beginner can be an overwhelming task. The honest truth is that this decision has the potential to make a crucial impact in the quality of our lives. An aquarium is not just a piece of furniture or an animal cage, it is a place for your very own coral reef to call home. Also, the tank you choose to install can critically alter the level of enjoyment you feel in the hobby.
Since t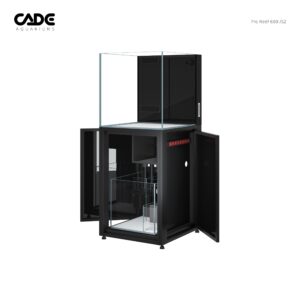 here is so much to consider when choosing a new tank, we wanted to go over a few of the most common questions we hear from beginners. And setting up a new system can be a big investment. But there are some ways to stretch your dollar as far as possible. This is one of the reasons why we are proud to team up with CADE Aquariums – they have created an easy to install system that is the best value on the market.
This hobby demands effort, planning, money, and time but the payoff of having a beautiful reef tank system is worth it. So, let's jump right in and start with some basics!
Where should I put a new aquarium?
Aquariums have come a long way in the last couple decades. The early days of the hobby saw a lot of under-gravel filters and chunky and barren aquascapes. But today, we have some truly amazing options!
The art of reef keeping has also advanced significantly. Just think about the improvements in lighting technology in the past few years. These days, new reef keepers are producing displays that are stunning and inventive. This is due in part to the innovative designs and systems that are on the market.
Researching and creating a strategy is critical for a first tank to be successful. Like most things in this hobby, this can take some time! Choose the ideal tank style that will work for you by considering what type of reef tank system you want and where you plan to put it.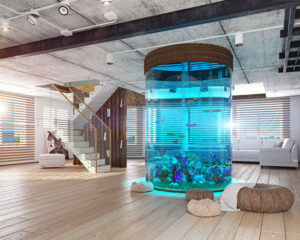 Nothing affects presentation more than placement. Tanks are often placed with their back panes against a wall. In some situations, the tank can be entirely built-in with an access room for maintenance. From a design aesthetic, a reef tank can be used to break up an open space in a room.
The reef keeper will invest a lot of time and money creating a setup that highlights both the reefscape and the tank itself. And today it is possible to completely customize a system even down to the plumbing color scheme. Certainly, the reef keepers' choice of material, style and color is swayed by personal preference. But ultimately, one of the first things we need to determine is where are we going to put the tank?
One benefit with choosing the location first is that we will then have an idea of the tank size based on the footprint of our space. For example, if we wanted to install a reef tank as a room divider, it would be easy to determine that the tank we're looking for is a peninsula style. We know that we want a tank that takes up no more than X amount of space. From there, we could choose the CADE 1500/P which covers a footprint of about 5'L x 2.5'W x 2'H.
Is it true that acrylic is better than glass for beginners?
Acrylic is a transparent thermoplastic homopolymer material. In plain English, that just means that acrylic is a type of plastic. It resists breaking and is lightweight. On the other hand, glass is heavier, consisting primarily of silica. Since acrylic is a more durable material, it is used for most of the largest private and public aquariums.
A lightweight material is helpful when first installing the tank but that doesn't really matter in the long term. With acrylic, you truly need to use more caution when servicing the system. It is less likely than glass to break, but acrylic is certainly more susceptible to scratches. Ultimately, scratches are more likely to damage a tank than a strong impact.
A word of caution for the reef keeper who has a strong desire to keep surgeonfish, or tangs. Fish in this family are called surgeonfish for a reason! Tangs have evolved to have modified scales which function as scalpels. They use these mainly for defense; however, they can make deep scratches in acrylic.
Let's discuss how the type of glass you select has an impact on the system. It is crucial to use a material that will provide the best visibility. The slight blue tint that occurs with some types of glass can be an issue for some reef keepers. Acrylic does not have this problem, although as it ages, it can develop a haze or film. Visibility will also be distorted by scratches or imperfections in the material.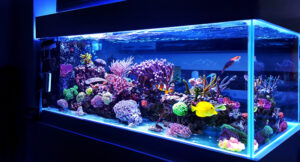 A lot depends on the quality of glass used to construct the tank. Most commercial aquariums are built with clear glass which is good but it's not the best available. The glass used to construct CADE aquariums is Opti-Clear which is an ultra-low iron glass. Opti-Clear glass has the highest level of clarity which is exactly what we want to display our coral reef.
Are all-in-one aquariums good?
The short answer is, yes! If you want to take about 90% of the stress out of building a reef tank, then all-in-one is the way to go. There are several businesses that manufacture integrated aquarium systems. Some of them are even surprisingly good. But none of these have been able to match the quality of CADE Aquariums. Considering the flawless design and the high-quality materials, we can't deny that these are the best value anywhere.
The fact that CADE aquarium stands come fully assembled and ready to use is one of its many amazing features. CADE even includes a beautifully designed sump which sits perfectly within the stand ready for plumbing. There truly is very minimal assembly! Only the pre-fitted plumbing pieces will need to be connected.
And another great feature is that each tank comes with a gravity fed automated top-off (ATO) reservoir. Door hinges are tucked away inside the cabinet, away from corrosive salt creep. Access to the inside is improved through side doors which makes maintenance easier. And with 16 total plug connections on the inside and On/Off switches on the outside, power boards are neatly installed inside.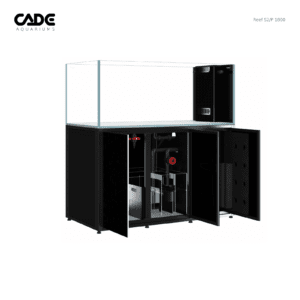 If you've had any type of aquarium, there's a possibility you have experienced the particle board cabinetry. And if so, you probably saw a gradual decline in its reliability. These cheap stands eventually warp and disintegrate when exposed to water. Which makes a particle board aquarium stand an especially bad idea. It can even create a dangerous situation for the reef keeper and their home.
No cabinet material can match the strength and durability of the anodized aluminum used in CADE stands. They also have great accessibility and openness to allow for easy service and maintenance. Anodized aluminum stands are just as strong as steel, but they are considerably lighter in weight. CADE also equips their stands with elegant glass panels to keep equipment and filtration out of sight.
Conclusion
Aquariums have come a long way in the last couple decades. These days, new reef keepers are producing displays that are simply stunning! This hobby demands effort, planning, money, and time. Reef keeping can even be overwhelming at times. But CADE Aquariums takes the tension out of building a new reef tank with their innovative systems.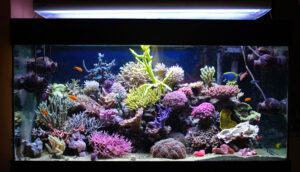 The All-In-One system design has advanced significantly in recent years. In fact, several manufacturers fairly deserve praise for their innovations. However, none of them has consistently exceeded our expectations CADE Aquariums of Melbourne, Australia. We are very proud to team up with CADE and deliver these gorgeous aquariums in the US! We also provide fantastic financing options on every CADE Aquarium to make these innovative systems affordable for all budgets.
We hope this article has helped to explain a few of the reasons why CADE Aquariums make great tanks for beginners. Feel free to drop a comment below if you have any questions on these incredible systems!