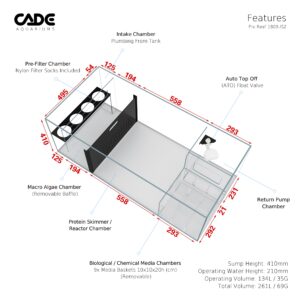 Over the last three years, the aquarium industry has witnessed huge advancements in so-called All-In-One aquarium system design and technology. There are actually a number of manufacturers that fairly deserve credit for this development, and we applaud all of them. However, one of them in particular–CADE Aquariums of Melbourne, Australia–really caught our eye last year. And we're proud to say that we've since built this infatuation into an abiding and highly productive partnership.
This is a great thing for the American reef aquarium community. Why? Because now, CADE aquarium systems are quite available to any hobbyist in the States. And for a surprisingly affordable price! In fact, you don't have to dig too deep to see the value they offer. This is for two big reasons: (1) They are built to last for a very long time and (2) all (and we mean ALL) of the essential pieces, even plumbing parts, are included. 
So yeah, CADEs definitely have all the proverbial bells and whistles. But perhaps just as importantly, they also come with every little nut and bolt. To say that CADE systems are "kits" scarcely does them due justice. When you factor the convenience they provide, along with their crazy value, it's clear that they are by far the best choice of All-In-One reef aquarium system on the market today. To highlight this, we will here examine just a few of the advantages and special features of the CADE Reef 1800 S2 (PR2-1800).
CADE Reef 1800 S2 specifications
The CADE Reef 1800 S2 (the largest of the Series 2 Pro Reef line) is, by most hobbyist's standards, nice and roomy. These tanks offer both durability and clarity with 19mm Opti Clear glass and precision applied Whacker silicone. The main tank is 1,800x700x600 millimeters (LxWxH), which is approximately 71×27½x23½ inches. It carries a volume of 171 gallons.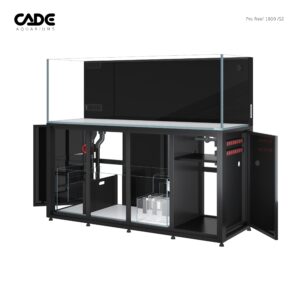 But with the generously apportioned sump, at 1,170x570x410 millimeters (around 46×22½x16 inches) and over 35 gallons operating volume, and the built-in 15-gallon auto top-off unit, the 1800 S2 has a total system capacity of 207 gallons. Hardly your typically cramped All-In-One, right?
And, helping to emphasize its voluminous interior, the included cabinet is extra tall at 900 millimeters (around 35½ inches). For most adult humans, this makes viewing a little less crouchy and a lot more pleasurable.
The weir system is so nice and well designed that we only have room to hit some of the high points here (seriously, check out the stats for the overflow panel and intake plumbing on this thing). First, we love the twin intake which pulls from both deeper and shallower levels of the water column. Not only does this facilitate the removal of suspended solids, but also serves as a fail-proof if one of the intakes becomes clogged by an anemone, dead fish, etc. 
Downflow is easily controlled by a gate valve (for added security, there is a second, separate, emergency downflow line). The downflow lines empty into the sump through a row of filter socks (up to four). First pass through the sump is via the refugium, which may be installed simply by inserting a removable baffle. Water then passes through a series of media baskets before entering the return pump chamber. Water reenters the tank at the far right side (e.g. far opposite from the weirs). 
Even the cabinet has some really awesome features. Firstly, and most importantly, it's extremely well constructed of durable, waterproof materials including a solid aluminum frame. A protective foam padding is pre-installed. The included industrial grade adjustable caster feet make it easy to level out your tank on uneven floors. Door hinges are concealed within where saltwater cannot easily reach and corrode them. Side doors provide increased interior access. Power boards are cleanly mounted within with plug connections (16 in all) on the inside and On/Off switches on the outside.
And it all looks super nice! Made with a touch of class from top to bottom, the CADE Reef 1800 S2 is stylish enough to look gorgeous in the most elegant of settings.
No stress
Not feeling like making ten trips to the hardware store for miscellaneous plumbing parts while trying to set up your next big reef tank? Then you'll dig the prefabricated screw-fit plumbing system that comes with every CADE Reef 1800 S2. In fact, the sump is pre-installed and shipped within the cabinet, which is shipped in a plywood box; all you have to do is open the box, position the cabinet, place the tank on top and screw your plumbing together! 
Even though assembly is pretty simple, we have technicians on hand that are happy to help you solve any weird little issue you might have–just in case. Even if assembly is completed in minutes without need for assistance, feel free to call us up anyway just to ask about all the sweet perks you'll get at AlgaeBarn as one of our certified CADE customers!