Symbiotic relationships are perhaps the most amazing thing that occurs in marine environments. While there are some that you can deliberately recreate in aquaria, there are also many others taking place all on their own. In this article, I'm going to be discussing a few of the symbiotic relationships you can build in your aquarium.
There are many different symbiotic relationships that can occur in your aquarium and this is just a list of the most popular ones. Always make sure to complete research on any of these relationships before adding them to your aquarium to ensure that your tank is ready for it. For example, invertebrates can be very finicky and are not recommended for new aquariums. You usually want your tank to be stable for a minimum of two months before adding any shrimp and a minimum of six months before adding any anemones. Anemones are the most fragile on this list and can cause many issues if added too soon. Always take your time when adding livestock to your aquarium to ensure the best health for all of your fish!
A Common Symbiotic Relationship – Clownfish/sea anemones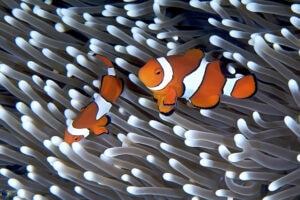 The symbiotic relationship that everyone wants in their tank is that between clownfishes and sea anemones. In this relationship, the anemone relies on the clownfish for food while the clownfish relies on the anemone for shelter. Anemones can put off a powerful sting that can be deadly to some fish. However, clownfish build up an immunity to the anemone's sting by rubbing each section of their body on the anemone until they build up a layer of mucus that protects them. In the wild, clownfish are known to lure fish into the anemone to provide food for it while they get to eat the leftovers. In your home aquarium, it is more common to see your clownfish bring prepared foods to the anemone. You might see your clownfish grab a big piece of food at feeding time and drop it into the anemone. In return, your clownfish receives shelter in the anemone and will even sleep in it at night to for protection. 
It sometimes takes a while for an anemone to host a captive-bred clown. Being bred in captivity, they've lost a bit of the instinct to immediately associate with anemones; thus, it can take a lot of time and patience. The most common clownfish that this has affected is the ocellaris clownfish. They have been bred in captivity for so many years now that instinct is barely there–certainly not like it is in wild-caught clownfish. If you are looking for a clownfish to immediately host your anemone, maroon, clarkii, and tomato clownfish are well-known for hosting quickly.
Pistol shrimp/watchman goby
This next symbiotic relationship is one of the most unique pairings you'll see. The pistol shrimp and watchman goby have a slightly different relationship than the clownfish and anemone. The pistol shrimp builds caves in the substrate; in return, the watchman goby keeps an eye out for predators. Pistol shrimp have very poor eyesight, so the goby becomes the shrimp's set of eyes and always keeps its tail on one of the pistol shrimp antennae to send a warning if needed. The goby usually flickers its tail which causes both to take cover in their cave. The pair rarely separates from each other and spends most of their time in the cave, with the goby's head sticking out to keep watch.  
Pistol shrimp, however, do have a fascinating defense mechanism in their claws. You will notice that pistol shrimps have asymmetrical claws. The biggest one serves a major purpose.  They can snap their largest claw. This releases an underwater shock wave that can stun predators. Due to the amount of pressure they can release, you can audibly hear their snaps from outside of the aquarium. They move the water so fast that it actually produces bubbles that can reach around the same temperature as the sun! So even with their poor eyesight, they can still protect themselves when necessary. 
The shrimp is always be working on its caves and occasionally makes new ones. You therefore should have a very stable hardscape if you plan on keeping this pair in your tank. This is because when the pistol shrimp digs its caves, it can move your rock structure; if it isn't stable, can collapse and crush your shrimp and goby. 
Reef fish/cleaner shrimp
This last example of a symbiotic relationship includes a shrimp that forms symbiotic relationships with all of the fish in your aquarium. The cleaner shrimp is a great addition to any tank and is usually safe from predators due to the fact that it "cleans" them. These shrimp set up "cleaning stations" in the tank where fish come and wait to be cleaned of any parasites and dead skin. It's nice to have a cleaner shrimp in your tank because it gives you that extra layer of protection from parasites and more peace of mind knowing there's something in there helping your fish.  
What's amazing is that all fish recognize the shrimp and immediately know it is there to help them. There are videos of these shrimp associating with large moray eels, even going inside of the eel's mouth to clean. It can be surprising to see giant predators become submissive to such a small creature. Cleaner shrimp are very peaceful and will get along with anything in your aquarium. The only exception is that they are known for being aggressive (such as gold banded shrimp) towards other shrimp.